As of this posting, Bob's Burgers just finished its 12th season a few days ago, on the 22nd of May. The film, The Bob's Burgers Movie, came out on the 27th of May. I appreciate their timing on this matter, that is some good planning.
Now, I am not expecting anyone to have to see 12 seasons of a decent animated cartoon to have to get this movie. Maybe a loose familiarization with the characters, but it isn't like those episodes all lead to very specific plot developments and a lot of growth. For honest bias reasons, I will point out I need to I have for sure seen at least half of the episodes of the show, but not gone out of my way to keep up with it lately.
I am also surprised they decided to go with a movie this early. Family Guy still hasn't made a theatrical film. The Simpsons waited 18 years before finally coming out with a movie. I know there are lots of cartoons that decide to do a theatrical film, but those feel like the notable ones given the same station and night of new releases for their content.
More importantly when it comes to cartoon shows to film, the film has to feel necessary. A larger than a multi-part episode plot. Something to make it stand out and look different. The last thing we want is just what feels like 2-3 more additional episodes.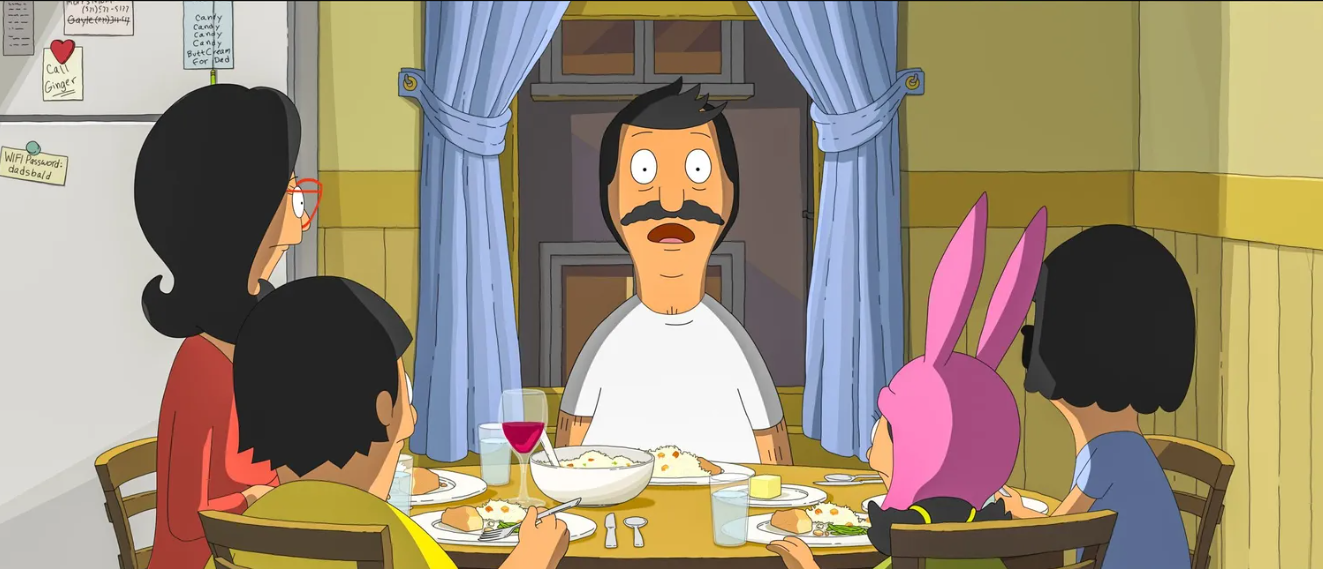 Yes Bob, I said that is the last thing I want. Don't be so surprised.
Somewhere near an ocean somewhere lives the Belcher family. Bob (H. Jon Benjamin), the father and main cook at Bob's Burgers, a restaurant he named after himself. His wife, Linda (John Roberts), who also works at the shop, and is full of love and hope. They have three kids. The oldest, Tina (Dan Mintz), is almost in high school and obsessed with butts. The next kid, Gene (Eugene Mirman), is the only boy kid, who wants to be a musician and creative. And lastly, we have Louise (Kristen Schaal), a girl who acts older than she is, with wild plans and ideas and a dark sense of humor. Together they live in an apartment above their restaurant. The kids go to school, help out with the shop, and hijinks.
So, that would be the plot for the show. But also basically the movie!
The movie itself, the restaurant is going through a bad time! You see, they are behind on their payments to the bank for their loan for restaurant equipment. And when trying to get an extension, no dice. Instead they now have 7 days to get all the money for it, while also still paying off their rent like normal. Thankfully the wharf has a big event this week, so there should be increased foot traffic. And unfortunately, a giant hole has decided to appear right in front of their store, blocking the entrance.
Dang. How are they going to make the money now?
Oh, and there also happens to be a murder mystery thing, but the kids are more involved with that one.
Also starring David Wain, Gary Cole, Kevin Kline, Larry Murphy, and Zach Galifianakis.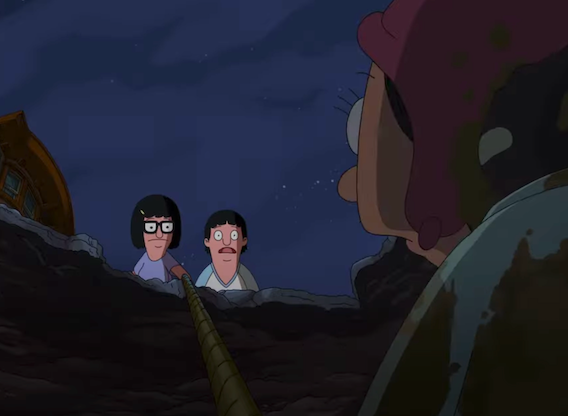 What a messy, messy hole that is.
The Bob's Burgers show writers really do love their musical numbers, and put songs into their show a lot. A lot more of my favorite and memorable episodes also feature songs! It felt pretty clear that this would likely be a musical, but it was only a light musical unfortunately. From my count, it only features three unique songs, with an additional reprise of a song. There were other instrumental tunes that started up and I thought would lead to a song, but ended up just being some quirky background music. It is maybe four songs, but I don't really remember if the final concert song had like, actual lyrics, as it was unforgettable.
Three songs is hardly enough to get a buzz from. The best song was the Carnie one. I do love the extremes in the animation they put into the characters movements. They really want to emphasize real and actual dances, and these movements highlight how awkward their bodies are actually drawn. And it really adds to the extra musical feel of these numbers, like they are really big spectacles.
Some of my least favorite episodes of Bob's Burgers though are the ones that go heavy on the landlord, Mr. Fishoeder, and his family, which is definitely true for this plot. And honestly, even though that this movie had a MuRdEr, it did still just feel like a two or three part episode.
I won't take away from the animation. The animation was definitely better and richer than a normal episode. The songs were longer than a normal episode. But the plot line didn't seem to match the standards that should necessitate in a change of format for an established television show. It didn't use the extra time to give us more music, or really more hijinks. This is just the type of movie that exists to make the fans happy with more content. Not sure if anything here will affect the TV show in the future either, but that is something that will be really shown whenever their next season starts.
2 out of 4.