December 13, 2017
Ingrid Goes West
Way back a long time ago, when I saw the movie Colossal, I had just learned about Neon Films, a distribution company run by Alamo Drafthouse. Colossal was amazing and everyone should see it. I believe Colossal was their first big release.
They had trailers for two other films specifically from them as well, Buster's Mal Heart, and Ingrid Goes West. Both trailers were really well done, and I knew I wanted to see both of this films. I thought Neon was starting off really strong.
Well, Buster's Mal Heart was indeed weird, but not something I could get behind. And Ingrid Goes West I decided to wait until it could be rented, because my wife was also really interested in it, especially since we were watching Parks and Rec at the time. Again, another delay, but that is okay, still hit it in 2017.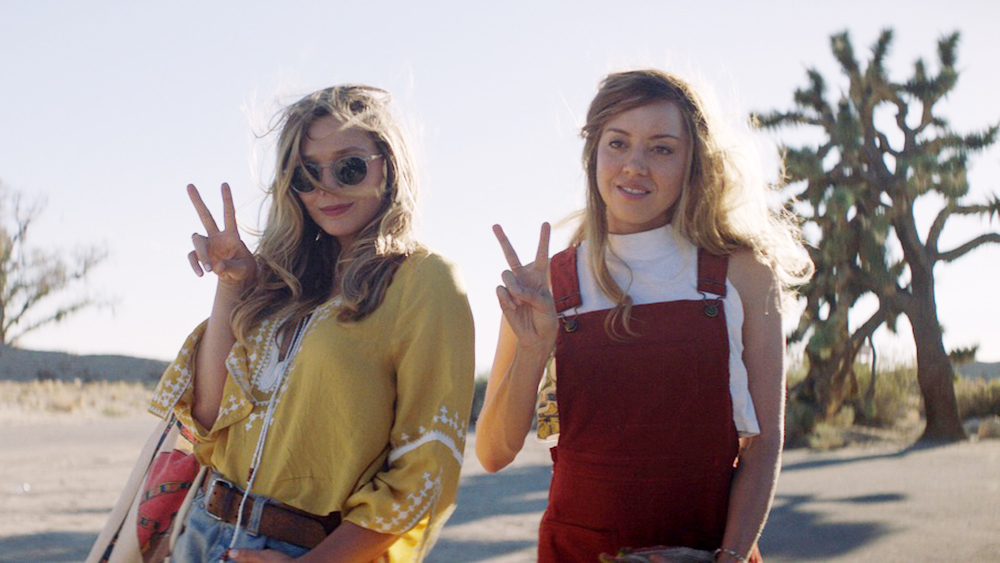 Did they both just conquer some natievs? Whats with the victory signs?
Ingrid Thorburn (Aubrey Plaza) just loves her friends, like, a lot. I mean, mostly she stays in her room, eating junk food, but thanks to social media she can keep up with their posts and going ons. She is one like away from joining in on the fun. But fun time is over, because Charlotte (Meredith Hagner) had the gall to get married, not invite Ingrid, and also imply all of her friends were with her on that special night. That bitch. So Ingrid heads over to the wedding to crash it and give her a piece of her name, putting her in a mental institution for awhile and giving her a restraining order.
Once Ingrid gets better, she heads home to an empty home, her mom now dead and gone. With Charlotte's Instagram now set to private, Ingrid has to find a new BFF. And that is how she found Taylor Sloane (Elizabeth Olsen). A social media pseudo celebrity, the type with a ton of followers so she can make money by posting images of products. She lived a perfect life, one that Ingrid would like to become.
And since she has all this inheritance money, she upends her life, flies to California and hopes to find Taylor to become real life BFFs with her, not just internet pals. She can become popular and awesome too. She rents a small apartment owned by the neighbor, Dan Pinto (O'Shea Jackson Jr.) and sets off to be friends with Taylor at any cost. At. Any. Cost.
Also featuring Wyatt Russell, Billy Magnussen, and Pom Klementieff.
Ice Cube's son gets real warm with Aubrey Plaza.
Films that are about mental illnesses have a lot of weight to them. For example, a few years ago I watched the movie Young Adult, when my reviews were still poorly written but frequent. I used words like crazy to describe her and eventually realized that what I was doing was not okay to do. I didn't get that movie.
Now, old (and as an intellectual~~), I understand more the right way and wrong way to speak about certain things, and other times I still don't fucking care (hooray swearing in reviews). I just also know that if you are going to make a film about someone with a mental illness and their illness shouldn't be the brunt of the jokes. Jokes can happen, but if you are just making fun of illnesses, that is bad. And honestly, at this point, I really can't tell if it goes too far in Ingrid Goes West.
Ingrid is a tragic character, who gets obsessed with what she feels is perfection, until things go to ruin. We get to see her in an institution, and who knows why she is like that, or when her mom died and if it is related. Characters getting pissed off at Ingrid over her actions? Totally justifiable in the movie. But the movie makers made a choice and chose to not make their movie in a way that seems to understand that they can't just call a character mentally unstable and run with it. There needs to be justification, a reason, some sort of closure, and not just a gag.
And again, since it seems like it is hard to tell if they really treated it with the appropriate gloves, it probably means they didn't. I can see elements there, just not enough.
The film on its own wasn't really that funny though. It took awhile to really get going, maybe they were going for realism. Jackson Jr. was hilarious though, every time he was on screen I ended up laughing, which is maybe the only reason this made it to a 2.
2 out of 4.