This is a review for Totally Killer, out on Prime Video on October 6, 2023.
Oh Jinkies! Living in the year 2022 is so swell. Even for the people in the relatively small community. You know when it wasn't swell? In 1987, when a masked individual, dubbed the "Sweet 16 Killer" terrorized and killed three sixteen year old ladies! That was totally uncool, and also fun fact, he was never caught.
For Jamie Hughes (Kiernan Shipka), she doesn't care that much about it. How could it affect her life that much? Well her mother (Julie Bowen) for one. Because those three girls were her best friends, and she has been frightened ever sense. Sure, she has a nice supportive family now, and a protective husband (Lochlyn Munro), but that makes her mom overprotective of HER so Jamie can't have any fun.
Anyways, SURPRISINGLY, the killer comes back, and comes for her mom. That is totally not cool. 35 years? What the hell dude. Because of plot reasons, Jamie actually ends up going BACK IN TIME, to 1987, a few days before the murders happen. Seems like she knows what to do, stop the killer before he can start! And thankfully, this was after Back to the Future came out, so she can reference that movie and maybe people will just totally get it.
Also starring a lot of people, some of them playing the same character in two timelines! Woo time travel! We have Olivia Holt, Charlie Gillespie, Troy Leigh-Anne Johnson, Liana Liberato, Kelcey Mawema, Ella Choi, Stephi Chin-Salvo, Anna Diaz, Jeremy Monn-Djasgnar, Nathaniel Appiah, Randall Park, Jonathan Potts, Zachary Gibson, Kimberly Huie, and Nicholas Lloyd.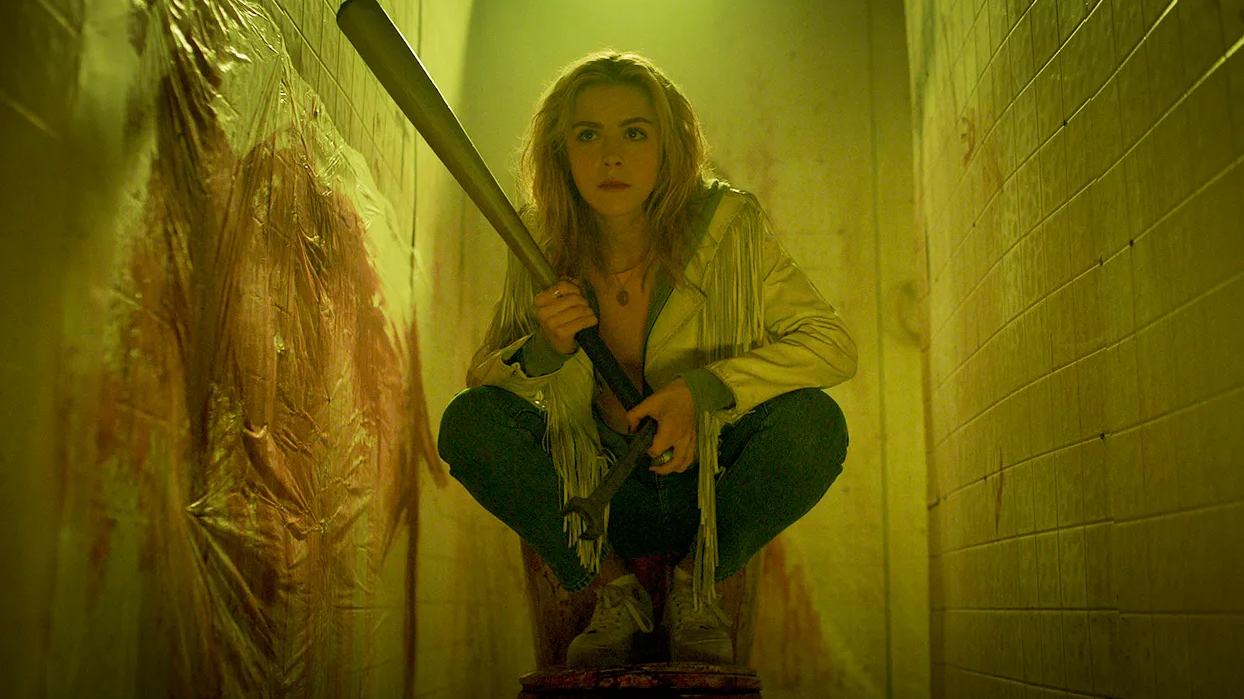 I forget she did Sabrina and can still only think of Mad Men. 
Hey kids? Do you like Freaky? And Happy Death Day? Because this is definitely the movies they want you to compare it too, very much going for fun and death at the same time. Maybe some gnarly deaths, maybe some quirky references. The director, Nahnatchka Khan, is known for comedies, and not her horror, so you can tell that is clearly the bigger focus here. Always Be My Maybe was a wonderful, beautiful, and funny film.
But this is a movie that seems to just completely drop the ball on the scares aspect.
I think the only kill and chase that was only exciting was the first one in the film, when Bowen was attacked. She seemed legitimately afraid for the character. Everything else after that was just a disappointment. Even the final climatic potential scene, where our hero is trying to return to her time finally, with a killer coming towards her. It just felt bloated and didn't actually live up to its location, where it could have been amazing.
Totally Killer is a GREAT idea for a horror/comedy. And it has the nostalgia element. The film itself looks nice, it just didn't offer amazing kills, nor did it go beyond the low hanging fruits in terms of joke quality. It is certainly a movie, and you might still like it if you liked the other recent horror comedies. But I don't think anyone will walk away saying its better than them, which is a shame.
2 out of 4.