There are a lot of quick disaster films out there. Big ass earthquakes. Polar vortexes. Tornadoes. A lot of them are straight to DVD nonsense.
But the famous ones, that have a big budget, and aren't necessarily great, just have big names in it? Well, apparently they just have to keep getting bigger and bigger.
"What if…what if…what if the moon…fell, on Earth? That would suck right?"
I mean, I assume that is how we got Moonfall. I am ready to be surprised going in to it, but it would need a lot of work. Need to see more big budget science fiction disaster films where black holes open and stars explode, personally.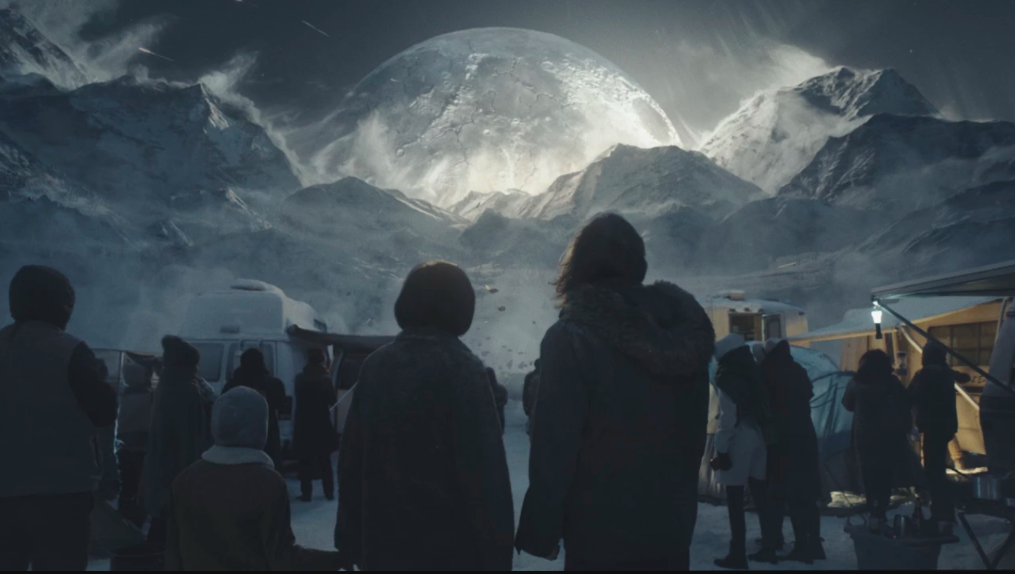 If the moon was that close, people would still doubt we have ever been.
Back in 2011, on a SPACE mission, Astronaut Brian Harper (Patrick Wilson) was working on a tether with a crew mate, when the power went out, and a huge swarm of black, small metal things flew by their ship and made things very rotational. Not good. He was able to make it back in, where Astronaut Jocinda Fowl (Halle Berry) was unconscious, their third member gone. He was able to land the shuttle back on earth with no power, and was a hero, until he said what he saw, and then was disgraced.
Well, ten years later, turns out he was telling the truth and people were warned. Because the moon has been knocked off of its orbit, which shouldn't happen. Megastructurist/conspiracy theorist KC Houseman (John Bradley) was "doing research" and found out that the moon was coming closer, and leaked that information to the public because no one would believe him. NASA at the time was finding this out as well, and then? Panic.
Looks like the moon is going to be spiraling closer and closer to Earth. Causing tide changes, gravity awkwardness, and parts of it will for sure be breaking off to crash into the world. How can they fix the issue? What is that mysterious black swarm? How many aliens are there? Should we just nuke everything?
Also starring Carolina Bartczak, Charlie Plummer, Chris Sandiford, Donald Sutherland, Eme Ikwuakor, Jonathan Maxwell Silver, Kathleen Fee, Kelly Yu, Michael Peña, and Stephen Bogaert.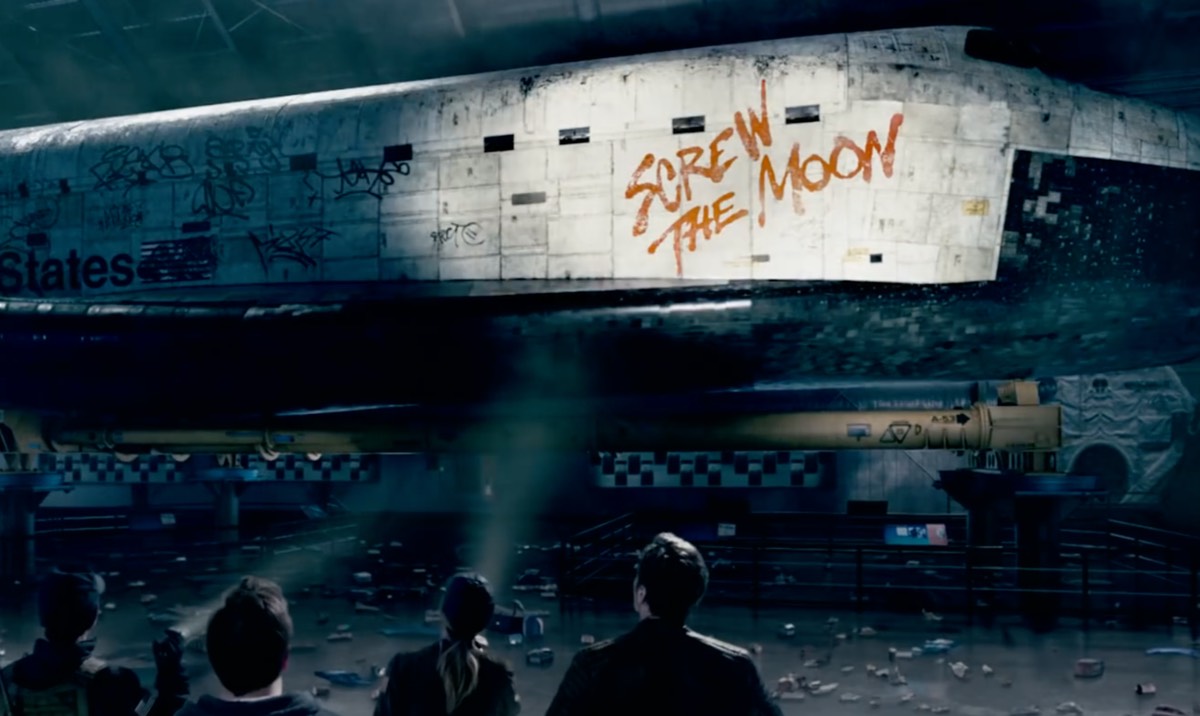 Spoilers: This phrase written on the spaceship is different in the movie.
I definitely went in to Moonfall thinking it would easily be one of the worst movies of 2022. And that is fair. The trailer was super dumb.
But I also want to at least point out things that worked well. I appreciate that this movie went as weird as it did. It could have played it safe. But it went into some out there, science fiction theories and science, and it went out there hard. In general, big budget Hollywood films try not to make the audience think too much, so they will often dumb things down and go for simple theories. It still explained things in a more dumbed down way, which is fair, but I just think it get points for trying. Especially because of how ridiculous things get, it is easy for claims for it to be very dumb are, when it involves a lot of theory and potential in terms of futuristic technology.
I did enjoy John Bradley's character immensely, and I am so happy that Josh Gad had to drop out for him to come in, because I don't think Gad would have been good for this. His scenes with his mom were his worst scenes, but they were minor.
Now in terms of things that are pretty bad for this film? Well, the entire Earth plot of family members while our leads are in space is pretty bad. The CGI gets terrible, especially in the unnecessary car chase/shoot out scene. One character dies very dumbly, when it was unnecessary, and it still made me cry despite that. And honestly just all of the thief characters. I don't care about people stealing cars and being a recurring antagonist when the moon is about to wipe everyone out, you know?
The film was also rushed throughout it. It finally slows down near the end. Once a character gets the knowledge dump in space, I expected it to end pretty quickly, but we instead got a long drawn out space chase scene, just so we could splice it with the bad earth drama.
I will also point out that early on, I feel like it is heavily implied that Berry's character, after divorcing her husband, seems to be in a relationship with a Chinese women. And I was thinking, damn, that's progressive, you go you. And nah. It is just a foreign exchange student she is hosting. How old? Is she meant to be high school? She seems like an adult in the movie (and the actress is my age). It feels like she is in the house purely to watch the kid while Berry's character can work, and honestly the whole set up is just uncomfortable for me.
Moonfall is going to be shit on, likely, by a lot of people, and be an easy punching bag. That is fair. But if I had to compare it to Roland Emmerich's other films, I would say it is easily better than 10,000 B.C., Independence Day: Resurgence, and Godzilla. But I don't think this one will enter the pop culture stratosphere that a lot of his other disaster films have reached.
2 out of 4.