July 2, 2021
The Tomorrow War
When do you all wanna go? Tomorrow? Sure. Tomorrow will never be here, so that works, I am a fan of procrastinating war.
Unfortunately, The Tomorrow War has nothing to do with procrastination, although it uses something procrastinators wish they have.
See, this is a war that takes place somewhere in the future, not the present. You know, like the concept of tomorrow! So this is a war with time travel, but it shouldn't be anything like whatever the fuck was going on in Tenet.
Back to procrastinators. Don't you wish you had a time machine to go back and slap yourself into doing something before a project got overwhelming? Hells yeah.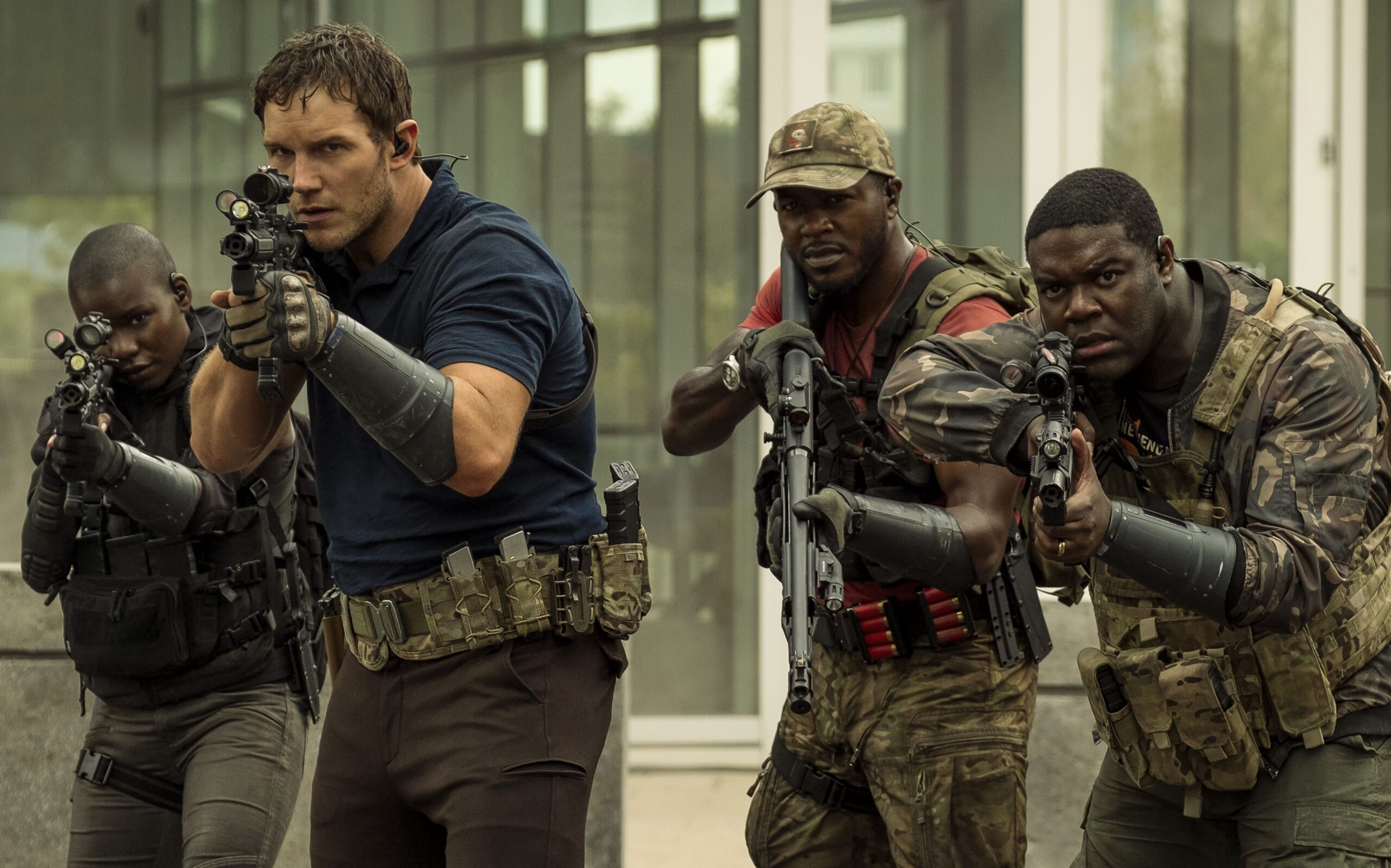 I said slap, not shoot, what the fuck dudes. 
It was a day like any other day. People were doing sports watching on the TV, and then…and then…a large portal appeared from nowhere. A human lady came out and so did a lot of soldiers. They had a message. They were in a war in the future, against aliens. And they were definitely losing that war. A war that was going to kill every remaining soldier. So they needed help, recruits from the past, so that they could have more people for fighting. Oh shit.
Dan Forester (Chris Pratt) is just a science teacher during all this, but sure, he was in the military before. But retired now. The war first asked for the actual armies around the war, and then volunteers, and then sure enough, drafts happened. Not everyone was eligible to go to the future. They had to be scanned and matched with the history of the future, to make sure bringing that person to the future (and them potentially dying) wouldn't alter the future in a way that ruins everything.
Dan has a wife (Betty Gilpin) and little girl (Ryan Kiera Armstrong) but sure enough, draft bells still came to his doorstep, and he was enlisted. Each term is only meant to be a week long, after about a week of training. If they survive, they get automatically sent back to their time line, richer, and won't be picked again. But in Dan's group, everything gets messy. They are sent to the future without full training, so it is up to him and one other to keep his team of mostly untrained people slightly together to help out the best they can, and they are thrown right into the fray.
Can they save the future?…By fixing the past? And stuff?
Also starring Yvonne Strahovski, J.K. Simmons, Sam Richardson, Jasmine Matthews, Edwin Hodge, Keith Powers, Mary Lynn Rajskub, and Mike Mitchel.
It is like we are glancing at the strangest Parks and Rec and Chuck crossover ever.
A sci-fi action movie has a lot of easy potential to just turn into a generic action flick with stranger weapons or people being killed. A lot of films have done it. The movie has to say something, or offer some nice twist. Give me something good to eat, a famous children's rhyme once said.
To break down this film, I would say I did enjoy the beginning, the first arrival, the draft, the logic, the training. And even when they were first sent to the future. But real quick after that first sort of mission, it went real hard into generic pewpews for me. There were some plot scenes that mattered, but for a film that is 140 minutes, a not so insignificant chunk of it it doesn't do a lot for me. However, the ending? I did enjoy the ending/final act/set piece of the movie. It took it away from the plot of the rest of the film, settings changed, and it gave me a fresh look on the action and the events and by then, it featured mostly just characters I could care about.
The ending saved the whole thing for me, that was trending pretty average in the middle, almost towards bad. But at this point, I think The Tomorrow War is actually a movie I could imagine watching (shock) a second time!
Pratt has perfected his twist of an action star on us, although I still prefer him to be a bit more goofy. I haven't seen Strahovski in awhile, and I am bit disappointed that Gilpin was just given a generic house wife role. More importantly, with the time travel element, it never became confusing. The rules were pretty straight forward, and I don't believe they broke any of them in getting to the end of the story.
We haven't had a big rush of new sci-fi action films lately, or at least ones that were big enough for people to notice (I saw a few indie sci-fi action duds). Is this thing on par with films like The Thing or Starship Troopers? Nah. But it has a straightforward enough message and is entertaining in its own rights, so it is by far a passable entry into this genre.
3 out of 4.