June 17, 2021
Rita Moreno: Just A Girl Who Decided To Go For It
Growing up, at some point, my parents watched West Side Story, and although I never watched the whole movie (still true to this day) from start to finish, I have seen all parts of it at various points of time, also while growing up. Some parts I liked more than others as a kid. Namely, Officer Krupke, Tonight, and of course, America.
Such high energy, early on, led by Rita Moreno, a name I didn't know in my youth, but would grow to know later on in life.
Still to this day, this is the only song from the soundtrack that will randomly get in my head is America (and never re-watching it in the last 20 years will do that. I should see it again before the remake later this year). But other than that song, I didn't know much about her life, what else she has done, or looked into her career ever. I knew she won an Oscar for that role, and that is it.
Needless to say, this was actually a great subject for a documentary for me, because I had a lot of information to learn about Moreno, and a decent amount of interest in finding this information out. Rita Moreno: Just A Girl Who Decided To Go For It, tell me how you went for it.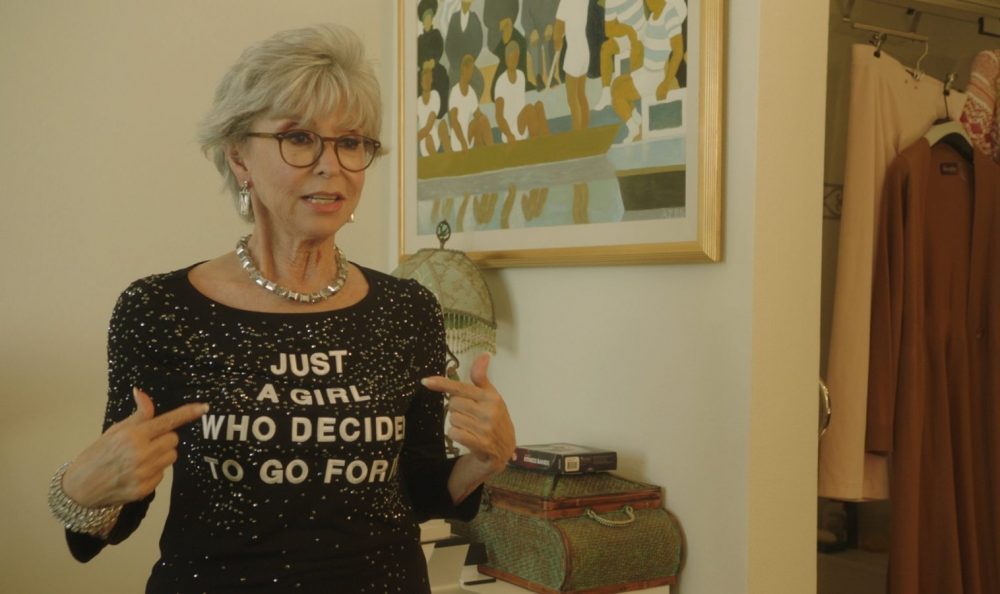 Oh what's that? That is the name of the movie!
Moreno has been in a whole lot of films, and got her start really early. She was in musicals and films for a whole decade before West Side Story, including big ones like Singin' In The Rain and The King and I. And of course she did a lot after that, despite not being super popular after her win. Usually actors/actresses go up in stock after an Oscar, but she seemed to hit a drought.
Throughout the decades she has had roles or not had them. She earned the EGOT, and did continue to kick ass, as a singer, dancer, and an actor. She even had a big recurring role on Oz that I definitely didn't know when I saw the show (well, I knew the character was there, but WHO it was) and the voice of Carmen Sandiego in the 90's. Honestly, this feels like finding a treasure that was always in front of my eyes, and realizing how deep those roots actually go.
And shockingly enough, by the end of the documentary, I felt such joy and full of hope, that I did cry as well. Crying during a documentary is incredibly rare, and if it happens, it is likely due to already being deeply in touch with the subject, and not just really learning about it deeply for the first time. A strange experience, but a welcome one.
Out of celebrities from the past, Moreno is definitely one of those who deserves it the most. Also features some words from Lin-Manuel Miranda, Eva Longoria, Whoopi Goldberg, and Morgan Freeman.
4 out of 4.