Do you want to hear the story about how Zola fell out with this white bitch?
Well, good news, you have multiple options now. The first, is the twitter thread from October, 2015. A whole lot of tweets tells the entire story. 148 of them in fact. All in a row, it went viral, I believe they were deleted, but this is the internet and nothing can leave the internet. Here, go for it. This is a compilation on Imgur, you can read the entire screenplay here.
Just kidding, but also not really. As told here is basically the story we get in the movie, the second way to hear the story about Zola and that bitch fell out. A story of sex work, coercion, and a wild ride to Florida between strangers who became besties and anti-besties in a short amount of time.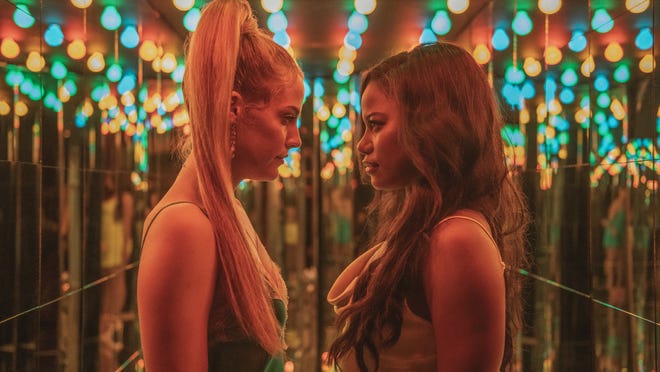 Is this the beginning of a new franchise stripper battles?
Depending on who you heard the story from first might cloud your judgement, but lets take it from Zola (Taylour Paige) since she started this whole story off. Zola was a dancer and a waitress at Hooters. She also had a boyfriend (Ari'el Stachel) and was generally okay with life. She knew she looked good, so she made money using her body while she good, just stripping, none of that sex stuff.
Well, while at her waitressing job, she meets Stefani (Riley Keough) and her friend (Colman Domingo). Zola hits it off with Stefani, they do a lot of talking given how they want the waitresses to act at Hooters, and they find out they are both dancers and more and exchange numbers. And then like the next day, Stefani asks if Zola is down to a road trip to Florida to do some dancing. Zola has made good money in Florida dancing in the past, and well, fuck it. Sure let's go.
Unfortunately, Florida doesn't feel like a land of sunshine and rainbows on their visit. Zola finds herself in situations where she is expected to sleep with people instead, and with her life and home being threatened by this friend (well, pimp). This is not what she signed up for, and she really doesn't know who to trust, but Zola is gonna make sure she gets out of this as untouched as possible.
Also starring Nicholas Braun, Nasir Rashim, and Jason Mitchell.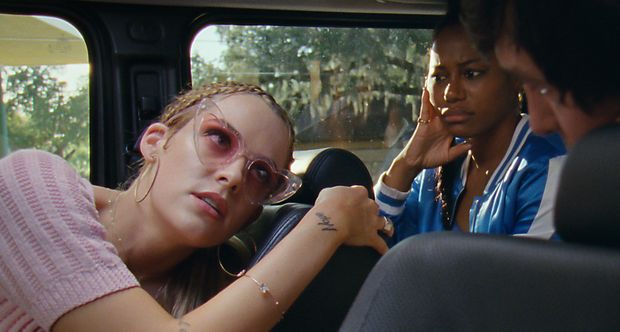 If there was ever a "bitch you crazy" screenshot, here it is.
Have you read the original tweet thread? Why not, it is worth it, it is interesting, and it is full of emotion. I certainly would recommend it and it is pretty obvious why it took off like it did. And did you know, that the other girl in the story, also posted her own account of this same trip? Here it is on Reddit. They are very, very, very, very different stories. Freakishly differently. Almost nothing is similar, so who is lying?!
I guess we will believe Zola, this is her story, and I think some comment sleuthing on that reddit thread is able to find some arrest records in relation to that story, so it makes Zola the more believable person here. Which is good, because her story is more fantastic.
Like I said earlier, the movie itself is very similar to the tweet thread. We have a few less characters in the film, some names are changed, and not all of the events are used, but most of them to tell the same story. And technically, yes, I would say the tweet thread is better. I know, I have fallen into one of those traps that I try to avoid as a reviewer, not comparing something to the "book" it is based on. The story of Zola is fine as a movie, but based on the hype of the thread and the advertising, I did expect a lot more to happen in that weekend.
The leads do a wonderful job with their characters and the predicament they find themselves in, I will give that to Paige and Keough. The cinematography makes some interesting choices throughout it, which is a surprise given the type of story this tells. And, fun fact, you can see a whole lot of penises in this movie. I think at least five unique dicks, and some butts. This is good news for those who are clamoring more for more dicks in movies.
Zola as a film will serve as a good story to get people invested in what is now a six year old twitter thread with very little updates to worry about. It is a little bit of escapism and a strange funny yet dark tale. It is certainly not a film meant for everyone, however, so clearly watch at your own risk.
2 out of 4.