This film was watched as a part of the Seattle International Film Festival (SIFF).
Alright, this one is a big shocker for even me. I barely know who Stephen Curry is. In all honesty, I get him confused with Blake Griffin all the time. I don't know anything about either of them besides them being NBA players. My brain just put them in the same Venn Diagram circle. In fact, when I started to talk about Stephen Curry to someone else, they were like "Who? Oh, Steph Curry". Oh he goes by Steph? That isn't my fault, the documentary calls him Stephen! Stephen Curry: Underrated!
It isn't that I think the NBA is bad. I certainly would put it up as higher than MLB. I just don't like it as much as NFL and NHL. All of my basketball love has really come from watching College Basketball games, and March Madness, not the professional level.
So what do I know about Stephen? I heard he is good at 3-point shots. And, right before I watched this documentary, he got 50 points in a Game 7 Playoff Series. A pretty big deal. A coincidence for the timing of this documentary.
But at the same time, I was wondering…why is he getting a documentary? Is he retiring? Is he done? He has still so much more NBA to play, I assume. And a documentary on a basketball player partially through his career feels very awkward. Hell, does Lebron James have a documentary about his life and career yet? Weird choices all around.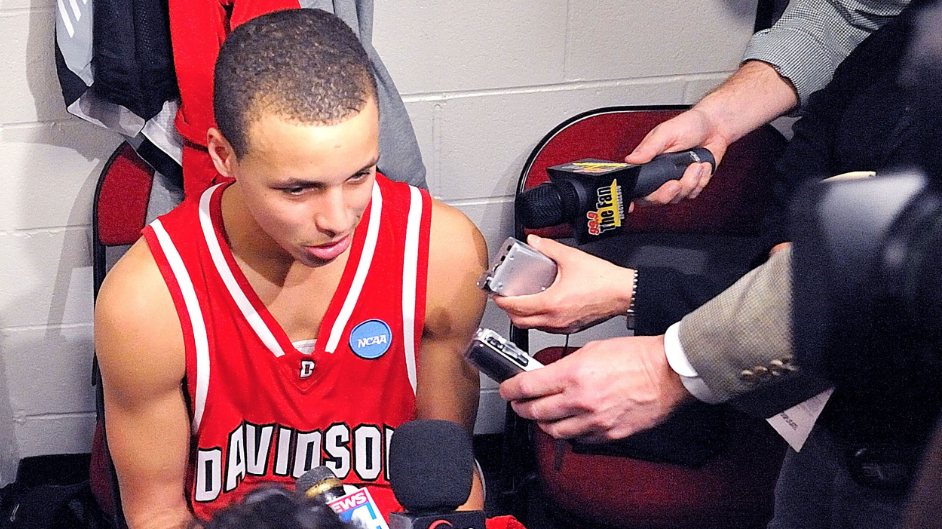 "Stephen! Stephen! Have you peaked? Is that why you are making this doc?"
This documentary was made at a specific time in his career. When he made the 3 point single season record. All the way back in 2015-16. That was big news at the time! And honestly, only part of the news for this documentary. It was used to give context to the great NBA star, who achieved great things. But it turns out, this is meant to be a documentary focusing a lot more on his younger and college career. Like, a huge primary part of this documentary.
Oh hey, that is the stuff I care about? Nice.
We learn that Stephen was shorter than most, his dad had to reteach him how to shoot in High School to get more serious, and eventually, getting drafted by Davidson College and absolutely causing a scene.
Now here is where it gets personal. I started caring about College Basketball as senior in HS, which happened to be his first year in College. So hearing about his first trip to the March Madness tournament was a little bit interesting, as I could contextualize it in my own life. But my first year in college, at UNC, I saw every game they played, a lot in person. So that means I likely saw Stephen Curry play on the TV, before he was NBA superstar famous, and that just feels a bit odd, and fun. Hearing how they did in that year's tournament, I know for a fact he helped mess up my March Madness bracket. He made me lose money!
Honestly that is hilarious.
Besides the fact that it became personal. This was a very moving documentary, about someone who lacked the statue for a typical NBA player, and succeeded despite everything. Even with his career still going, it feels like a good enough time to tell his story. Because hey, if people are going to be in the top 5% of the league, they likely will do a lot of things that might need highlights to fit into a single documentary. I cried, I laughed, I got nostalgic, and I had fun learning about Steph Curry, the basketball player.
3 out of 4.