By and large, the trailer for Draft Day is one of the worst I have ever seen. If you haven't seen it, give it a watch. It is two and a half minutes. It is almost mythical the way they made that trailer. It is both a trailer that gives us the entire movie while also giving us absolutely nothing at all. It is truly marvelous to comprehend that achievement.
I guess that is a negative. A terrible vague yet overly detailed trailer. It also was advertised a lot, so I got to see the same identical thing over and over again. The concept became slightly infuriating. Basically, it had a huge uphill battle to prove itself an amazing movie in my mind.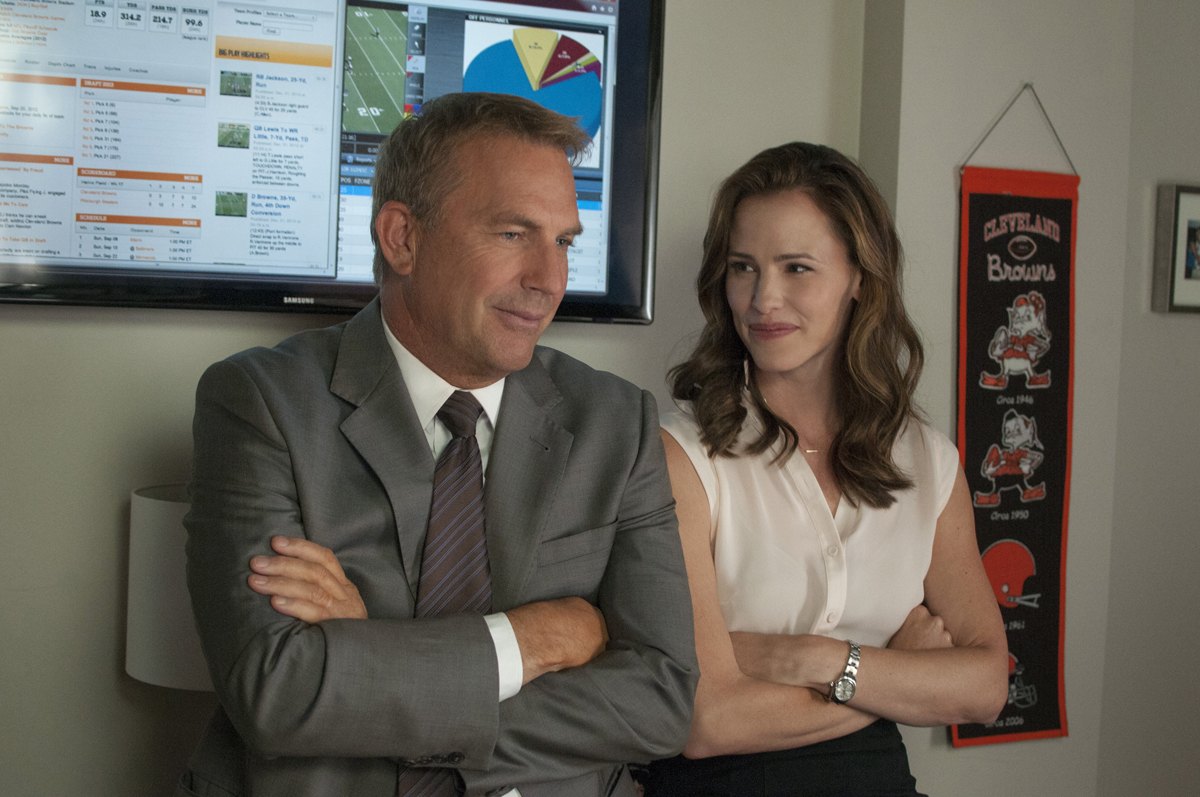 Look at how fucking laid back they are about this movie. Clearly they don't care what I think!
A lot is going on in Sonny Weaver Jr.'s (Kevin Costner) life right now. His dad died a few days ago, one of the more famous coaches of the Browns. Ali (Jennifer Garner) runs their salary cap number stuff, and it turns out she is now pregnant with his kid. It is also 12 hours til the NFL draft, and as the GM Sonny is told he has to make a big splash tonight at the draft or his job might be done. So sayeth the owner (Frank Langella).
Good. He has the 7th pick though. Right now his choice is between a running back that fits his teams system, Ray Jennings (Arian Foster), that is also the son of a former Browns player Earl Jennings (Terry Crews). So Browns royalty, the obvious pick. But Sonny really likes this defensive guy Vontae Mack (Chadwick Boseman), good at sacks, can stop many great players, just might have some emotional issues.
But thanks to all of the pressure he is facing, he ends up trading for the number one overall pick for his first round picks this year and the next two. Shit. Now he can get Bo Callahan (Josh Pence), a great looking franchise QB. Their current QB (Tom Welling) has bad knees and got injured early on their last season. This pisses off the coach (Denis Leary) who feels his job is on the line thanks to Sonny's boneheaded decision.
Yeah, then a lot more drama happens. OH WHAT WILL SONNY DO? Ellen Burstyn plays the mother, Sean Combs plays Bo's agent, and Griffin Newman plays an intern.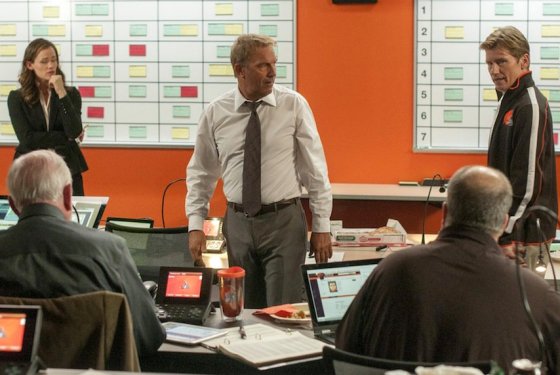 Didn't you know there was constant arguing and drama right before a draft pick?
If you hadn't noticed, there are no real NFL players or coaches or GMs talked about in this movie. All of the plot points related to the Browns are of course made up. Which is why seeing Crews/Foster there was a bit weird. Oh wait, 98% of this is made up. But they also mention Andrew Luck, and that is probably the only mistake they do I guess.
Garner's character didn't really seem to fit the normal stereotypes of a woman in her situation. She was really calm, which is generally not how I see her in most roles. It was strange.
What they ended up doing by the end was a bit clever, but not really too realistic either. Basically, there is no reason for a certain other GM to have done what he did and that is the only main issue with it.
So overall, it is an okay movie. I am surprised it came out in April, since it is clearly just a giant commercial for the NFL, romanticizing the whole thing. The NFL is next month, so I figured they'd make it basically the same day. Most of the teams mentioned were bad, maybe to drum up support, outside of the Seahawks. I also liked Boseman in this movie. Pretty crazy. I have seen him as a famous baseball player, now a made up football player, and later this year, a famous musician. Pretty exciting film roles for this guy is all I gotta say about that.
2 out of 4.