When I first found out about Secret Magic Control Agency, I figured I was definitely not going to watch that movie. Its poster/images just screamed a straight to DVD, low effort, low budget, animated film. I loathe those types. They always make me so angry. They are extremely basic on story, and hide behind the fact that they are a kids film in order to say they don't have to stand up to the quality expectations of an adult.
Fuck that noise. Kids deserve quality too. Should we only ever feed our kids hot dogs, and never let them try pork roasts, or steaks, or turkey? No. Kids can know good stuff exists too, even if it means coming to terms with the fact that a lot of basic stuff out there is, in fact, basic, and not worth their time.
So why did I watch it? Because it actually released on Netflix. A much bigger platform than expected, so I need to check it out quick to see if it is worth time before people get stuck wasting their own time potentially. Or you know. maybe it was great and I needed to spread the word.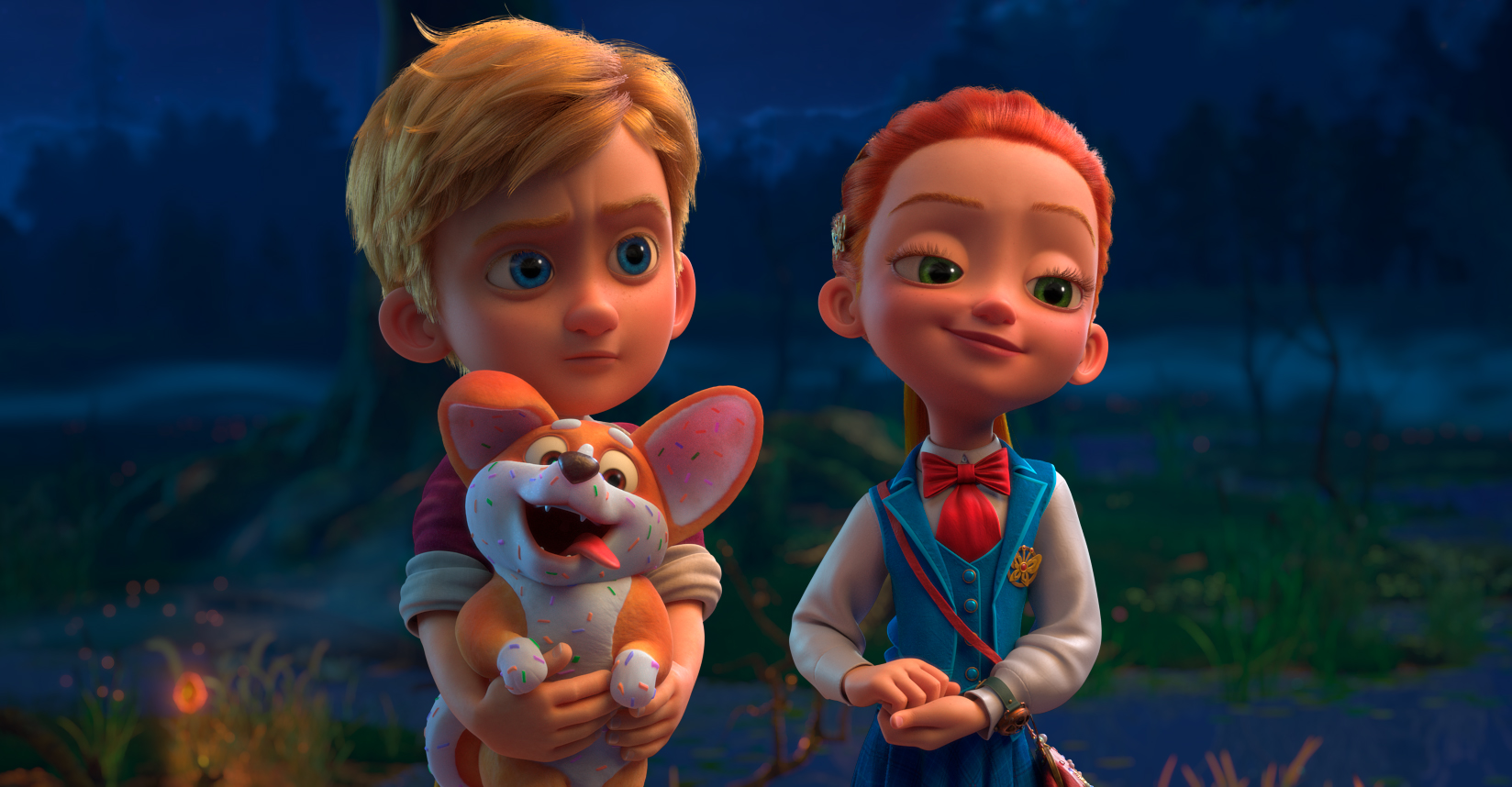 Corgis, by definition, are low effort as well.
In this magical kingdom based on (checks notes), ugh, fairy tales, we have kings and queens and magic users and all of that. But because of shenanigans in the past, magic is now regulated by the Secret Magic Control Agency. I guess they are like the CIA force of this world. I don't know what they actually do most of the time (make sure people doing magic have the appropriate bureaucratic paperwork? Capture people using magic like a villain?) but right now they have a very important job. The king was kidnapped!
Led astray by some mysterious food. Oh no. So the agency is going to get one of their top up and coming agents on it. Gretel (Courtney Shaw)! Why just one person? No, the powers that be think they need to get a thief as well to join her, someone who knows how to lie (something that the agency should be able to handle given their normal job functions…?) and they specifically search out Hansel (Nicholas Corda / Alyson Leigh Rosenfeld). Yes. Siblings.
But they are grown up, one is a charlatan, the other a law enforcer. And they want them to work together to get the king back before everyone realizes he is gone. So they have to put away their differences and you know, do that.
Also featuring the voice work of Erica Schroeder, Johanna Elmina Moise, Marc Thompson, Mike Pollock, and Tyler Bunch.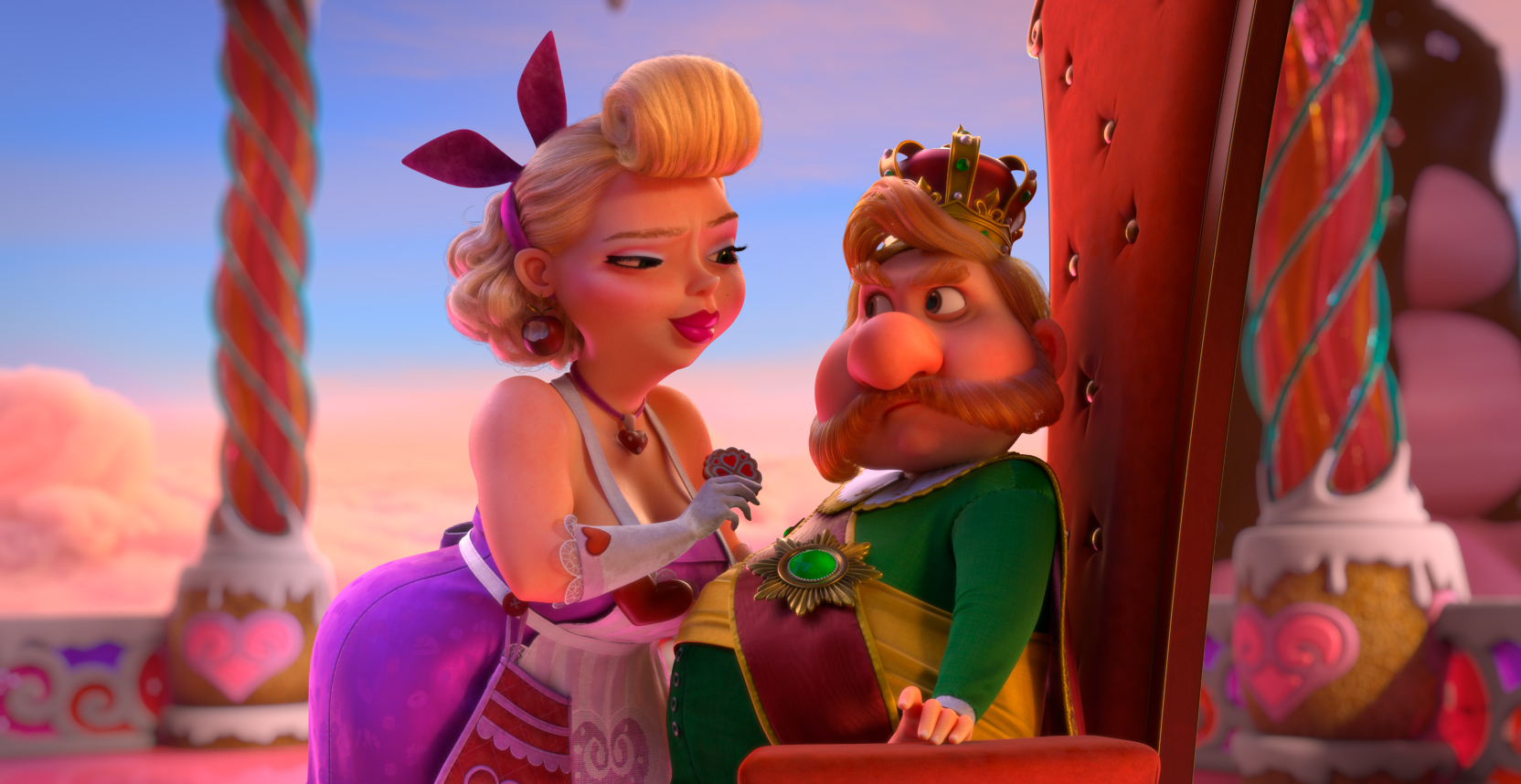 Captured but unlimited dessert? There are worse places to be.
Low. Effort. Films. That could be enough of my analysis and end, but I guess I will be specific.
This could have been a generic fantasy film about completely new entities. But they decided no, we NEED this to be Hansel and Gretel. Why? WHY? The fact that they are these characters doesn't do really anything for this story. They make a bread crumb way back home reference. There is one line about the Grimm Brothers writing up their shenangians, but in charge of changing the details to make it sound like a story instead to…hide the truth? From who? Is this set in the past in this world? This has a lot of advanced stuff in here, and wouldn't make sense to be set in our own world, let alone the past. That is a bad joke and they should feel bad.
The only thing they needed for the plot would be to have a brother and sister. Almost all of this is new material. Just because something is on the public domain, doesn't mean it has to be used. No child is going to be picking movies and be iffy about this film, but see that it has H&G and go "Oh shit, hold on momma, this got my favorites in it lets get it!". No one cares and it just makes an already lazy movie feel more lazy.
Honestly, if this was an original story that wasn't relying on name recognition of aspects in order to tell a story, it would fall easily in the 1 out of 4 territory, because at least there was effort. But the lack of effort just pisses me off, especially when the makers would probably acknowledge that this film isn't great themselves. They would just mark it off as a kids movie and say it works for that level, and that is unacceptable.
0 out of 4.