I heard a lot about Wolf before going into it. No, nothing about the plot, unfortunately. Or barely anything about the plot.
I mostly just heard negative reviews from my friends who already saw it. One of the worst films of the year? I knew I had to watch it to be sure.
Unfortunately, the IMDB description for this one is really terrible.  "A high-concept arthouse drama about a boy who believes he is a wolf." That is it? That is the plot summary? The plot summary is literally the last 7 words, "boy who believes he is a wolf" and no other details. What the hell. The first half is completely unnecessary in a plot-description. A "high-concept arthouse drama?" Okay. It is a drama, fine. But the other words? That is a way to shoot it and a reason to shoot it, not at all what the film is about. I will see if I can do better.
What's new?
Jacob (George MacKay): Is he a man, or is he a wolf? Well, clearly, he looks like a man. But on the inside, he feels as if he is a wolf trapped in a man's body. He wants to run through the forest on all fours. He wants to do it at nighttime. He wants to howl at the moon. He wants to shed his clothes, he wants to hunt.
He has species dysphoria, or thinks he is an Otherkin, whichever language deems to be the most appropriate in the next decade. Jacob is actually taken to a clinic that specializes in clients who have species dysphoria, after his parents bring him in, so that he can be taught to shed that feeling and go back to being a productive member of society.
Things feel okay, at first. He has to keep a journal. They awkwardly have areas where they allow the patients to do what they want, including act like animals, with no problem. But for those who are further along, or who don't find the light therapy useful, they have to deal with The Zookeeper (Paddy Considine), who uses more and more extreme methods to make those people realize they aren't animals, they are human. You know, by treating them inhumanely.
Jacob also meets (Lily-Rose Depp), who maybe works there, maybe thinks she is a cat, and they begin a strange relationship, meeting at night when the moon is out, and exploring each other's past and pondering their futures.
Also starring Darragh Shannon, Eileen Walsh, Elsa Fionir, Fionn O'Shea, Karise Yansen, Lola Petticrew, and Senan Jennings.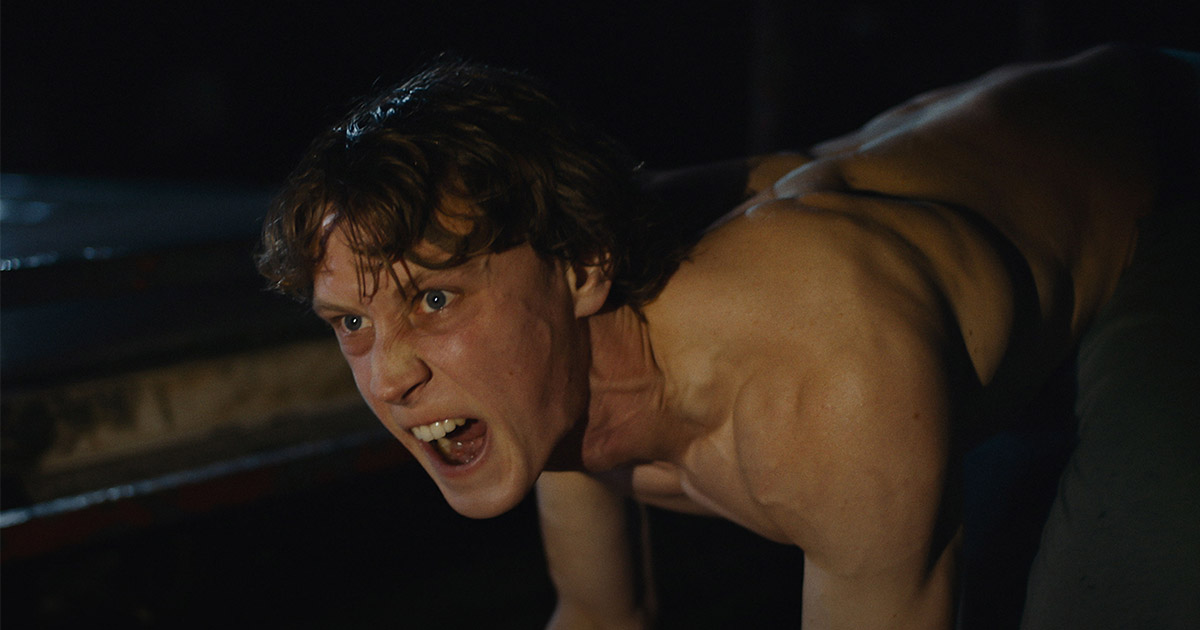 Rawr means "I love you."
Wolf is going to be a very easy film to hate. and it is going to be a very easy film to make fun of and laugh at the awkwardness of it all. I know in my own screening, despite going in knowing it was a serious drama, it had some people laughing in the beginning, because they thought it was going for a silly absurd thing. And I can really see that happening in plenty of theaters, and then laughing through out, but it is an awkward laugh because they would be mocking those characters, not laughing at intentional humor.
You see, because this is a "high-concept arthouse drama" it knows it is showing things that could be labeled as ridiculous and amusing, but it is taking the whole thing seriously. No one is acting to be a joke. No character is breaking the fourth wall and winking at the audience. We are to treat this as serious as the film does. And I think that is the only way this works, a little bit.
Because the acting is quite good. MacKay must have been working on his wolf prowl for awhile, because he was putting his whole body into that. The way he moved his shoulders and glared. He likely had to lose weight just to make it more visually uncomfortable. Same with all of the actors. Special shoutout to Considine, who got more and more frightening as the Zookeeper. Doing more and more rough, maybe effective but probably not, methods to make his clients accept their reality. The ending he was downright frightening as he put down a "riot" in the clinic. I have never seem him so scary or great.
Now, in terms of what this movie is all about? I don't know. It could be considered a metaphor for gay or trans conversion therapy camps. Places where we know abuse and torture occur to the poor kids who are forced to attend, until they are "cured" where the cures don't really last, they are just delayed and hidden. This has parallels to that, but I honestly don't think the filmmaker wants this story to be a metaphor. We definitely see The Zookeeper as a villain in this story, and this clinic as a bad place, but it is left morally gray as to whether the clients actions really matter. Should they just live their life how they want? YOLO is what I say.
However, if someone can get through it all and just be impressed by the seriousness of the whole thing, they will probably still be upset at the abrupt and unfulfilling ending. It can happen to anyone. Go if you want to see some interesting/unique acting. Ideally don't go if you are going to mock people. And wonder with me if it still could have been a lot better.
2 out of 4.