I haven't had a big chunk of foreign films to review at my disposal this year, but honestly, that is probably my fault. The fact that I haven't yet seen RRR is a goddamn travesty. I assume that because of what everyone has said about it.
For Emergency Declaration, I was finally given a big foreign release film to review ahead of time! And its a plane disaster film! Great. I am sure subtitles isn't enough for me to call it uniquely different than other plane movies. I hope the plot really feels different as well. But I don't think there has been a lot of plane movies either, since the pandemic.
I wonder if the Big Plane industry has been controlling Hollywood, to prevent plane movies from being released. You know, to build up trust in the airlines again after the pandemic and those scares. This conspiracy probably doesn't have legs because I am sure there have been quite a few plane movies released recently, that I just don't remember.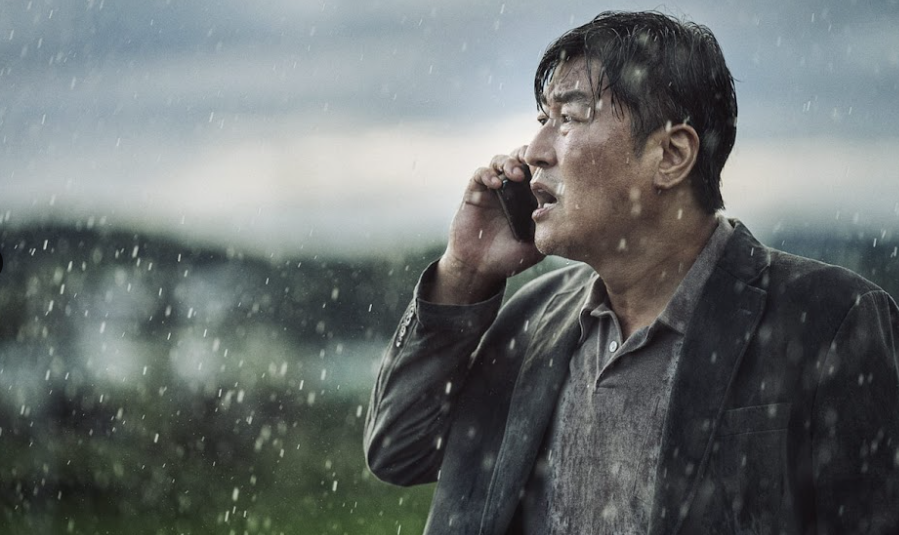 Dude its raining. Protect your phone man. The rice thing is a myth. 
Planes can be fun. But they can also be…not fun. In-ho (Song Kang-ho) is a detective! His wife (Woo Mi-Hwa) loves to travel, but In-ho does not and always cancels on planned trips, so she decided to go to Hawaii with her friends. Oh well. But it turns out in this area, there was someone posting a threat to kill people on a plane soon. In-ho found himself investigating these events, and found a really gross and deformed body in the potential terrorist's house. Including experiments and data on rats, about some biological weapon.
But the terrorist is nowhere to be found! Shit, he is on a plane. And we even get to see him to buy a ticket and get on the plane. He just wants to go somewhere far, with a lot of people on board. Somewhere like Hawaii.
And now, with bioterrorism in the sky, and let lose on the plane, how are they going to help those passengers who don't have a place to land? How will they navigate the geopolitical landscape when people wouldn't want to help them if they have an unknown, deadly, and contagious virus on board? How will they find a cure in a small amount of time? And how many will die along the way?
Also starring Lee Byung-hun, Jeon De-yeon, Nam-gil Kim, Si-wan Yim, So-jin Jim, and Park Hae-joon.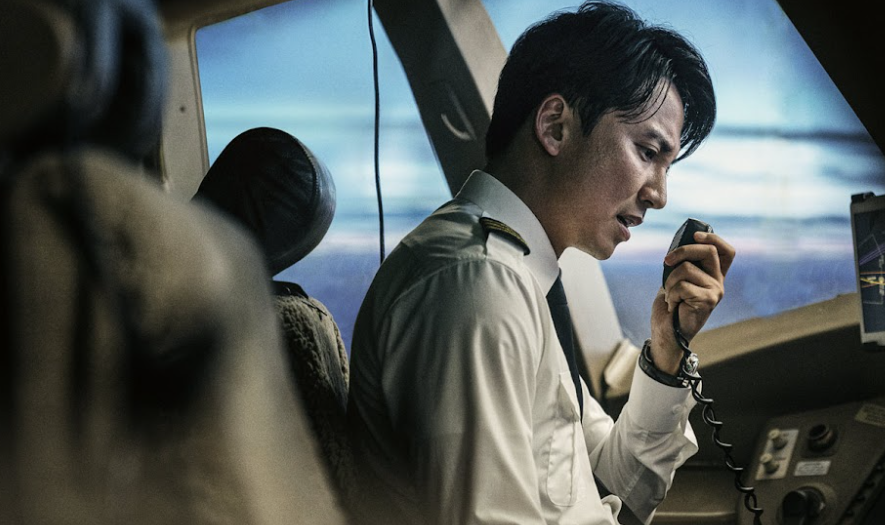 "How do I fly this plane with people bleeding everywhere?"
"That sounds like a real sticky situation you got there."
It turns out, I loved Emergency Declaration. And it is hard for me to really point out which moment or scene sealed the deal for me.
One notable component about this film is that it is pretty damn long for a plane disaster movie, rocking in at 2 hours 20 minutes. A lot of plane disaster films can't get a runtime like that, while keeping up the tension. And yet, this film keeps up the tension.
Anything that could go wrong does go wrong in the plot. When there seems like a reasonable out for them to get help, there becomes good plausible reasons for that to not work. When the plane at one point has to turn around to head back home, the look of absolute defeat in the characters eyes as they feel the turn and see the sunset change sides of the plane just really reaches deep into your soul. Speaking of soul, one moment near the end, when plane riders are finally able to get usable signal with their devices to video chat with their loved ones is completely heart wrenching. Did it make this movie reviewer cry? Of course it did.
And honestly, the plot outside of the plane, with our detective discovering initial clues with his fear building up, to the dealings with the Biotech company, and other countries government responses to their plight, along with various types of protests at home, all helped extend the tension in new and wonderful directions.
In terms of how topical this film feels, of course this film would make people think of COVID. People traveling, getting sick from an airborne virus, and people around the world trying to protect themselves from getting this virus as well. Because it is a weapon, it acts very fast, and is pretty deadly, and strangely enough, this film was written and started some level of production before COVID was a thing. So good on them finishing it anyways, even if one would assume it was inspired by recent events.
A lot of the side plots in the film will feel like clichés potentially. But if you have enough of them, and cram them all in, it gives a really compelling picture, with a large interesting cast, of various personalities all trying to do one thing. Survive.
4 out of 4.