By all means, tell me that the movie is done by the people who did Wallace and Gromit. Yes I will watch it every time. I won't always like it, but I respect it enough to give it the shot it deserves. It's very weird, very British shot.
So why not Early Man, which is going to combine cave man jokes with very British football jokes. Ones I probably wont even fully understand.
And the best news about it is that the cast only has 3 or 4 recognizable names. They are giving roles to actual voice actors, instead of just laying us down with 40 celebrities, some which probably would have only had five or so lines.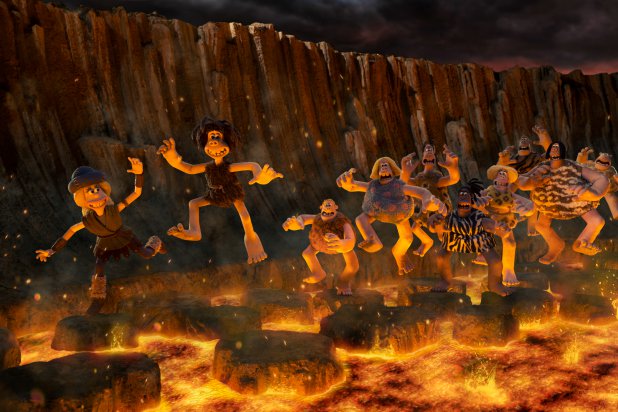 Lava is always a nice bonus, in any movie, regardless of context.
A long time ago, dinosaurs! Also this movie is saying cave people. Let's let it slide. Meteor wipes them all out, not the people somehow. They find the hot meteor left over that created a giant valley, where it is really hot, so they decide to kick it to each other. They invent the game of football, get really happy, and live their lives in the valley.
Now, some time later, we can meet our new crew of cave people. They don't know soccer anymore, they are relatively stupid as well. Dug (Eddie Redmayne) is young and a thinker, but the rest of the crew are content. They are content until some mammoths with armor come trampling in, as the rest of the world has decided to stop by and say hello. They are stone age cave people meeting for the first time a bronze age civilization, who is intent on mining out their secret valley for minerals, and letting them die.
Thanks to Dug who infiltrates their society, he learns that they play this game of football on the grand, coliseum like scale. This is their main religion! The only way they can probably get out of their jam and get their home back is by challenging their champions to a game. Dug saw these football paintings on their walls, but they never knew what it meant. But if their ancestors played the game, then they probably can figure it out as well!
Also starring Tom Hiddleston, Maisie Williams, Timothy Spall, Richard Ayoade, Miriam Margolyes, Nick Park, Rob Brydon, Johnny Vegas, Selina Griffiths, Simon Greenall, Gina Yashere, and Kayvan Novak.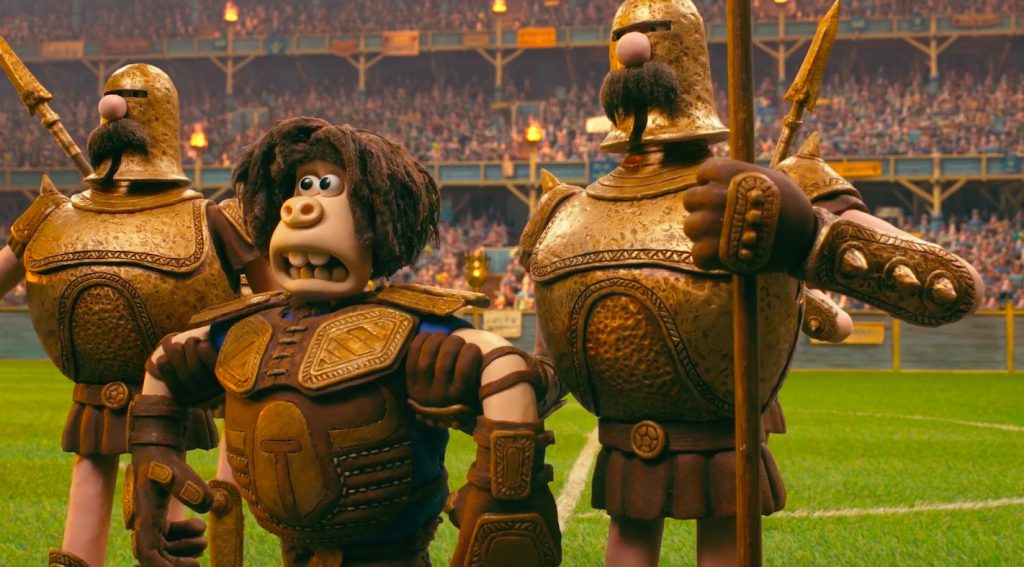 With that much armor, this thing looks a lot more like…football, than football.
Early Man is one of those basic "ragtag team of misfits pull together to do a sport thing better than professionals, due to teamwork, friendship, and shenanigans!" You know the kind. Despite being the type of thing that we have seen before, Early Man still manages to bring something new to the table.
It has a lot of tiny jokes throughout, a lot of puns they worked towards. And yes, there are some modern British football jokes that mostly would have flown over my head. But I got one or two.
The characters are likable. The caveman crew has a lot of complete characters, who have their individual good jokes or moments to shine. I don't feel like we only have a few supporting people. The whole crew got to feel supporting, always a great thing in a movie like this.
This is not going to be a game changing animated film. But it is still really well done, at points clever, and tells a fun story. Hell, even the final soccer match seems to deviate away from the norm for these sorts of things. Still some surprised out there for everyone.
3 out of 4.