February 5, 2016
The Lady In The Van
Now, I am not trying to be sexist here. But let's think about The Lady In The Van. Is it creepy? Maybe a bit. I imagine a cat lady, even though if you live in a van, you probably don't want cats in there as well. That'd be poopy.
But if this was titled The Man In The Van, most likely it would be some sort of scary horror film. Lady is intriguing. What is she doing in the van? Man is sketchy. What is he doing in the van? He should stop it immediately regardless!
I guess I should be thankful this is about a lady. Early year horror films are janky, but dramas early in the year might not be.
Overall, this babble is brought to you by: Genders. Men are scary, yo.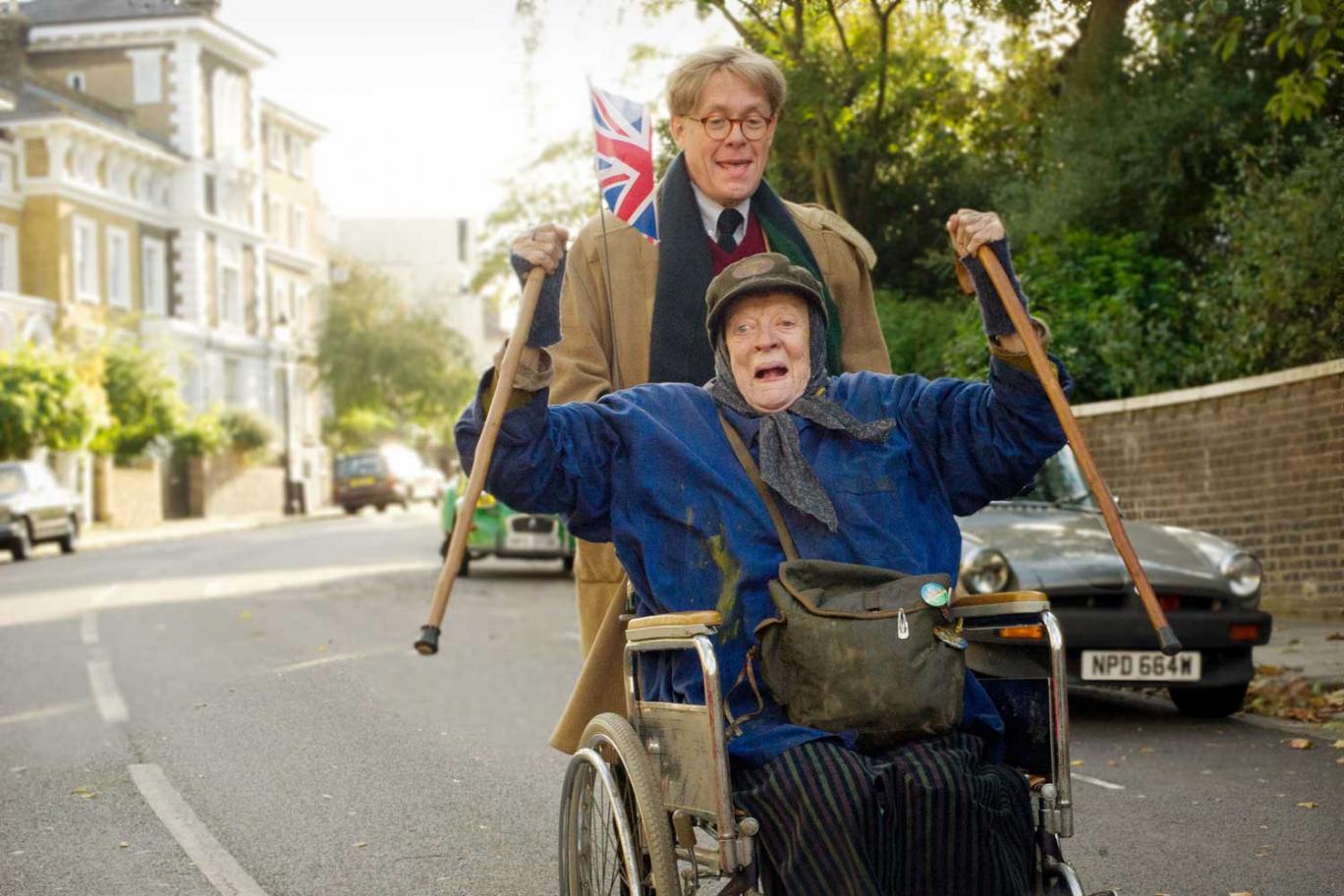 How British in this movie you may be asking? Well…
Miss Shepherd (Maggie Smith) is just a really old lady, and she needs help. Sure, she lives in a van, but she is self employed selling pencils and notes on the street. Not a beggar, no sir. People wouldn't take too kindly to that. This is 1970's England, and it is perfect! She parks her van in a nice suburb area. Where the people are relatively well off and in that range where they will help her out and let her use the water closet, to make themselves feel like they are doing good in the world. And Alan Bennett (Alex Jennings) just moved in.
Alan is a writer of plays and, of course, mildly successful. He has finally moved away from his Mam (Gwen Taylor), who might need to be put in a home herself soon. He is our narrator as well, and he describes that he has two halves. The one who writes, and the one who lives. Sure enough, he befriends this lady in the van, who has lived an apparently long and complicated life. He already writes a lot about old ladies, thanks to inspiration from his Mam, and he has to figure out if he wants to write about Miss Shepherd as well, or just experience her like a normal person would.
Miss Shepherd is also very secretive about parts of her life. She hates it when anyone plays music and will rant wildly if it occurs. She is being blackmailed by a cop (Jim Broadbent) for maybe killing a person. Yeah, that is important.
Guess how long this old lady stays on the street/ in his driveway? Guess! Over a decade, that is the only hint I will give.
We have a lot of neighbors who are in the story, played by Frances de la Tour, Roger Allam, and Deborah Findlay. There were also quite a bit of cameos. People who I thought were way too famous to be in this movie for one line or one small scene and never seen again. They include Dominic Cooper, Sam Spruell, James Corden, and Russell Tovey.
And this is the lady sneaking out from behind her van.
It turns out all the people who had small cameos in this movie were there for a reason. And no, it wasn't because James Corden is a douchebag who only gets 1 line in British films and doesn't deserve a Late Night talk show program. The director, Nicholas Hytner, also directed The History Boys about 9 years ago. It was his last film and all of these random famous people cameos came from that film. The more you know!
Also, this movie is technically a 2015 film, despite getting released in America so late. So it was up for all the fancy awards and it was nominated for…one golden globe! It was also nominated for some British awards, as expected, given it has Maggie Smith in it, who is basically the British Meryl Streep. They love nominating these ladies.
Speaking of Smith, she was fantastic in this role. I have never seen her so old or decrepit. I was getting worried about Smith herself, given how pale and old she looked. Thankfully I remembered that make up departments in a movie were a thing and she doesn't actually look like she is one step away from death. But damn do they pull it off in this movie. She is funny and naggy and cantankerous. Everything you'd hope for in a movie old lady, but not in someone you actually know.
The rest of the movie leaves something to be desired. Jennings plays an incredibly closeted British man well, but as a narrator and co-lead he is never really exciting enough. He is basically playing the audience half the time, just watching things happen around him, due to his timidness (or Britishness, really). The split personality thing was confusing for the most part, never really enjoyed how they had that play out. It was made weirder at the ending when they tried to explain it a bit more in the conclusion, too. The many other characters give an occasional smile, but don't do a lot outside of show up once in awhile to be nosy.
Overall, you can probably watch this for Smith as she gives a wonderful eccentric performance. But this is not something you would want to watch ever again.
2 out of 4.