Paddington 2 was probably one of my most looking forward to films for awhile. No, not some big superhero film, or a drama with all of my favorite actors. Paddington. Two.
The first one was just a delight. It was cute, funny, and it felt like the perfect family film. It didn't help that Europe got it so much earlier than other parts of the world, so I heard about its praise, and I just wanted more.
Who would have thought that a little bear could bring the world together so much? Well, the makers of the first Paddington, I guess.
A successful family film always needs a big family so everyone can relate to someone.
Things are changing in the Brown household. The kids (Madeleine Harris, Samuel Joslin) are changing their appearances and hobbies, the mother (Sally Hawkins) wants to go on adventures and is training to swim to France, and the father (Hugh Bonneville) is going through a big midlife crisis because he feels old and is missing promotions at work.
But Paddington (Ben Whishaw) is just chill. He is helping his neighbors, making the world a brighter place, and really just finding a place to exist. He does want to get a gift for his Aunt Lucy (Imelda Staunton) though, which leads him to a sweet pop up book of London! It is very detailed and it will let her experience London like she always wanted to. But the book is rare, so Paddington will have to get a few jobs in order to pay for it.
What Paddington doesn't know, is there are others out there that will go to great lengths to get that book, even if it means Paddington ends up in Prison as a result.
Also starring Hugh Grant, Michael Gambon, Julie Walters, Jim Broadbent, and Brendan Gleeson.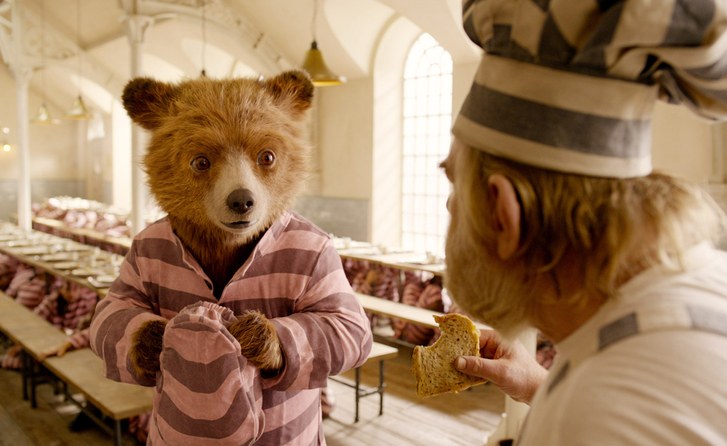 Jails are just a red herring of course. Or a pink herring.
At the time of writing this review, Paddington 2 has a 100% on Rotten Tomatoes. And that isn't based on only 20 or so reviews, it is based on ONE HUNDRED NINETY-SIX reviews! That is almost 200 people who agreed that it didn't suck. Of course it doesn't mean it is a perfect film, just everyone found it overall good and gave a positive impression. And that is frankly unheard of in this day in age.
Of course while watching it, I found myself chuckling a few times. Just the generic slapstick portions as Paddington flails about trying to do human things are worth it. The story goes really well together and ends with a lot of the pieces coming together quite nicely.
Most importantly, it is a film with a simple story and that works in its favor. It is slow enough moving that even those younger kids will be able to follow along and enjoy it, while not being too slow or boring for adults. The family was funny enough. And Grant was very good in his role, and at a very good age and time in his career to play something like he did.
It doesn't resort to violence, it resorts to smarts, and maybe some bonking, but not an all out brawl.
Hooray!
3 out of 4.