When I see things and when I hear things, I tend to believe them. They are some strong senses. I use those two more than the rest of the basic five senses. Smell, Touch, Taste? Not stuff that matters for the most part when it comes to believing.
Sure, we do have a lot more senses, like a sense of time, or sense of balance. But we are lead to believe if we can see and hear something, we should trust it and believe it.
So for Things Heard & Seen, I imagine, there are going to be unbelievable things that get heard and seen, and the characters in it will have to believe it, even if they too find it unbelievable.
Fuck yeah, I really broke down that title there.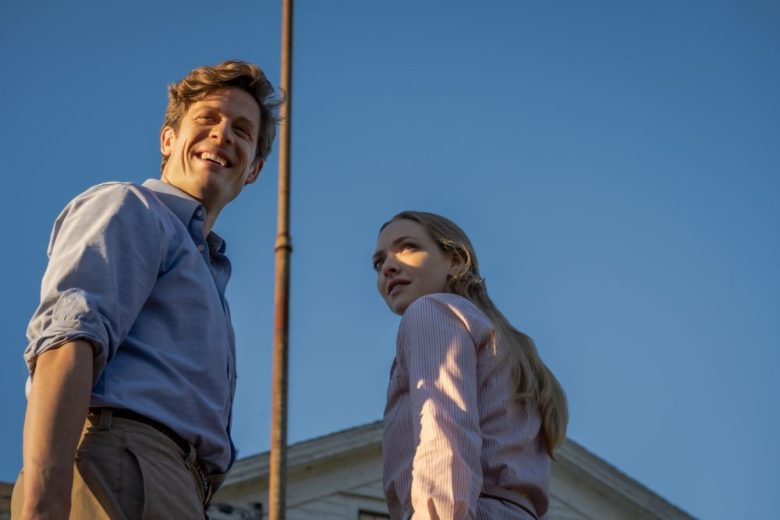 Fuck yeah, the sun really did get partially in both of their eyes.
It is 1979 and Catherine (Amanda Seyfried) and her husband, George (James Norton), are finally ready to move on to the next stage of their life. Is it children? Nope. They already have a daughter (Ana Sophia Heger), and she is a regular kid. No. George got a job!
More importantly, he finished his PhD in Art History (Woo), really exciting stuff, but it took him awhile. So now they can leave New York City and go to small town New York for him to be an exciting professor of Art History.
And of course, their house has history, but George didn't want to tell Catherine about it. Catherine gets superstitious, about ghosts, gods, and the dead. He doesn't need that. Turns out the whole community is mostly religious. Well, it is the 1970's, so nonbelievers are less out open.
But sure enough, George kind of sucks. Immediately flirts with some students, spends a lot of time away from Catherine. Catherine's only reprieve is some neighbor kids who help watch their daughter and are helping fix up aspects of the house.
As time continues on, George gets work, more secrets come out for Catherine, and you know, dark stuff.
Also starring Alex Neustaedter, F. Murray Abraham, Jack Gore, Natalia Dyer, and Rhea Seehorn.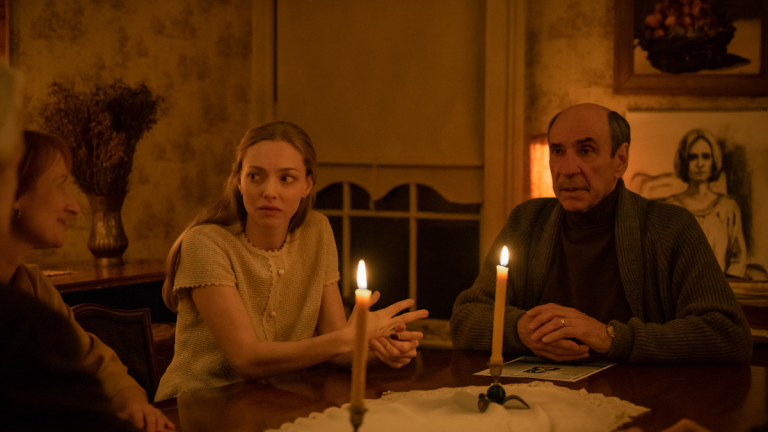 Candles mean Séance which means WHAT IS BEHIND THAT GUY?
Things Heard & Seen definitely kept my attention…in the beginning of the film. I was really excited to get to know these characters, honestly. The husband turning out to be a sleazeball wasn't surprising and happened really early on. I expected that.
And then large swaths of time after that were just showing that he is actually worse than we thought and a sleazeball in many other elements too, not just relationship wise. A liar, and a cheat, and an adulterer he is I tell you.
This movie ended up providing zero excitement the more things were being revealed. The sort of thing that classifies as twists happened, but they made the film actually seem duller the further it went along. And this is just the mans story! Our main character's story barely moves at all, outside of an increase in her own paranoia.
The ending itself would be considered a huge let down if I didn't already lose most interest before that point. (It can't be a huge let down if it isn't a big drop, so just a regular let down). It takes more that nice cameras to make a nice movie. Things Heard & Seen should remain unheard and unseen. Clever joke, I know.
1 out of 4.