September 25, 2023
There's Something In The Barn

There's Something in the Barn was watched as part of Fantastic Fest 2023!
Bill (Martin Starr) is taking his family to Norway! You see, his Uncle owned a cabin and land out there, but he passed away, and Bill was left the property. So why not upend his whole life to a new place to start over.
You see, Bill's original wife died in the past. So he had gotten a new wife, Carol (Amrita Acharia), but he had two kids before that, Nora (Zoe Winther-Hansen) and Lucas (Townes Bunner). His new wife, the kids don't really full accept as a replacement mom, but she is trying. She is into self help seminar speaking. Bill is excited to open up a bed and breakfast place with their new land.
However, and forgive me as I say this, but there appears to be something in the barn. Only Lucas sees it at first, so of course no one believes him. But a local tells him about the Barn Elves that supposedly live in the land, and how they are different than those silly American lawn gnomes. They have rules, they hate noise, they hate bright lights, and will leave you alone if you leave them alone.
So no one cares, there are parties, and sure enough, the elf gets pissed. Time to get revenge with a bunch of his elf friends. Just like they did to the last owner.
Also starring Calle Hellevang Larsen, Jeppe Beck Laursen, and Henriette Steenstrup. And of course some elves were played by actors like Kiran Shah, Paul Monaghan, and Alexander Karlsen El Younoussi.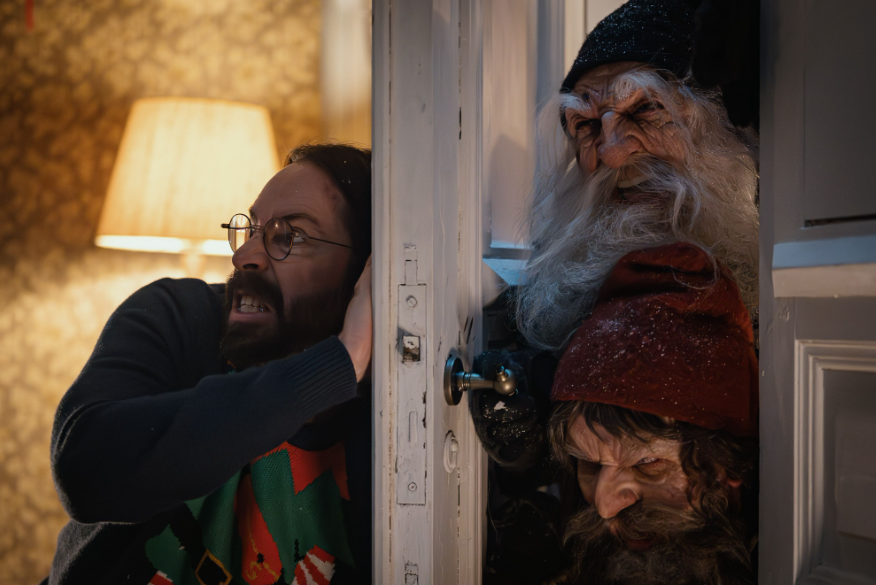 "I'm not even sure how the debt collectors found my new place in Norway!"
Christmas horror comedy flicks. Is this genre on the rise or what?
Now, I like the idea of a good multi-genre film. For example, we didn't really have a lot of Christmas horror comedies, besides like, Gremlins sort of. Then eventually we got a Krampus and it became a big hit. And last year we had Violent Night.
I would put There's Something in the Barn solely between those two movies. Better than Krampus (which was just okay for me), and not as fun as Violent Night. It IS a fun movie in its own right though. There are creative deaths, and a lot of silly moments. I mean, these elves are so dumb looking, it is hard to not find it humorous. But Starr is no David Harbour, when it comes to the physicality and outrageousness of his Santa.
Of course of course, this is not the point of Starr's character. He is playing the classic screw up father, who is trying to make everything nice, when nothing is. In fact, this might be the first time he has ever played a dad on screen? He was a nerd on Freaks and Geeks and has been sarcastic asshole for so long, its weird that we are getting to that stage in his career.  Am I old now? (yes)
But back to the film. This film is 100% going to join the rotation of others of the similar genre. If you like comedy horrors at Christmas, you will like this one as well. I think it offers something new and interesting, including a bit of a rewatchability factor.
3 out of 4.