I Want You Back is by far, The Jackson 5's best song release, and I will fight you over this statement.
It can be a good name for a movie too, but in 2022, it does have a creepy vibe to it. Winning back someone's love is really something that should be reserved for a film, and probably not practiced in real life. If someone has moved on, we need to respect that, and they don't need to be harassed by you.
Maybe I should reconsider the song being their best, given the message and what I know now, today? (Editor's Note: Nah, I am fine with it being in a time capsule from the 1970's. And I don't want ABC to be the best song anyone's done either).
With a name like I Want You Back, will a film do very creepy things and write it off because woo movie romances, or it will accept that times are a changing and acknowledge the awkward messaging behind that line? Well, let us go and see.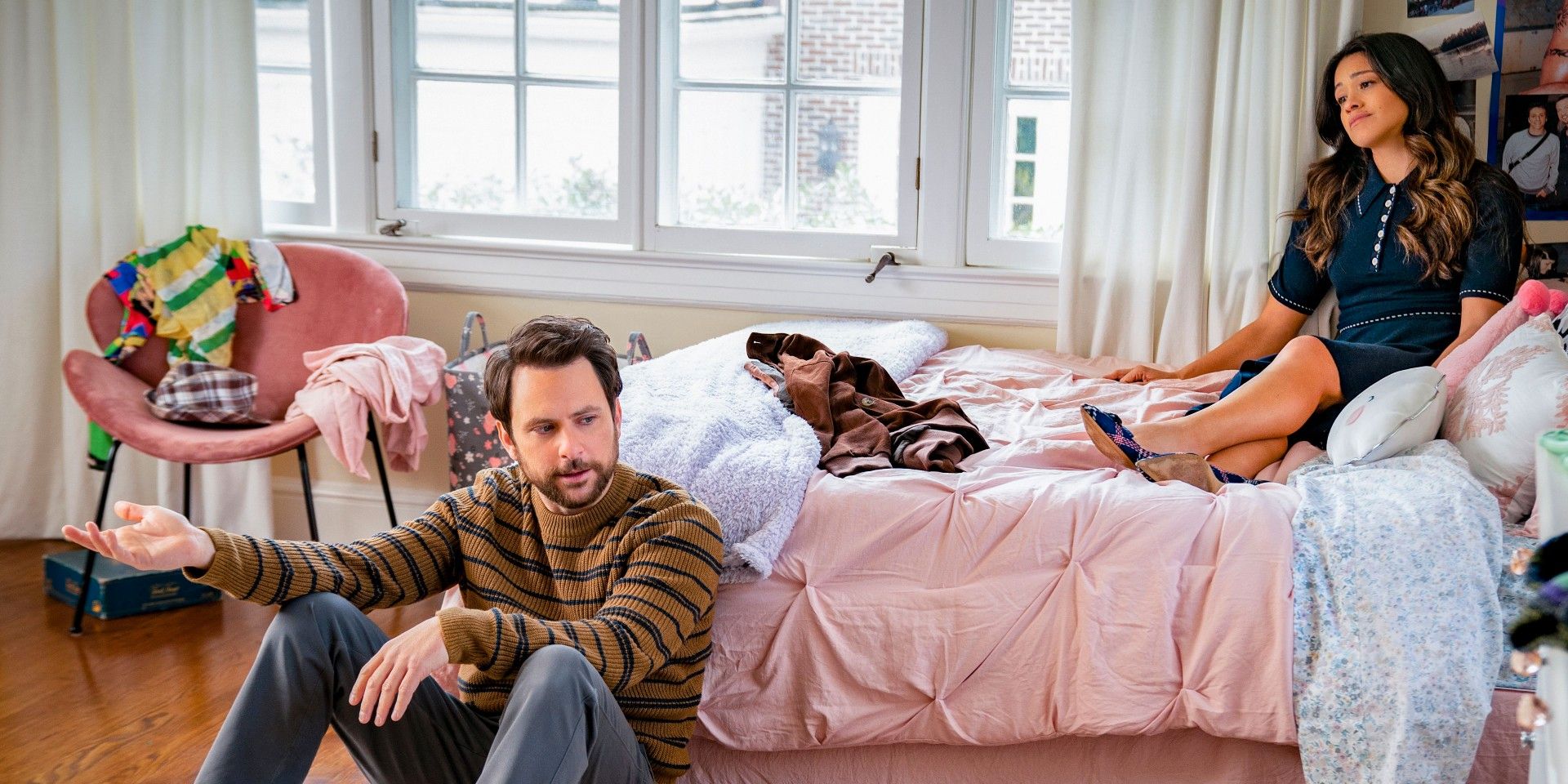 This is a scene where a break up happens! 
Peter (Charlie Day) and Emma (Jenny Slate) are about to get DUMPED. They are in kind of long relationships, no engagements yet, but their partners are done. Peter's ex girlfriend, Anne (Gina Rodriguez) acknowledges that Peter is charming and fun to be around, but she wants to have someone who is more experienced in life and is working on improvement, like the new drama teacher at her school, Logan (Manny Jacinto), whom she is going to start dating.
Emma's ex boyfriend, Noah (Scott Eastwood), is a personal trainer, very athletic and outgoing, and is tired of Emma being at a stand still in her life. She has no direction, no drive, she is fun and funny, but she doesn't seem to care about her future. The new person he found? Ginny (Clark Backo), has her own restaurant, meets with important people and has a big following.
So their exes have moved on, and Peter and Emma are left behind in a rut they did not see coming. They didn't know each other, but they ended up meeting when they both went to a stair case to cry at, and hey, a friendship was born. Thanks to their similarities, they do find out about each other's break up and hatch a plan to help win back their exes. Yep. Good idea. Emma is going to volunteer at the middle school musical rehearsals and seduce the drama teacher, so that Anne will think she made a mistake. Peter cannot do the same thing at all, so he will instead try to befriend Noah, become a client of his, and maybe convince him that his last girlfriend was clearly way better than his new one.
Nothing will go wrong, and everyone will get what they want and no creepy stuff at all, nope nope nope. Also featuring this kid, Luke David Blumm, in a weirdly more important role than anyone would have guessed.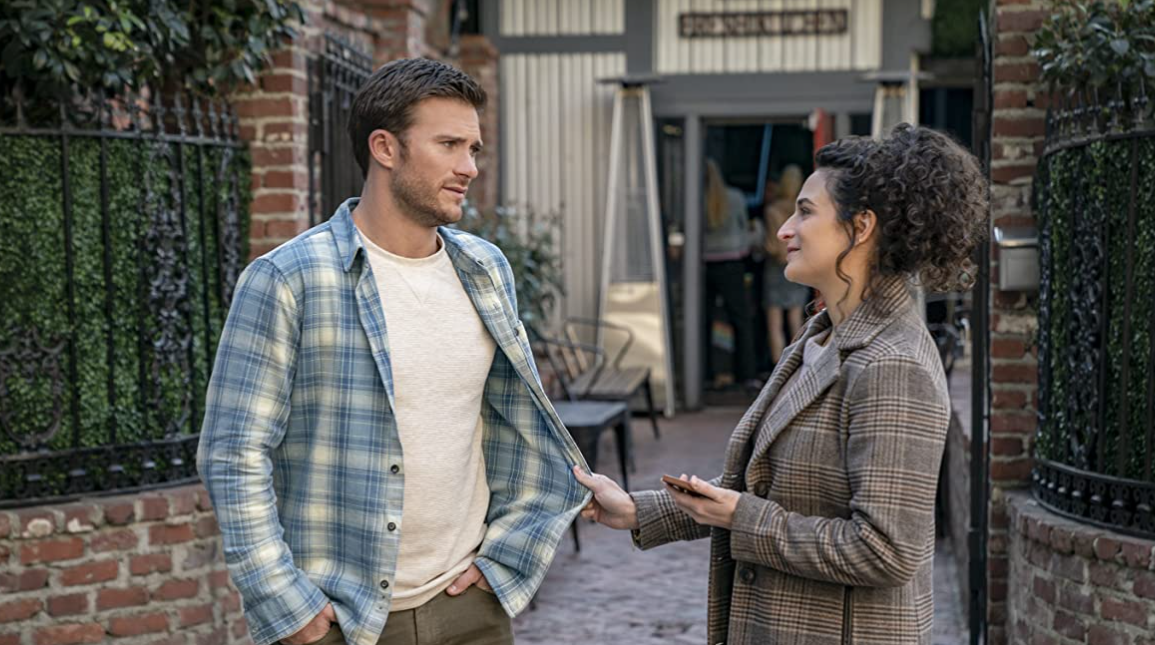 This is a scene where a breakup happens!
The problematic nature of trying to win your ex back, I do believe, is noted in this film. At no point does a character say, "Oh wait, this is really toxic and messed up, lets stop." No, not that. However, in the process to try and win them back, a lot of bad stuff does happen. And characters learn that what they did is bad. So for comedy sake, the things did have to occur obviously, but hey, the characters learned lessons, achieved growth in several different ways, in the process. That is a much better story than the classic win back your ex romcom of the 80s and 90s. Success!
Day and Slate are WONDERFUL together. Once I first saw the poster for this, I knew it would just work well. As far as I can tell, they haven't worked together in the past, but they are both comedians, have played frantic characters, and have gone to the extremes. I knew their vibe and likely improv would play well together.
For the rest of the supporting cast, most of them do a great job as well. Eastwood is given the most time to really show off his own humor skills. This is only my second time seeing Jacinto in a role, and it is very different than his part in The Good Place. Both of the males of the new relationships are the focus, so the other women are given the least amount of time. Rodriguez has to play someone uncomfortable and nervous mostly, so it isn't as strong as a role to remember as the rest, given her character is meant to not really stand out. And Backo, out of everyone, really plays the "straight" role here, for more context away from Slate, so they barely focus on her at all.
I did not expect there to be so much Little Shop of Horrors in this movie either. So that was a pleasant and welcome surprise. Hell, I cried during one of the scenes, because I love Little Shop of Horrors and because I am a basic bitch. Also one of my favorite jokes definitely came from a pun related to that show and its lyrics.
I think this movie is an example of a Rom Com that really dives into the comedy elements and goes hard for laughs, and definitely delivers. I chuckled to myself a lot, despite watching it by myself. The only part I really didn't love is the last, 50 seconds or so. It makes sense for that scene to happen, and it is one of those that you could telegraph and guess before it happens. But still, it is a bit uncomfortable at the same time. Not enough to suddenly dislike the movie, but it is a definite eye roll.
4 out of 4.