Doctor Strange in the Multiverse of Madness is the 49th film in the MCU. I mean, maybe, it is hard to say at this point. I ain't keeping track anymore, and I don't know how many Sony or Fox films get to count either.
I do know this is another one of those films with some spicy drama behind the stage. You may have forgot this by now, but Scott Derrickson, famous relatively new director of horror film classics like Sinister, was signed on to direct this movie. A horror guy! To do a marvel film! People got real excited over that concept. Is this gonna be scary as fuck?
No, because Derrickson left. And one of the writers. Over creative differences. Damn, he must wanted it more scary and Marvel said nope.
So what did they do? They confused us all and brought in Sam Raimi. Raimi is known for two things. His horror films (especially The Evil Dead trilogy), and for the original Spider-Man trilogy. This guy knows superheroes and horror! So what kind of film is this going to be? Regular superhero stuff? Horror superhero? Some wild ass shit Raimi dreamed in Michigan one cold morning? Who the fuck knows! It's a mystery. Just like the Multiverse of Madness.
Run, don't walk, to the nearest bad joke store for more zingers! 
This film assumes you have seen two things by now, so I am going to as well. WandaVision and Spider-Man: No Way Home. The former is far more important too, so get your 9 half hour episodes on.
This film also takes place in some generic time frame, because they fucked up the years of these things being released. Strange (Benedict Cumberbatch) has now been invited to Christine's (Rachel McAdams) wedding! And it definitely isn't to him. He fucked that shit up. Oh well.
But in the life of a hero, there is always danger, and sure enough, some shit starts flying around. That is where Strange meets America Chavez (Xochitl Gomez), being attacked by a giant tentacled eye monster! No name for this film, I think it is copywriter. Eventually Strange and Sorcerer Supreme Wong (Benedict Wong) find out that Chavez is from another universe, and get more information about the multiverse. She can travel between them, it is her power, and there is a demon or something after her hoping to steal that gift for their own personal gain.
Shit. What's a former Sorcerer Supreme to do? Especially when there is evidence of a different Stephen Strange and knowledge that he wasn't fully on the up and up. Guess it is to enlist the help of some strong entities, and protect her before some universes collide.
Also starring Chiwetel Ejiofor, Elizabeth Olsen, and Michael Stuhlbarg. Also more people, but shhh.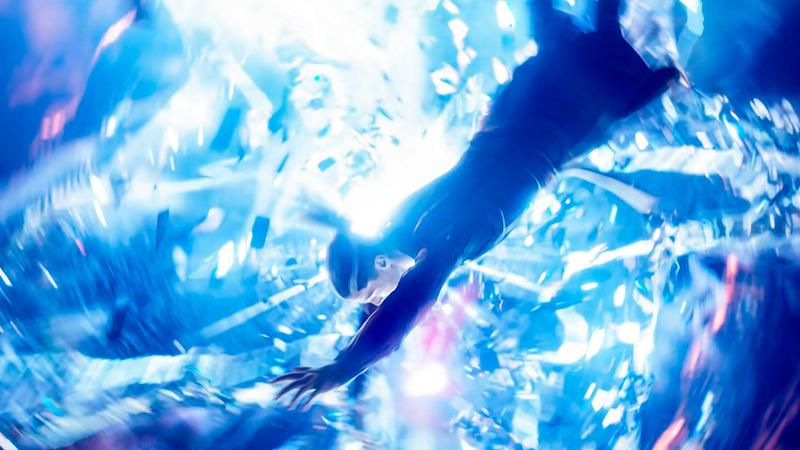 Is this a horror screen shot? Is this fantasy? Is this porn? 
It was very hard to go into this movie without comparing it to Everything Everywhere All At Once. An indie film that could, it is chugging along and everyone is loving it. I loved it! It came out before Doctor Strange 2, and dealt with multiverses, even though a lot of people knew about this one years ago, it still snuck out ahead. Is there room for two multiverse based movies?
Well, Everything Everywhere All At Once had a lot of work to do. It was DENSE as all can be, it had to pack a lot in to tell a complete story while dealing with other universes and going fully bananas. This MCU film has the benefit of dozens of films and TV shows ahead of it to carry various amounts of emotional investiture, to tell its multiverse movie, and it really shows.
Surprisingly, TMoM doesn't go as bananas as one would expect. I thought it would go through a lot of weird places, and we'd see cameos every few minutes. Fan service sells right now. Which random former Fox properties could show up?! But it didn't do that, outside of a quick trippy fast montage, similar to experiences in the first Doctor Strange. In reality, this film sticks to only three universes for the most part, which is a bit surprising. It is like in Wreck-It Ralph, when you thought he would get to go to so many different fun video games, then just went to one for a little bit and then spent a lot more time in a candy world than you thought he should. The number of multiverses visited does NOT approach banana levels.
But the ones we do get deliver a lot of fun and interesting concepts. The implications for the future are all there in the film, which are sort of standard now, and a little bit infuriating. For example, the first credit scene is interesting, but how it is shown right after the last scene of the film makes it a bit jarring. Is it minutes later? Is it not? Who knows. The second credit scene is worth every penny though.
HOW ABOUT THE HORROR? IS THERE HORROR?
Yes, I am happy to say, Raimi was able to get some creepy horror things into this. Dark hallways, enemies that won't stop. Body horror in various levels. We got death in this movie, and some of them are quite shocking and gruesome. We got death which also means dead bodies. Raimi loves to use dead bodies. Some of the dynamic angles he used for just zoom ins to faces and doors felt very Evil Dead-ish as well. You can tell he was behind the film overall, and I love it when there is obvious director influences. Especially in the mega corporations of Disney.
I will say that I thought Scarlett Witch was underdeveloped, but Olsen did a lot with the little she had to work with. There is stark stark difference here between Wanda now and Wanda in WandaVision. I know we had the credits scene of the TV show, but we still have to fill in some gaps on our own to get Wanda to the level she is in this movie. I think she has powerful scenes, but I also know, they could have been better.
At this point, I don't even know what the next MCU film is. But I do know I am gonna watch it, and statistically, I will find it okay or better, so go on, keep the churn coming. I am not full yet.
3 out of 4.