April 8, 2022
Everything Everywhere All At Once
I knew I wanted to see Everything Everywhere All At Once when I saw the poster for it. It is full, vibrant, and wild. I didn't care what the plot was. The title was good. The poster was good. Harry Shum Jr. from Glee was in it. Let's go, I'm sold, let's do it.
But then I saw that it was directed by The Daniels (Dan Kwan and Daniel Scheinert). They have only directed one feature film together before this one, and it was Swiss Army Man.
Swiss Army Man was easily one of my favorite films of the year it came out, and was in my top 50 of the decade. It was wholly unique, unlike anything else I had seen before. It took a ridiculous topic and made it WORK. It should be talked about more in cinema circles, honestly.
If that is what they could do on their first try, I was damn near giddy to see what they would do with an ambitious title like Everything Everywhere All At Once.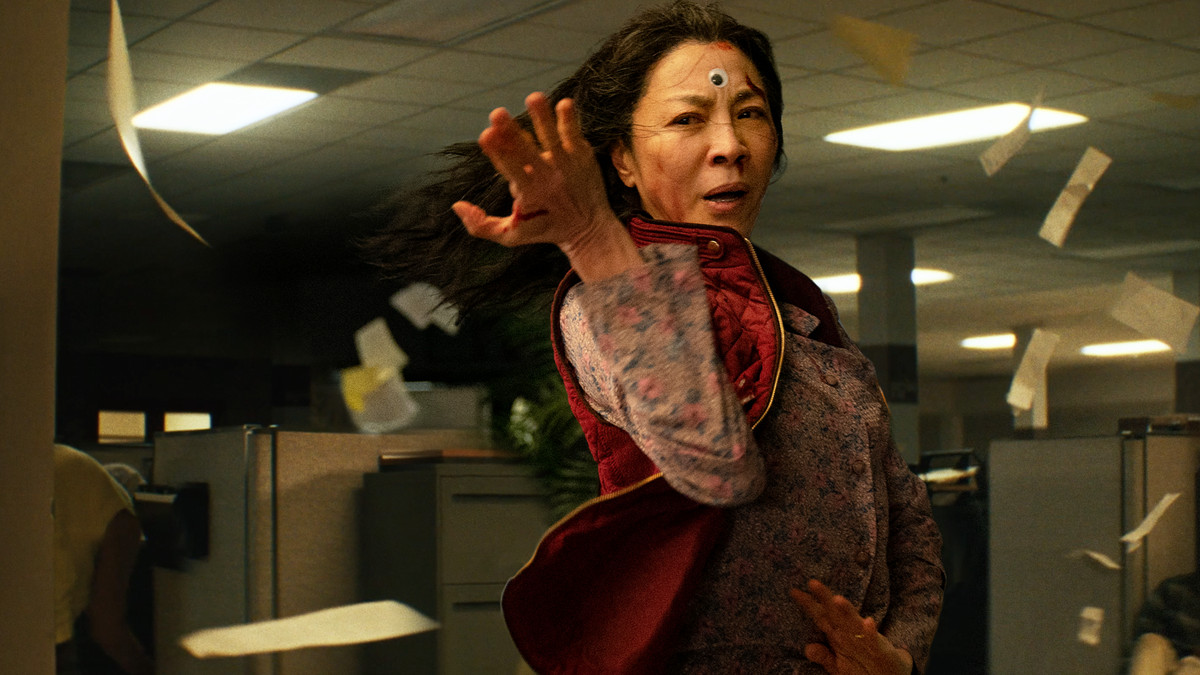 The third eye really brings up the extra levels of power.
Everything. A lot is happening to Evelyn (Michelle Yeoh). She is trying to run a laundromat. She is trying to have a Chinese New Year party for the surrounding area and community. Probably an idea to help their laundromat which isn't doing great. And they are being audited by the IRS and have an important meeting today to show their receipts and prove their business expenses. Her father (James Hong) is here visiting and judges her family and everything about her.
Her husband (Ke Huy Quan) is a nice guy, but he seems a bit bumbling and she has to be the serious one to solve the problems in her eyes. Her daughter (Stephanie Hsu) is struggling with feeling accepted. She has come out as gay and Evelyn has said she is fine with, but refuses to tell the grandpa because she may be secretly ashamed. Evenlyn is also constantly nagging on her daughter, to fix things that aren't actually big issues.
Things seem to be imploding on Evelyn today. And things get more intense at the IRS building. Because at some point she finds herself in a closet, suddenly an instantly. Her consciousness going between the Evelyn at the desk and the Evelyn in the closet. It seems like it is her husband talking to her, but he claims he isn't her husband. He says she is needed to help save the universe. Shit is getting bad, and she might be the last hope.
Oh well, just pile that onto Evelyn's plate why don't you.
Also starring Jamie Lee Curtis, Jenny Slate, Harry Shum Jr., Brian Le, and Andy Le.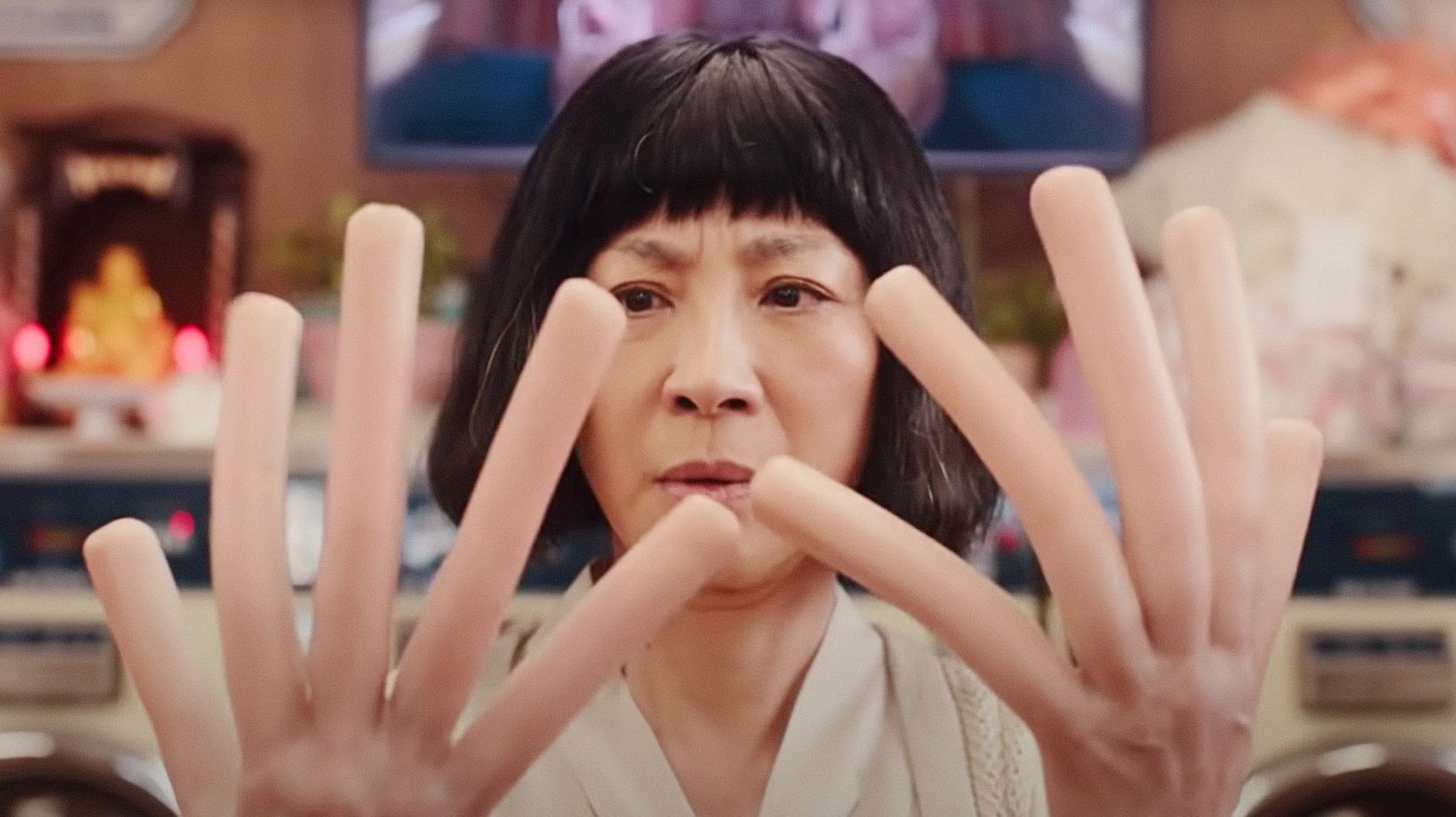 I will not be taking questions at this time over this image.
I put off writing this review for so long. Not because I didn't like it, because I loved it, I did. But because I knew I wouldn't have the words to do it justice. I didn't even know how I would go about describing the plot, because I didn't want to give that much away. I decided to watch the trailer and base it on that, and still told a lot less information than the trailer, so I am comfortable on that front.
Everything Everywhere All At Once is a masterpiece of cinema, that about sums it up. It is an incredible DENSE film for the subject matter, and it doesn't hold anything back. A common complaint I give for films is when they "don't go hard enough" and this movie goes hard enough. It goes off the deep end real early on, and gets the viewer to catch up along the way, not boring us with exposition to explain things necessarily before they happen. The actual beginning feels like it is going to be a stressful movie similar to Uncut Gems, but when it gets supernatural, the stress levels are amped up significantly.
It switches between so many time lines and events, and molds things into one that if you don't pay attention you will be lost. And I love that. I love that the film rewards the audience for paying attention, for looking for clues, and for treating us like we are capable humans of following a narrative.
I can't say I understand every movie, or that I even fully understand this one, but I get enough of it to love it and want to see it more than once. It is not going to be a movie for everybody, and likely the weirdest film I will see this entire year. It is a shame it is coming out so close to Dr. Strange 2, which will also go for some similar multi-verse themes. But I think Everything Everywhere All At Once will stand up on its own, and it will likely go a lot farther than a Disney backed super hero movie.
Finally, Yeoh is the main character of this film, and she does an amazing job, a character unlike one she ever really plays in my eyes. But Quan and Hsu are a big part of the heart and soul of the film. Because in the end, it is still a very touching family film, and like lots of other films recently, dealing with generational trauma and overcoming the sins of our ancestors. I hope to see big things from Quan especially in the future.
4 out of 4.