September 20, 2018
The House with a Clock in Its Walls
Apparently The House with a Clock in its Walls was a book. I haven't heard of it. The author really loves it, and made a whole bunch about these people. Studios be trying to get all pseudo famous books into movies, because the scripts are halfway made and have a following.
I don't know it, nor do I care. This title is unforgivably awful. At no point does this scream out sexy, fun, or cool. It sounds god awful. This is about magic? This is the least magical sounding title of a movie ever.
How anyone saw this title and wanted to read the book is beyond me, but at no point is this one I would want to watch without being a reviewer. This is a film that I would skip on principle alone.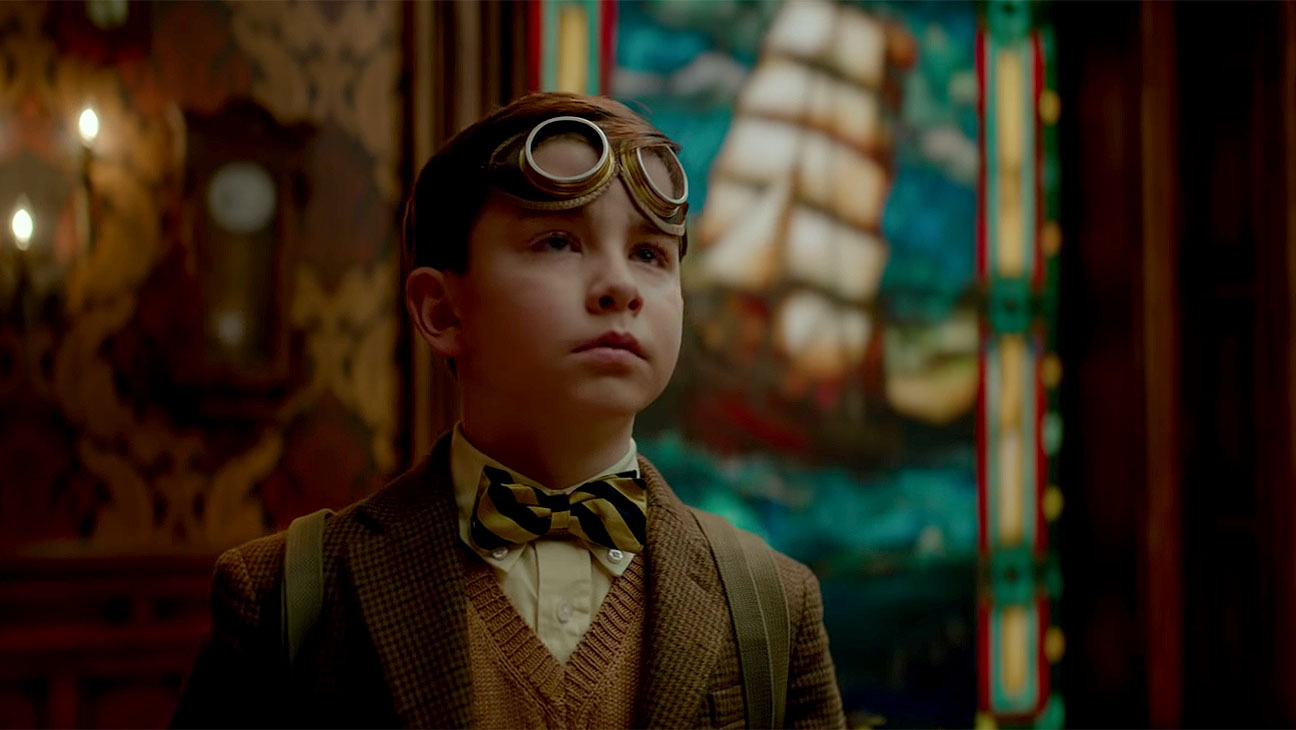 Why the fuck is this kid wearing goggles? To show he is whimsical?
Lewis Barnavelt (Owen Vaccaro) just lots his parents, in some sort of car accident. Now he has to move to some place in Michigan, to live with his Uncle John (Jack Black), an eccentric man that his family never talked about and whom he never met. for many wonderful reasons. He lives in a mansion. It is weird, and decorated with Jack O'Lanterns.
And shit, inside the house things move around and are a bit spooky. Why? Well, his Uncle is reluctant to tell, so we have to let things be a mystery for a while. Maybe he is a murderer, and he will kill Louis one day.
There is also a purple loving neighbor, Florence Zimmerman (Cate Blanchett), no relation to the Florida vigilante, who is hanging around, also involve in some sort of shenanigans.
Alright, okay, they are warlocks and witches. Not bad ones, not necessarily good either, but certainly not evil. And Louis is showing promise so, shoot, he can be one too.
No, this is not The Sorcerer's Apprentice. This is the Warlock's apprentice, damn it.
Also starring, Kyle MacLachlan, Renée Elise Goldsberry, Colleen Camp, Sunny Suljic, Lorenzza Izzo, and Vanessa Anne Williams.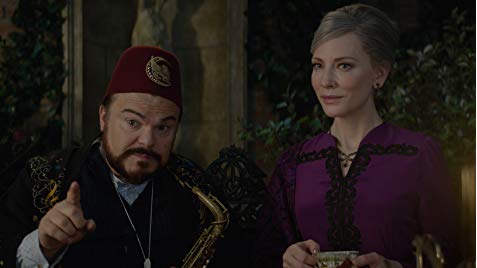 "Hey, we're cool, we're hip, we know magic!"
To be honest, it has been a good while since I fell asleep during a movie in the theaters. The last one was probably Deadpool 2, I know, how dare I do that thing.
Well, when a movie is boring, its boring. I know I missed full scenes, because they referred back to them later in the movie. "What cemetary scene? A blood what?" I think to myself. Oh well, not important. Because of how slow the film decided to start, really going hard after that old time asthetic, we had to watch character development scenes that really don't move the story forward.
At no point would I say are the school plot points really useful for this story. People don't like him because he is new. Normal stuff. People don't like him for being a nerd? Hard to say. Really, they don't like him for wearing goddamn goggles. Take that shit off your head. Which another character even points off, but nah, need those goggles on.
The school scenes are all just to set up future movies that probably won't happen. Even the normal plot line of finding a friend didn't work out, defying no tropes along the way.
The movie feels overly polished and CGI heavy when we get to the magic aspects. The ending isn't fun or exciting. It mostly feels like convenient moments after convenient moments to get to what they eventually call an ending.
Eli Roth tried to do a family film. I shouldn't be too surprised at the low ranking, since he has been disappointing me with his R rated endeavors recently as well.
1 out of 4.