They call him Sonic! Cause he is faster than sound, he's always jumping around.
Blue hedgehog Sonic! With Incredible speed, he's moving his feet.
The inevitable has finally happened, we have been given Sonic the Hedgehog 2. And hey look, it doesn't have a subtitle. How nice of it to name itself after the second game exactly, while also having a poster look very similar to the game cartridge.
The first film, which released right before pandemic things, came out to VOD services faster as a result, and was one of those early bright spots for movie watchers with families, along with Trolls: World Tour and Onward. And for sure, the film did fine, especially when compared to other video game movies. After they fixed the CGI monstrosity that was the original, they put a pretty good story, despite the increased human elements to the plot (which every film always has to do). I was relatively excited to see what they would do with a sequel, and continuing on with the franchise.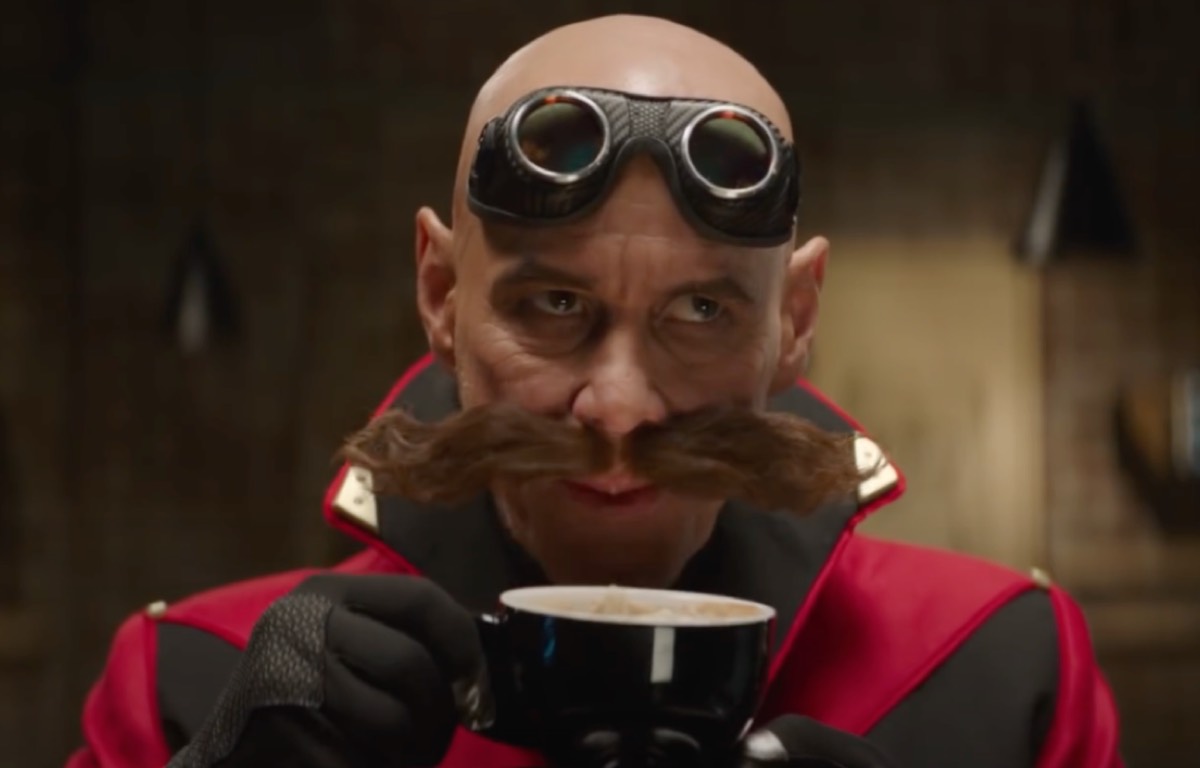 How annoying would drinking anything with froth be with that 'stashe?
Set…some amount of time after the first film, Sonic (Ben Schwartz) is still hanging out in Green Hills and living a calm life of quiet. Except when he goes to random cities to attempt to fight crime real quick, causing damage in the process. Tom (James Marsden) and Maddie (Tika Sumpter) are now surrogate parents for him, and want to steer him into good decisions, to make sure he uses his great power responsibly. They also wish he could have any friends that are similar to him.
Good news! A fox with two tails shows up, and his nickname is Tails (Colleen O'Shaughnessey), and he is here to warn him of a threat. Oh okay, bad news. Crap. It turns out Dr. Robotnik (Jim Carrey) has found a way to get off of that mushroom planet. With the help of a strong Echidna nicknamed Knuckles (Idris Elba), they have returned to Earth. Robotnik wants revenge on Sonic, and Knuckles has his own reason to hunt down the hedgehog.
Can. Sonic. Become. A. True. Hero. And save the day, again? With a bigger threat than the last time?
Also starring Natasha Rothwell, Shemar Moore, Adam Pally, and Lee Majdoub.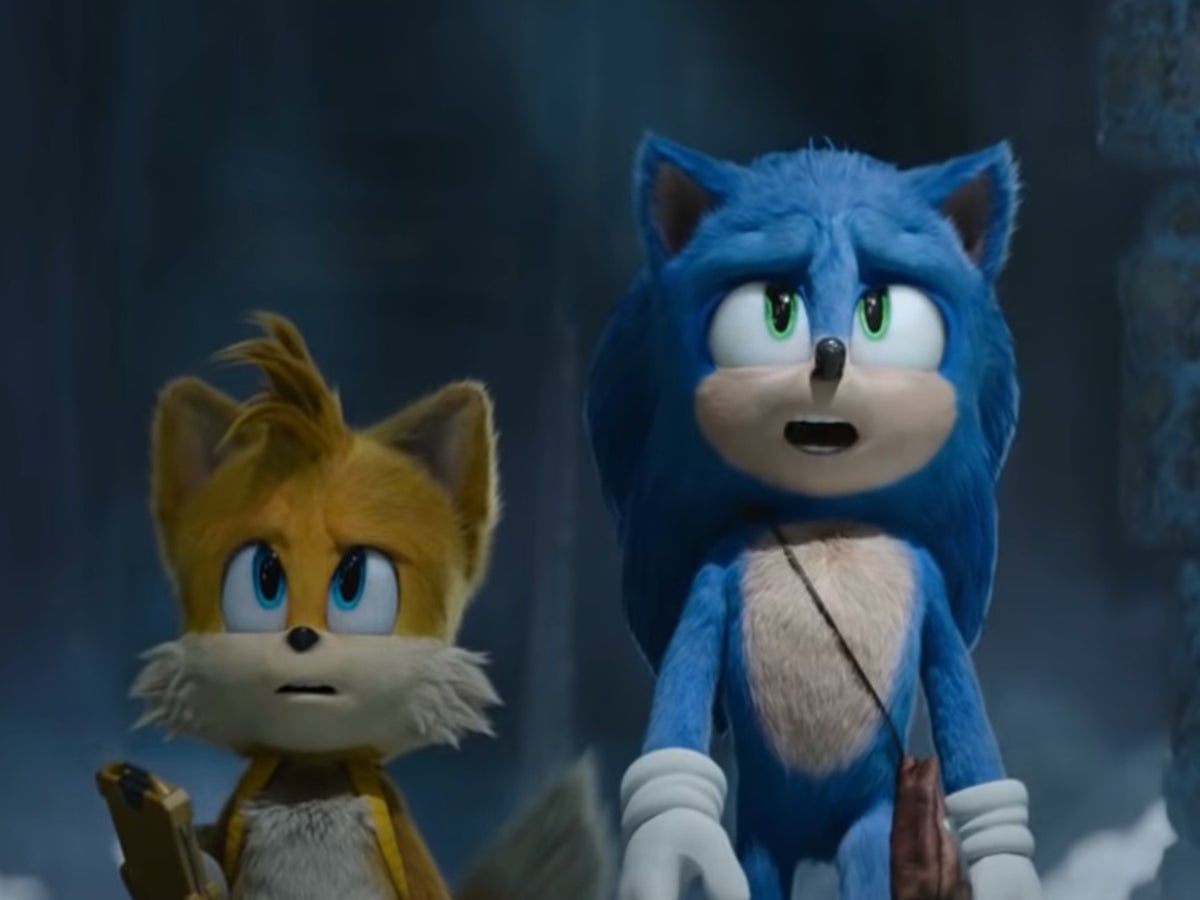 Oh yeah, here is an image of the film's stars doing some exciting standing.
Honestly, as expected, the sequel to this movie was mostly just okay. Here are some plusses though! For those who are big fans of the game series, this film has a lot more references to the series and its lore than the previous film. It is jacked up with more. Including special moves between the various characters. The Chaos Emerald and its various parts. And a couple more that I won't say for spoilers, but were very exciting for the audience. The last credit scene in particular, despite being really predictable, made the audience behind me go crazy with excitement. I hadn't heard sudden cheers so loud sine Avengers: Endgame.
I also like that they were able to better downplay Marsden/Sumpter's involvement by having more Sonic characters show up. They now got less screen time, which is preferable. They aren't bad, but they aren't what anyone cares about in a Sonic film. Carrey, however, could play Robotnik for 10 more movies and I won't get sick of him. I hope his mustache gets bigger and bigger with each subsequent film.
Schwartz continued to be excellent as the Sonic voice (and I was surprised that they put in a Parks and Recreation reference due to him, but I loved it). It was awesome that Tails was voiced by his current voice actress, and Elba as Knuckles brought a lot of sexy to the role that he claimed he wasn't going for, but still happened. Knuckles as a character was strange. Because we know he isn't really the bad guy. So we know his arc will change in the movie. But at one point he became basically Drax from Guardians of the Galaxy with how he handled things literally, but yet it still felt funny.
The plot itself is the weaker elements. I still think there was far too much of a human element. The Hawaii scenes felt like filler, waiting for it to get to the good stuff. I don't care about the government and its response to Sonic. That was last movie, move on. It didn't have a lot of action sequences for something that should have had quite a few. A lot of them also feature prolonged chase scenes. Maybe that is just because of Sonic needing to be a speed force, and thus a lot of chases. But several of them involve him being in or driving a vehicle. I am not here to watch a fast running creature drive a truck. What? Why would Sonic do that?
Sonic the Hedgehog excels when it goes into the gaming lore and references, and lets us down when it focuses on the human characters and their drama.
2 out of 4.