Illumination entertainment keeps putting out movies, and they keep remaining less than stellar and below average, sometimes even bad and horrible. They rose to fame with Minions and forgot that if they want to compete with the big boys they need good stories, not just retreads of old movies.
The first Secret Life of Pets was basically just Toy Story, but with pets, and more violence to make it worse. Fun.
And in between the movies, we had all the bad Louis C.K. stuff, after they already announced The Secret Life of Pets 2! Oh no, will they recast the dog or replace him completely? They went with recasting. And they must have focused entirely on the recasting, because they couldn't even come up with a single good story for this sequel to exist, with technically limitless possibilities.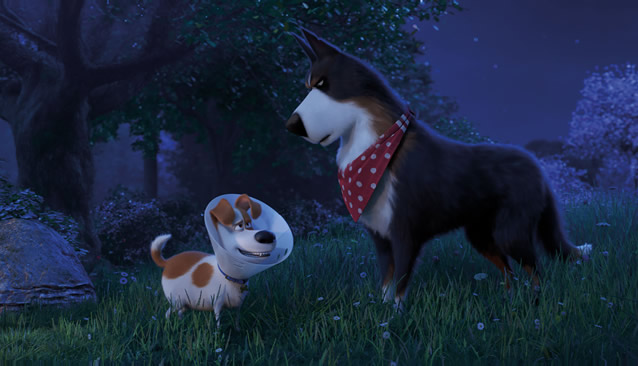 Just dogs doing dog things.
Max (Patton Oswalt, a change!) and Duke (Eric Stonestreet) are now good pals, living together, being great. But there is going to be a change in the house. An addition??? Yes, a baby. Something that changes their lives, but something Max feels very protective over. And before the kid can go to school, they take the dogs to a farm to hang out? To have a vacation, I don't remember at all.
While Max learns to be a better dog, he leaves a toy with Gidget (Jenny Slate) who has a whole big adventure with cats because of that.
And also Snowball (Kevin Hart), now a nice happy pet, likes to pretend he is a super hero. And by doing that, he has to help save a white tiger from a mean circus guy, which puts them on the run from these scary wolf guys who want the tiger back.
Also starring Harrison Ford, Tiffany Haddish, Lake Bell, Dana Carvey, Bobby Moynihan, Hannibal Buress, and Ellie Kemper.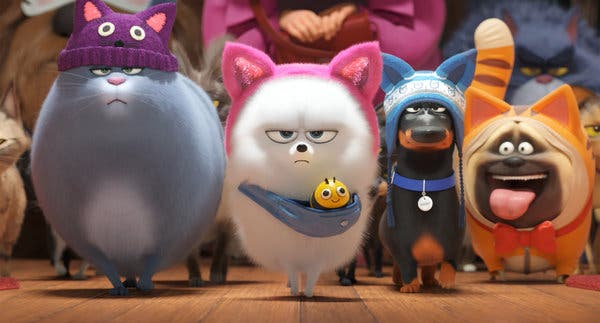 Hey, that's not a real cat. You're a phony!
What do I mean when I say no single good story? Because this film needed to have three main stories instead, and loosely (read: Badly) bringing them together at the end to pretend this was a coherent thought.
It started off with our leads, but to be honest, the main story seems to really be about Snowball and the tiger. It is the plot that at least sort of brings everything together.
None of these stories on their own are enough to carry this movie. It keeps switching between plots, and honestly, the Max plot just feels like filler, and the Gidget plot has amusing moments, but not enough to be worth it. Hart's character was the best part of the first film, and so it makes sense for him to have a bigger role, but he was less confident and exciting than the first film, for whatever reason.
I also complained that there was excessive violence in the first film, or at least violence being the solution to the problems. And well, same here. I also complained that we had too many pets driving vehicle ridiculousness, which was a theme for movies that year, and they only sort of did it this time.
Overall, this movie feels like they wanted to just make it a TV series, but were given a bigger budget and put a few ideas together. Gotta rush out those sequels, or else they might have to make more Despicable Me movies!
0 out of 4.