July 8, 2016
The Secret Life Of Pets
The Secret Life of Pets is just one of those animated movies coming out this year that I gave absolutely, positively, no fucks about. There are animated movies all the time and all of them are competing to be the best.
I wasn't apathetic because it wasn't Disney or Pixar. I like a lot of other studios, I am not some weird populist. No, I am apathetic because it is being made by Illumination Entertainment. Before this film, they have made 5 movies and they are all objectively bad. Despicable Me, its sequel and Minions were bad, The Lorax was bad, and Hop was racist and bad.
I only saw the original trailer for The Secret Life Of Pets a few months ago. Outside of the awkward title, it just didn't look like it would be an original movie. Oh, talking pets? That hasn't been done before. (Cough)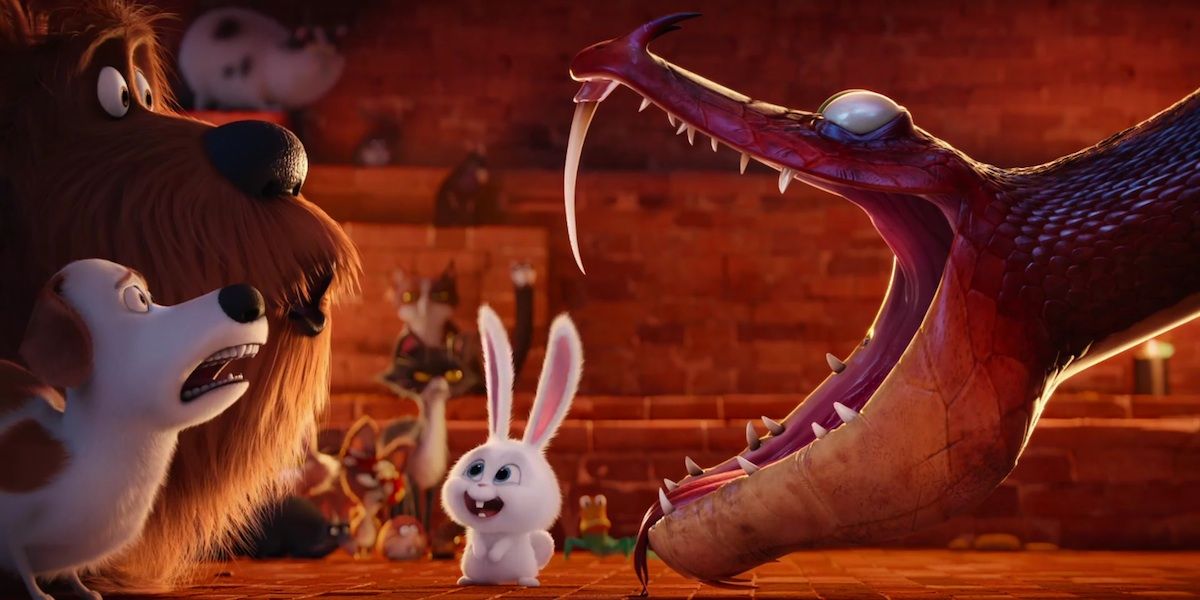 Now a 25 minute scene on venom drugs in a kids movie? That is new.
The movie takes place in NYC, big place, lot of people, lot of animals. And pets can talk and understand each other. Not just pets, all animals. They have some universal language despite not having the same noises.
Max (Louis C.K.) is a loyal house pet, taken as a puppy from a box for free by his owner, Katie (Ellie Kemper). He is greatful for her and waits almost all day in front of the door when she leaves. He has a ton of friends in the apartment complex and across the way who like to hang out while the owners are away. There is Chloe (Lake Bell), a fat cat, Mel (Bobby Moynihan), a pug, Buddy (Hannibal Buress), a dachshund, and a bird Sweet Pea who I guess doesn't talk, just chirps.
But then Katie comes home with a surprise. She comes home with Duke (Eric Stonestreet). He is big, he is wild, and he is taking over the alpha dog status from Max. So Max wants to get rid of him. He wants to destroy the place so Katie will take him back to the pound. They begin to fight with each other more and more, and sure, yeah, somehow it ends up with them both now out of the apartment, collars lost, just trying to get back home.
And they are in New York City. Everyone knows it is a rough and tumble place for strays. You all saw Oliver & Company. On the streets they have to deal with animal control, the League of Flushed Pets (run by a bunny voiced by Kevin Hart), and shit like water.
Also featuring Jenny Slate as the puffy Gidget who lived across the street and was in love with Max, Albert Brooks as Tiberius, a hawk, and Steve Coogan, Dana Carvey, Tara Strong, and Michael Beattie.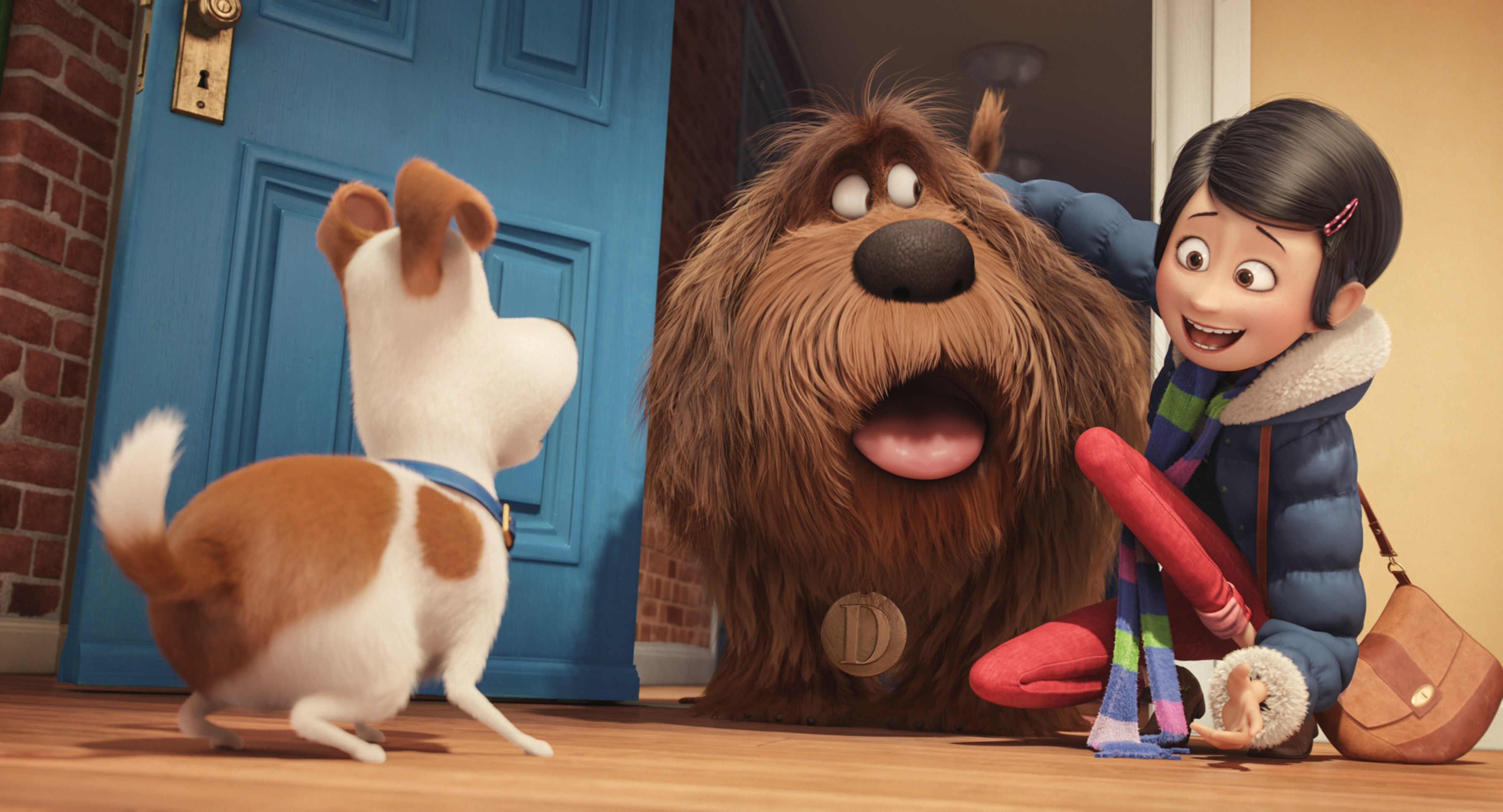 Duke could straight up eat Max. And Katie. And me.
Like I had feared, The Secret Life of Pets doesn't offer a whole lot to the animation genre. The animation isn't state of the art, with the quality looking more or less the same as the first Despicable Me film. This time there are only four or five important human characters, so their awkward proportional bodies isn't super distracting like it is for other films. We just get slightly exaggerated pet bodies, which is a bit easier to accept.
About half of the film reminded me of Toy Story, the first one, the one that came out 21 years ago! New pet (toy), they argue and fight, both pets (toys) get lost from home and face near death to get back. Hell, there are a couple of scenes where they even have to chase a car where one or the other is trapped.
Nothing was surprising about this movie. It is incredibly simplistic and places where they could have added conflict and a bit of emotional connection are just nothing. Duke had an older owner and they attempt to find them during their time in the city. Without spoilers, things don't go the right way. Perfect time for a nice emotional scene, but it is rushed through and another bullshit conflict is added. Bullshit conflict to move the plot is lazy, and this film is full of it.
One more complaint paragraph before some pros, don't worry. The ending was a complete mess too. From the quickest phone call animal control response ever, to the unnecessary all out brawl between pets, to a no real stakes rescue, to the third or fourth time of the animals driving crazily vehicles, it just ended on so many bad notes. And yes, a brawl to solve a big issue is shit. Grown Ups 2 did it, and this movie did it just for a quick joke. Especially when an easy explanation could have fixed everything and taught some better morals.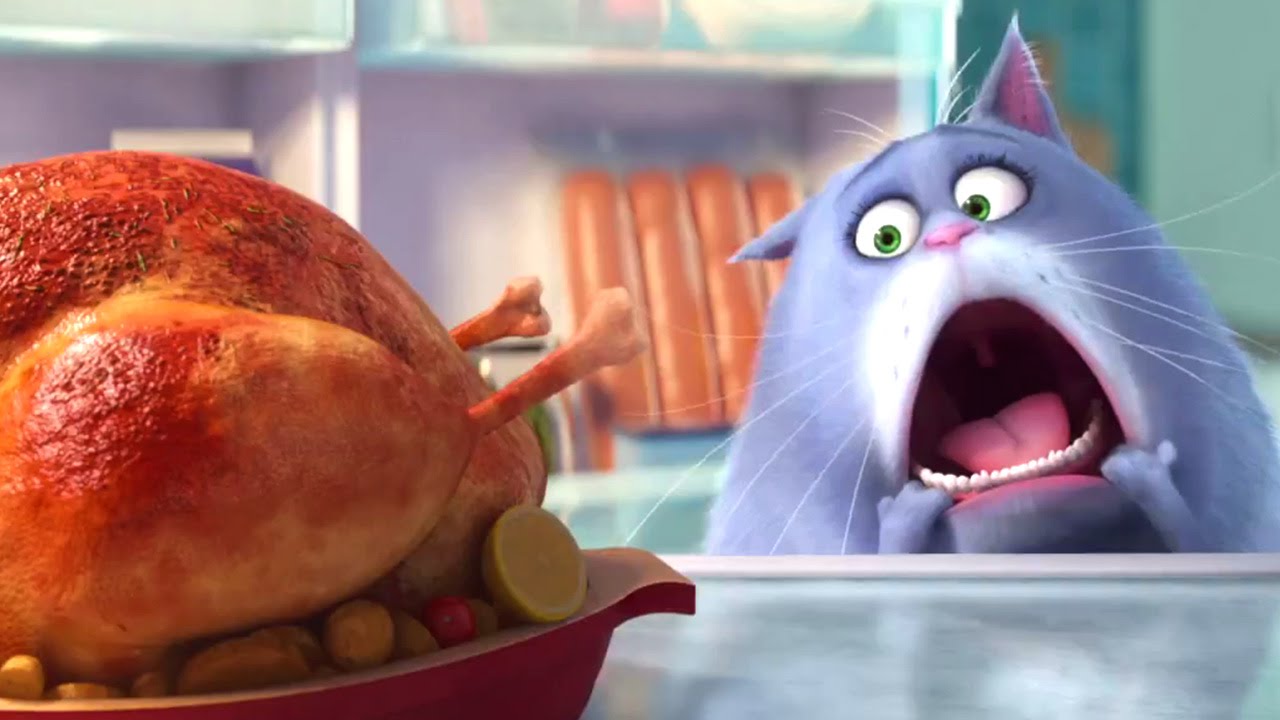 Unrelated fun fact: An Andrew WK song appears in this movie. Party, party, party!
"But why with all these issues did you give it an average rating?" Well, surprisingly the voice acting saved the shit out of this movie. Kevin Hart as a bunny? I didn't know I needed that in my life. His voice works great in animated films and his antics get less annoying when he isn't the lead. Jenny Slate has been annoying to me in her last few films, but her as the Gidget was also pretty great. Albert Brooks as a hawk is the final amazing aspect of the voice acting. All three brought their A-game and brought it on hard.
The animation wasn't completely average in every area either. The scenes with the snake, both seen above and as a sort of password felt really cool. They worked the 3D really well to make these animals pop out in unique ways. And shit, there was a dream sequence about sausage featuring the finale song from Grease, and it was a visual explosion of wonder.
The Secret Life of Pets won't win awards for story, visuals, or make a lot of money. But the cast do the best with what they are given and technically make the best film Illumination Entertainment has ever made (in my eyes).
I still don't want a sequel, because the entire idea behind all of this is just so uninspired. It feels like a straight to DVD animated film, just with some top tier celebrities to voice the animals.
2 out of 4.