2016 has a sizable collection of animated movies coming out this year. I'd list them, but that makes for a boring read.
A common theme I see is the classic "Animals doing human people things." We technically had it with Kung Fu Panda 3, but it was at least set in the past. This year there are at least three major films with this theme in modern times. Zootopia, The Secret Life of Pets, and Sing. It seems excessive, so it probably is.
Needless to say, this made me worried for Zootopia. I had only seen the first teaser trailer, and a lot of posters. It looks un-original. It looked like last year's The Good Dinosaur. Something they slapped together after a few years, but instead they are anticipating their other film to win awards. That one being Moana.
But then again, Walt Disney Studios hasn't let me down since The Princess and the Frog. Clearly I should just shut up and watch the movie.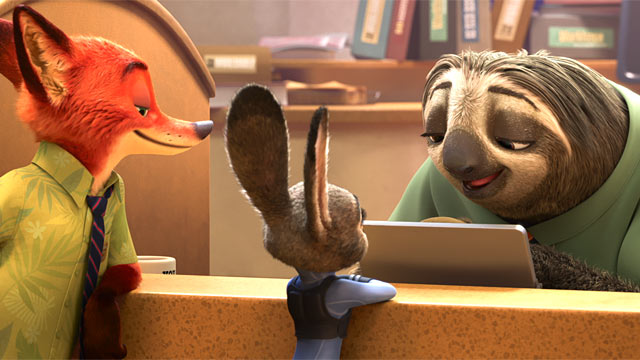 Obligatory Non-Animated Sloth Related Clip.
Despite most of the advertisements I have seen, our main character is not the fox, but actually a bunny! A female bunny, Judy Hopps (Ginnifer Goodwin), with big dreams and aspirations. She wants to leave her farm and small village and become a cop! She wants to work in Zootopia, the main mammalian metropolis where so many life forms come together to live and work together to build something great. Of course there has never been a bunny cop before and her parents (Bonnie Hunt, Don Lake) will miss her a lot, but she wants to help other animals!
You see, in this world, humans never happened, all the mammals evolved to be human-esque and resist those primal urges to kill or be killed. Somehow still, despite the hundreds of years, stereotypes still exist for predators and animals. Go figure.
Well she makes it, but Chief Bogo (Idris Elba, an Ox) doesn't care and makes her a meter maid. After getting herself into trouble and being extremely pushy, she is eventually able to join the big case. Quite a few animals, all predators have gone missing and no one has any leads on any of them. So Judy has only 48 hours to try and find Emmett Otterton, or she will resign from the job. Sucks.
To help her, she blackmails a fox named Nick Wilde (Jason Bateman) to help her follow up on some leads. And of course, they become a completely opposite duo that is able to miraculously solve the case and do what no one imagined they could do.
And of course this is a big cast. So let's not ruin it by talking about who does what and just give the list of names: J.K. Simmons, Jenny Slate, Kristen Bell, Raymond S. Persi, Maurice LaMarche, Nate Torrence, Tommy Chong, Octavia Spencer, Shakira, and of course Alan Tudyk,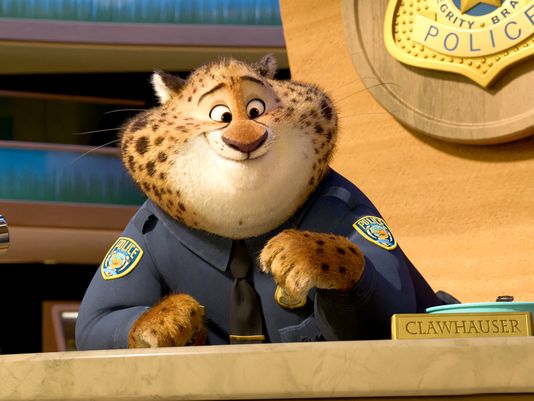 And this guy is our new Olaf/Baymax/Horse from Tangled.
Somewhere, a little cartoon mouse with ears as as big as his head is slowly lighting a cigar, laughing to himself. Walt Disney Animation studios has been in the game for eons at this point and they know what they are doing. Sometimes their advertising may be suspect, but their current main line of films since the CGI era has not had a bust yet, and it was apparently wrong for me to think otherwise.
Zootopia for the most part was a very well done and enjoyable film. Scenes were incredibly detailed, especially during a night time rain storm in the jungle. There was incredible detail put into the streets of the main city and from what it looks like, they may have gotten an accurate scale of all the animals big and small. That is a huge undertaking in a film, instead of everyone just being of similar height ranges to human, a rhino or ox or giraffe appear much larger than our normal bunny point of view. In fact, I first thought something was wrong and things were being exaggerated by the animators because the reality is quite jarring.
Better yet, Judy Hopps is an awesome character. She is inspiring, she is funny, she does more than what anyone expects of her. And hey, Nick Wilde ends up being a complete character as well. A great dynamic duo, both with their own dreams and goals and neither being a cheap stereotype (although, yes, a lot of characters are cheap stereotypes).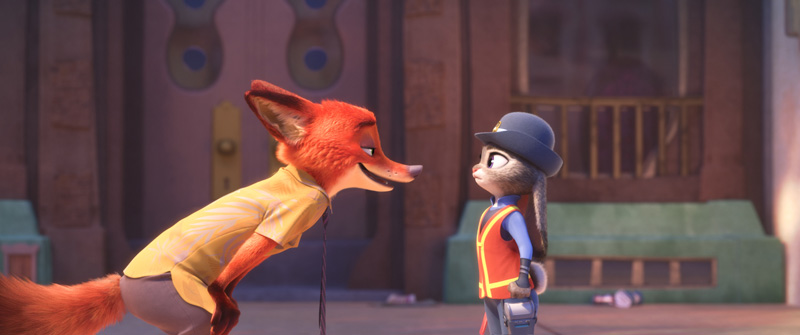 Your mom's a cheap stereotype.
And the movie is funny as well, it had jokes for everyone. Meta Disney jokes were there, especially when it came to Alan Tudyk's character, movie/TV references (Breaking Bad!) and clever puns. I was almost dying during the Sloth scene, but apparently they turned 80% of that entire bit into a trailer. I'd suggest not watching that and letting it happen naturally during the movie.
It also happens to be about racism/prejudice or even a poor/rich sort of dynamic. It handles the topic with care and kids will be able to understand what is going on and the consequences of these sorts of actions.
Despite how much better it was than my imagination, it did still have some annoyances. The Gazelle played by Shakira, named Gazelle, felt incredibly cheap every time she was on screen or playing the new song just for this movie. More of a money grab than the Trolls from Frozen, but they were mostly just boring. The twists in the plot are relatively easy to catch far in advance. Not the minute small details, but figuring out who is behind the disappearing animals. A disappointing amount of time is spent pre-reveal, when an earlier reveal would have done wonders for building up the bad animal.
CGI movies take a long time to make and come out. But I don't want to wait a long time to see more of these characters. They should turn this into a TV show, but not a cheaply done one. And fast. It easily works as a police procedural, and they'd have great content for years. Zootopia on its own is definitely recommended, and gives me a small amount of hope that maybe some of the other animated films this year won't suck too much.
3 out of 4.