November 7, 2012
Wreck-It Ralph
I first saw the preview for Wreck-It Ralph when it premiered for the movie Brave. Unfortunately for Brave, I no longer cared about the Pixar movie I was about to watch, but instead was dreading the 4-5 month wait I'd have to endure before seeing Wreck-It Ralph. As a self described nerd, how could I not immediately think it would be the best thing ever.
Video games! In a movie! Ahh!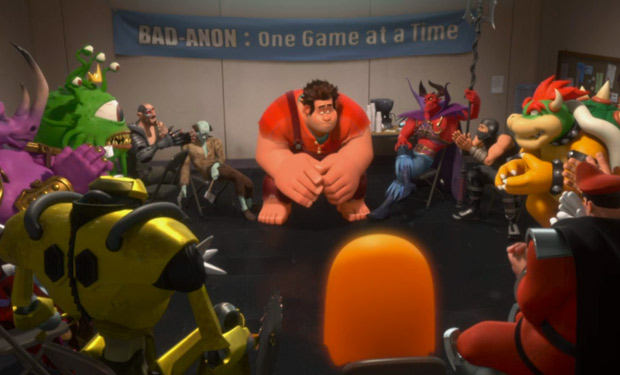 CAMEOS. OH GOD THE CAMEOS.
Our story takes place inside of an arcade, in the fictional game Fix-It Felix Jr., clearly a Donkey Kong-esque game. But the antagonist, Ralph (John C. Reilly) is tired of his place in life. He wrecks things like a boss, but he is tired of being the bad guy. The townsfolk and Felix (Jack McBrayer) are still afraid of him, unwilling to let him hang out during their downtime. However, they tell him if he is able to earn a medal on his own, they'd be willing to celebrate with him and treat him better.
You know, an impossible task given he is the bad guy in his game. So he decides to leave his game and temporarily join "Hero's Duty", a much newer and advanced FPS game that awards medals for reaching the top of the tower. Turns out games have gotten a lot more violent than they were 30 years ago and he has a few issues. He eventually is able to claim a medal but then finds himself himself in "Sugar Rush", a candy land racer game, accidentally bringing an alien from the previous game. There he meets a glitch, Vanellope (Sarah Silverman) who is unable to enter the daily races due to the cruel King Candy (Alan Tudyk).
Alien breeding pools, lollipop fields, and Jane Lynch as a futuristic Captain await you in the finale of this game hopping film. But more importantly, can Ralph finish his task and get back to his game before his absence causes it to get unplugged for good?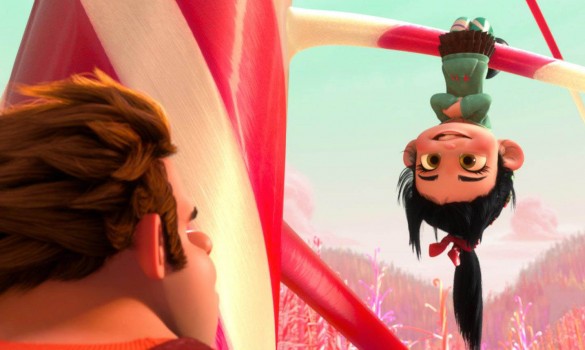 Wouldn't it be great if the tiny girls in Sugar Rush were all secretly Barakas?
Before I talk about how awesome this movie is, let me tell you my one real complaint. Sure, there are a lot of video game character cameos in the surge protectors outside of the games, but I am a bit disappointed Ralph only goes to visit two other games. I was expecting at least two more game hopping levels, to maximize the experience for Ralph. They might have done this only to to increase material for future movies (that really aren't necessary).
But the rest of the movie, wow oh wow. The animators put a lot of effort into the detail of the worlds. There is a lot that goes on in the background, including additional cameos. Despite the large advertisements with Sonic upfront, he is only in a "commercial" in the actual movie. Personally, I thought Zangief was the best cameo in the movie, given that his character felt a bit inspirational with his back story.
I am having a hard time to figuring out if I liked the movie for being good, or just because I grew up with video games. Obviously if you have never really been a fan of video games, I don't think this is the best movie to watch. But I still think it is an enjoyable enough comedy/action movie that will entertain everyone who sees it, even if they don't understand every little reference.
3 out of 4.