How long was Warcraft in development hell? It had to overall be at least 10 years before it was announced that this movie would happen and its final release. I remember that it was supposed to come out in 2009. But then delays and director changes. Sam Raimi was originally going to direct it before being replaced by Duncan Jones.
For a bit of context as well, I definitely played World of Warcraft. I played the game a lot three different times in my life, so it is easy for me to say I will not go back to it, because it is never worth it. More importantly, I played a lot of Warcraft 2 and 3. Warcraft 2 was my first ever real time strategy game, and I played the heck out of Warcraft 3 Story Mode and early DotA.
So I like the Warcraft IP. I might not care for the MMO as much, with a similar hipster mind set. "Kids these days think it is just an MMO and don't know the previous games!" At least with Warcraft 3, the games were really rich with story and there is still a lot of story that could be still said with the franchise. A movie with more story actually seems like a nice place to put some of it. As long as I get my Warcraft 4 eventually.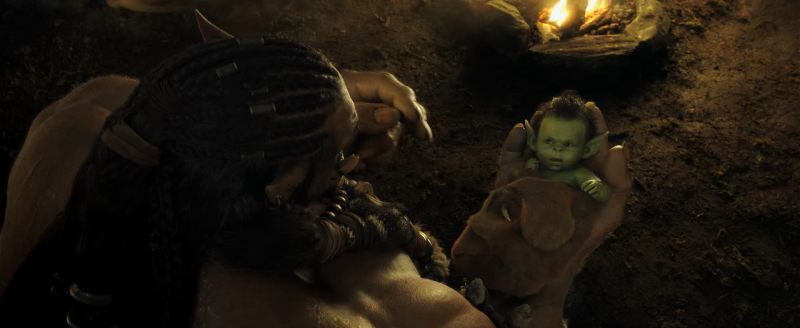 Aww look at the cute little green baby. What was I talking about again?
For those wondering, the official timeline of this movie puts it BEFORE Warcraft II. I don't know anything about the first game, but presumably that means it is after the first one as well. So you won't be seeing a lot of the WoW or Warcraft III plot lines, just allusions and hints towards the future.
In this land, a great warlock Gul'dan (Daniel Wu) has united the various Orc tribes on their dying planet. Using a dark, green, and evil Fel magic, gaining power from sacrificed souls, and creating a massive portal to another world. So they get all of their best warrior and chieftains to lead the charge into the new world. Once they secure enough slaves, they will build a new portal and bring the rest of their tribes over. The other Orc leaders include Durotan (Toby Kebbell) and his pregnant wife, Draka (Anna Galvin), Orgrim (Robert Kazinsky), Blackhand (Clancy Brown), and the half-orc slave of Gul'dan, Garona (Paula Patton). While running through the portal, Draka gets all funny and of course gives birth to her son right on the other side. Yay Orc babies!
Ahem. Speaking of the other side. We have a lot of different races. Humans. Dwarves. Some of those cool Night Elf things. But as of right now, the Orc raiding parties seem to be only a threat to human settlements, so the other free nations stay out of it for now. King Llane Wrynn (Dominic Cooper) of Stormwind City is tasked with finding out what unknown entity is killing his people. His best soldier, Anduin Lothar (Travis Fimmel) is sent to investigate which leads him to Khadgar (Ben Schnetzer), a young mage who abandoned his order sensing a great evil. He discovers The Fel, so they also bring in The Guardian (Ben Foster), the most powerful mage in the kingdom to help figure out this new threat.
And yeah. Then a whole lot of fighting. It should be noted that the Orcs are a not all mindless blood fiends. There is a growing movement in their camps, led by Durotan, to bring down Gul'dan. They don't trust that Fel magic that kills the land and inhabitants, forsomereason.
Also starring Ruth Negga as the Queen, Callum Keith Rennie as The Guardian's assistant, and Burkely Duffield as the son of Lothar.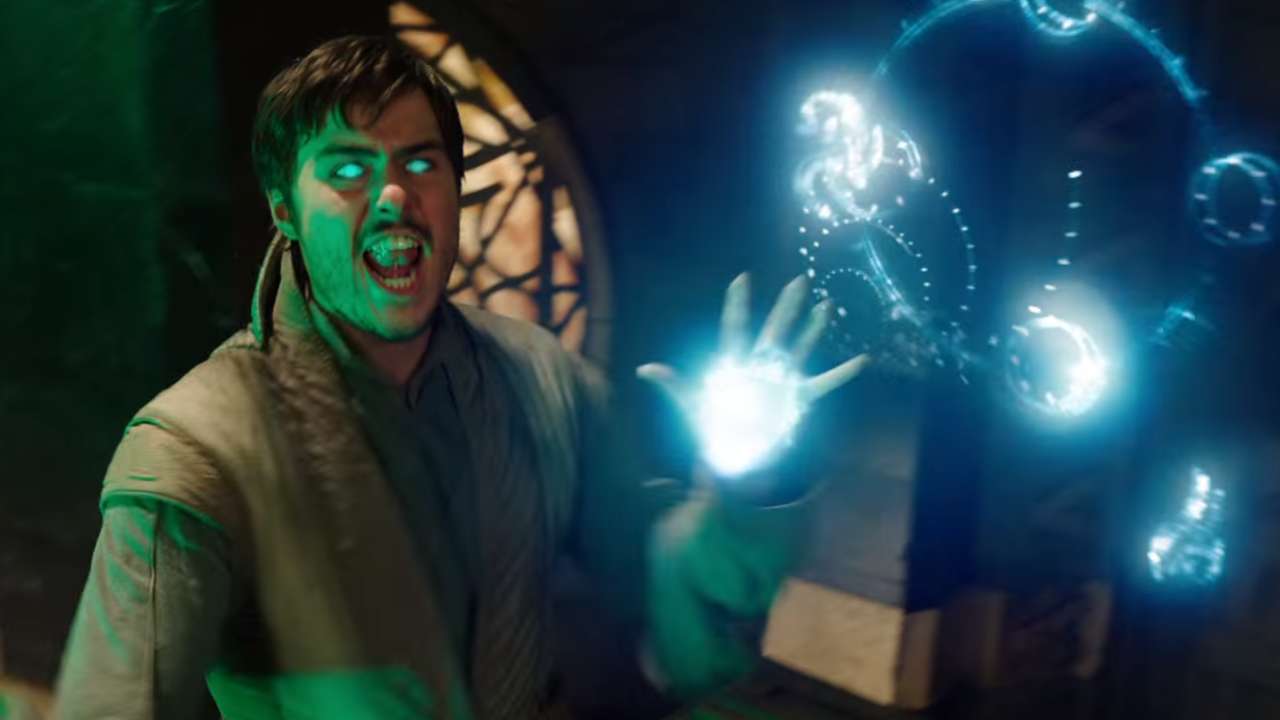 THE POWER OF THE LICH KING COMPELS YOU!
The one thing I didn't want for this movie to be was average. I wanted it to be awesome or shit and definitely not in between. Part of that is for selfish reasons. Average movies are hard to feel passionate about to write. But good news, despite the rating, there is plenty of things to talk about. Because we have a lot of things that are good, and a lot that are bad, and that just balances the movie. In fact, it is the perfect film for one of our LIKES/DISLIKES lists. Yay bullet points!
Likes:
The fights. This is an action packed movie, there are a lot of encounters between the humans and orcs, between the orcs and orcs, between magic users, between magic users and humans, and more. This is a movie called WARcraft and damn it, the war is here.
The fights. Yes, a second point. There is a difference between these CGI heavy fights and something else recent, like TMNT2. In this movie, you can actually clearly see, for every fight, what the hell is going on. It doesn't blur, it doesn't constantly cut away. You can see who hits who and it makes them a more enjoyable experience.
Schnetzer was one of the highlights of the movie for me. He provided a character I felt I could actually cheer for and of course comedic relief at times is extremely helpful.
Patton, as our half-orc was also pretty decent. She wasn't hounded by CGI so she could make real expressions and have a nice and tragic story line. Fimmel as Lothar was decent and almost crossed into very compelling territory but never fully reached his potential. Still better than others!
Good throwbacks. Both to zones in WoW, the capitals, the towns, characters, and of course, a couple spells or two.
That baby orc. I saw it in a trailer and was like, ew. But things must have changed because I loved it and wanted to play with it.
Dislikes:
CGI consistency. For the most part (see: fights) the CGI worked really well. Both in terms of magic and hulking orc bodies smashing humans and orc bodies lounging. But at other points (budget or time reasons?) it was incredibly weak and looked like a B-Movie. One especially bad scene involved a character lying in a greenish pool and I remembered visibly ugh-ing.
The ending. The ending battles feel all over the place, and I don't just mean geographically. The final fight between humans and orcs is incredibly forced based on the scenes right beforehand.
The ending. The fights at the end all felt just lower quality. Not just in CGI, but in purpose and proper set up. A character joins the Orc/Human fight after it is basically over, causing even more fighting to take place out of nowhere. It felt awkward and could have been handled better to not drag it out.
The ending. For the most part, this movie felt like it was planning on telling just a story and giving us resolution. But only one major point gets resolved out of about three, leaving more story for sequels. And I know this is based on source material, but on the Orc side, it feels like absolutely nothing really got resolved by the end. I didn't get satisfying deaths of major characters that are supposed to. It is possible to tell a story and make it feel complete, despite part of a larger arc, damn it. Warcraft fails to really make it seem like a worthwhile movie ending.
Stars. I don't know if it is a good complaint, but seeing Foster and Cooper in this movie felt odd. They were very recognizable and I couldn't really see them as their characters.
Ah, those are always fun. What's that? Review done? Okay good, I want to go play Warcraft 2 now.
2 out of 4.