March 7, 2021
Raya and the Last Dragon
I've noticed that since 2016, (so five years ago), I have rated Disney Animation Studios higher than Pixar Studios movies. It is an average of 2.8 versus 1.8 out of 4. That is a whole number grade! Here is my table for comparison.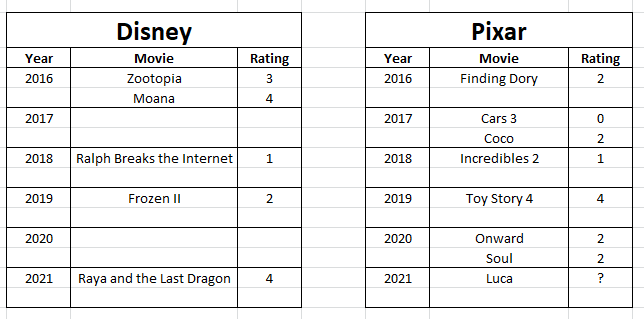 Now sure, Pixar has churned out more, but it has the only zero, and has a lot of 1s. The only reason Disney is so low due to disappointing sequels. Pixar also has disappointing sequels, but also disappointing for me original movies.
That is all. We will see how the charts look after Luca comes out this year.
But for now, as you can see, I loved Raya and the Last Dragon, a new Disney princess (maybe?) movie, that also features zero songs, which is not just rare, but a first.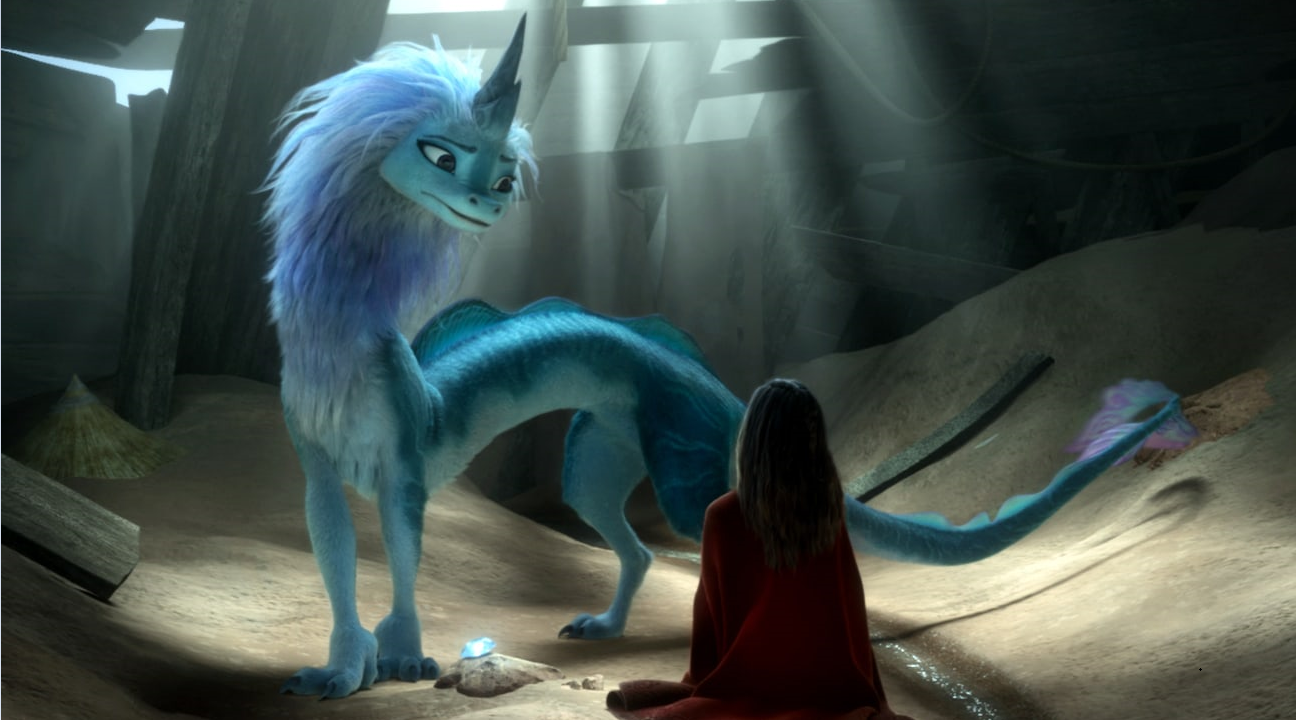 You see that dragon? It won't sing at all. Shocking.
Raya (
Kelly Marie Tran
) is your typical daughter of a chief. Her father, Chief Benja (
Daniel Dae Kim
), is training her as a warrior to protect a magical orb. What does this orb do? Well, lets go back into the history.
Five hundred years ago, there were these evil spirits named Druun that multiplied quickly and turned people into stone. There was also a lot of dragons. This was not fun. So all of the dragons banded together, made this cool orb thing, and it banished all of the Druun! And somehow, turned all the dragons into stone in the process. Very sad times.
Anyways, the orb still does its thing, but the other tribes think that the orb gives the Heart tribe extra power and success for their lands and people. They want the orb for themselves. Chief Benja wants to reunite all the tribes to one glorious nation, and not continue with this otherism.
Well, sure enough, something bad happens, the orb breaks! Each tribe grabs a piece, but now the Druun are now back and that makes things worse. Raya is going to have to fix the orb, and get her people back to normal, and maybe even find a dragon along the way. You know, the last one (Awkwafina).
Also featuring the voices of Benedict Wong, Gemma Chan, Sandra Oh, Izaac Wang, Lucille Soong, and of course, Alan Tudyk, as an animal that only makes sounds.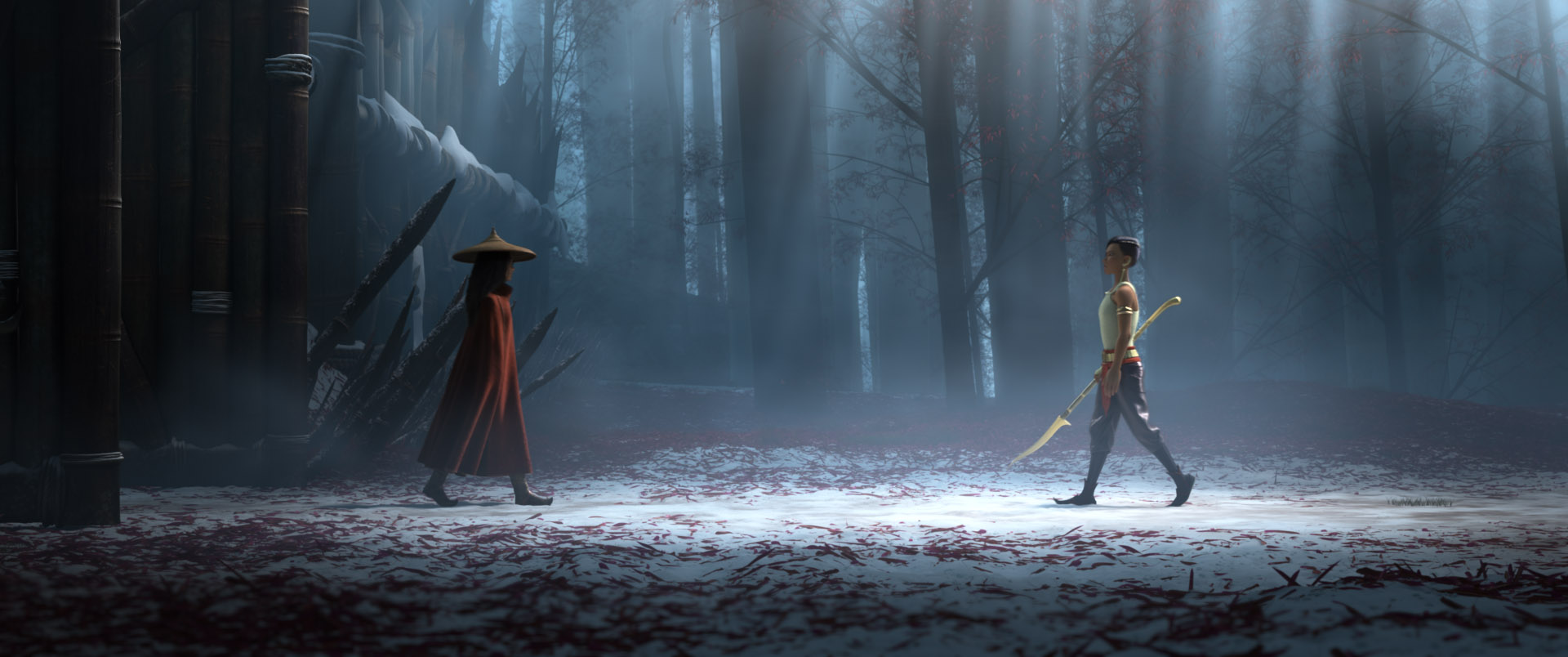 If you train for hours to fight, then you are going to want to fight.
Raya and the Last Dragon has music, but is not a musical. Did that take away from it? Well, fine, probably not. But I would have loved some songs regardless. But I can't take away points because I would rather a movie be a musical. I would rather
all movies
to be a musical.
Raya still kicked ass. She is definitely the strongest fighter of any "Disney princess" before her. Not sure if she is a princess yet officially, but she was the daughter of a chief, so, you know. There isn't a lot of competition amongst the princesses who can fight or do magic, but Raya is like a goddamn ninja (yes, different cultural term than this film, but I don't know a better word). She is quick, and arguably deadly, but doesn't always use her fighting skills to get out of jams. But that is almost always her plan A.
And having her so driven and technically violent is great, because throughout the film it is technically seen as a flaw, especially from the dragon's point of view. Why not try friendship, and trust, and things that involve stabbing someone? (No, we don't see a lot of dead people in this movie who get stabbed, mostly statues. We can't have a Disney film with a high body count for real).
I love Raya, she is strong and flawed. I am fine with the dragon. She is consistent and not just a humorous sidekick. What I didn't expect is all of the other side characters that along the journey would also show up and be important to the rest of the story. Great side characters, all full of personality and interesting. They made me cry at the end. I did cry I believe twice, or just one long slow cry, depending on how you break them apart. I will go with two cries.
The movie becomes a bit typical, when it comes to "go to next region that is very different, and then find the next piece." But each one does have new characters and the orb fragment is protected in different ways. And the ending, while a little predictable, I think is done in a nicely unpredictable way, at least when it comes to the order of events.
Bring on all of the Raya Halloween costumes.
4 out of 4.