Sorry to Bother You is one of those films that sort of snuck up on me with a roar. I heard idle mentions of it earlier in the year, but didn't go out of my way to do further research.
I knew the star. I guessed the theme. And yet none of that would prepare me for the trailer.
The trailer felt very fresh and told me that this. Would be a movie with a lot going on. A sort of extreme satire, maybe very political, but whatever it is it has a message and will be both subliminal and superliminal with that message.
I was excited and ready for this screening, without really knowing what it might give me.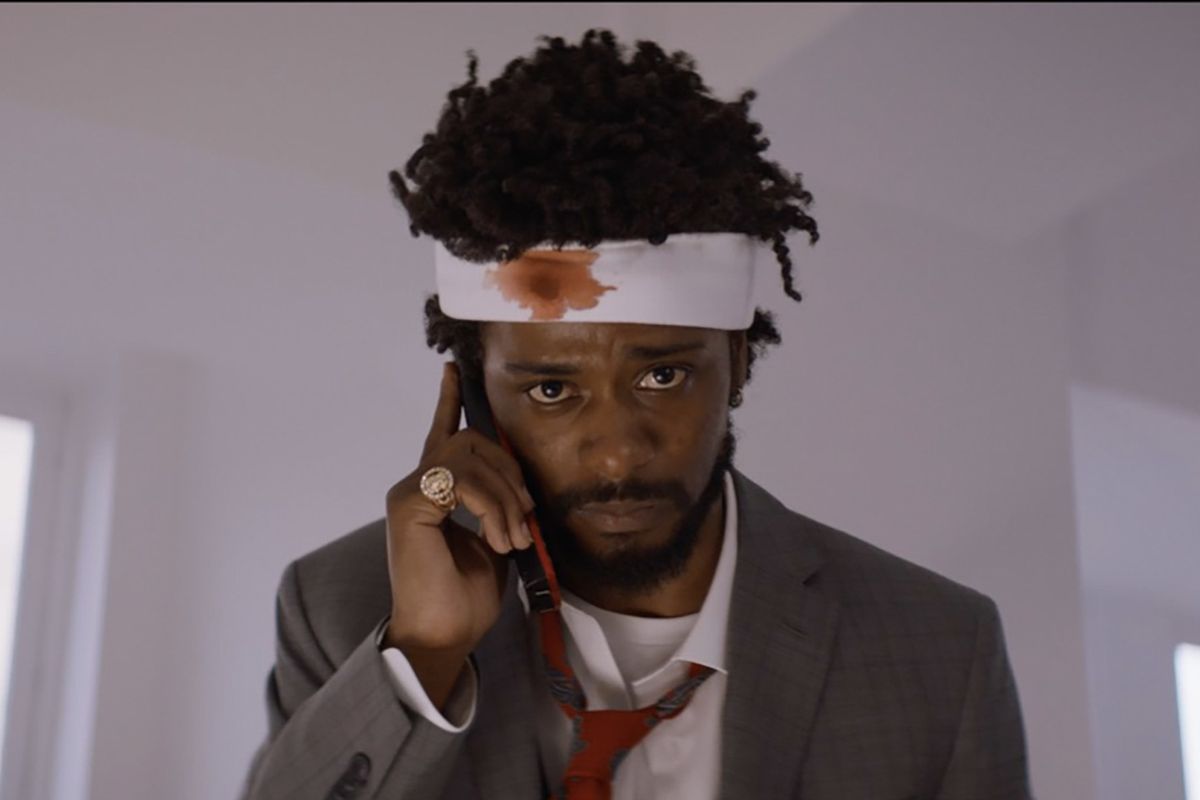 I am getting a Japan / sumo wrestler headband vibe here.
Cassius Green (Lakeith Stanfield) is your regular, down on his luck, poor, brother. He is living in a garage in the house of his uncle (Terry Crews), with his long term girlfriend artist (Tessa Thompson), and they aren't having a lot of luck making money.
But Cassius is able to get a job working as a telemarketer, working for commission. It is better than nothing. And he has the promise that if he does good, he can go to the top floors of the company. He can ride in the special elevator. He can be a "power caller," and make the big bucks. No one really knows what they sell up there, but it ain't magazines and book sets.
Cassius is told to just stick to the script, don't get out of line, and make money. Once he makes money, he can make more money and more and be a success for once. Especially if he taps into his white person voice.
Starring David Cross, Patton Oswalt, Lily James, Forest Whitaker, and Rosario Dawson! Or at least their voices. Also starring Jermaine Fowler, Steven Yeun, Omari Hardwick, Armie Hammer, Robert Longstreet, Danny Glover, Kate Berlant. and Michael X. Sommers, that would be their voices and their bodies.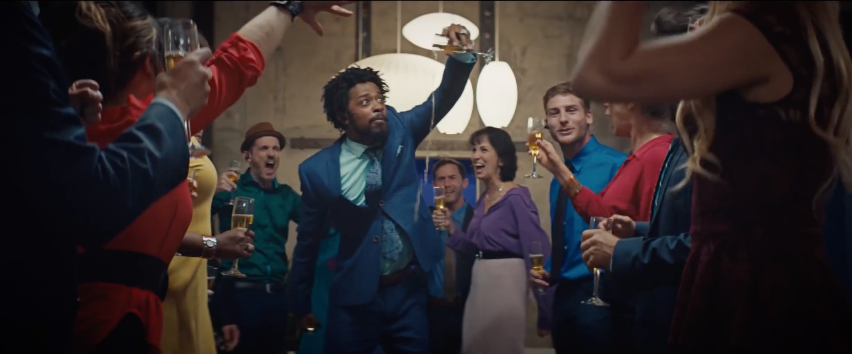 This is how white people drink champagne.
Strangely enough, the trailer for Sorry To Bother You only gave you a slice of the whole story, so I tried to do the same with my plot. There is a whole lot more that goes into this story. Topics of slavery (multiple levels) , class warfare, poverty, selling out, and American indifference to clear wrongs in the world. This movie coming out now is extremely well timed given the border problems that keep getting swept away by other media distractions.
It is not a film to use subtle clues to drive the point home. No, these clues are obvious, with a hammer. Fuck, one of the most uncomfortable scenes was the precursor to a "rap" where the chants, the disparity of the cast, made everything all too real and uncomfortable.
Stanfield is amazing in this film as our lead. His senses will probably always align with the audience on the scale of what is right and wrong and when to finally draw the line. Oh yes, you will know when that line is drawn. It was good seeing Yeun in a role very different than his previous work. Thompson was great. Hardwick was as well, despite more limited time, and Hammer was a blast going full crazy CEO for this film.
Unfortunately, areas do feel a bit clunky and jarring. Especially in the end, time seems to go by strangely and not everything seems to have the same attention to detail as earlier on in the film.
Sorry To Bother You will be looked back as an important work, with extreme topics in order to get the point heard loudly.
3 out of 4.