December 15, 2015
The Ridiculous 6
How many movies does Adam Sandler do in a year? Usually one right? Maybe two?
Well this year, he stars in three different movies. The Cobbler, Pixels, and now The Ridiculous 6. Sure he is getting older, but those private yachts aren't going to pay for themselves. And as he does more and more films, he gains more and more friends to have to support on his army of yachts.
This film is a Netflix original movie. Last year he signed a four film deal with the company, and so it will be awhile before his films are released theatrically again.
And uhh. I guess this is Adam Sandler's take on a western, with a name similar to those other western and samurai movies.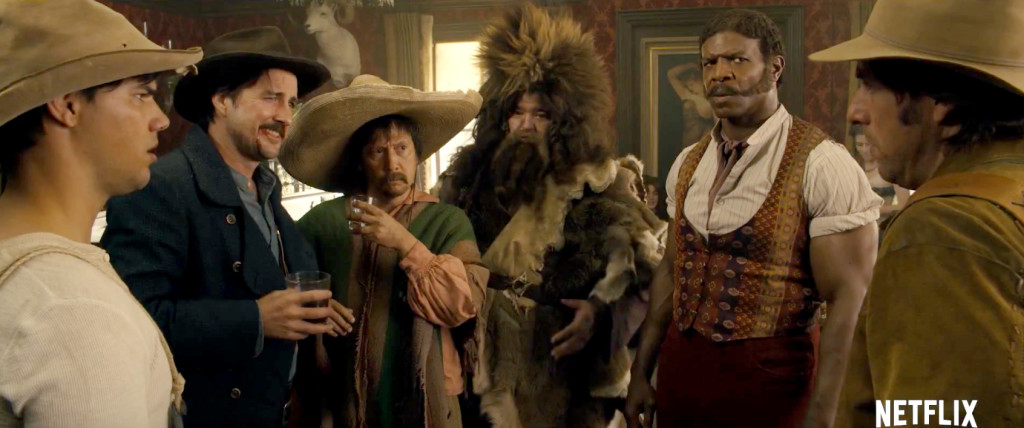 There are rag tag groups and there are shit groups. This group is worse than the later.
White Knife (Sandler) grew up never really knowing his father or his mother. But he is half Native America, despite looking white. And yes, her is freakishly good at using knives. Name explained, boom.
Then one day, an old guy comes to town. Frank Stockburn (Nick Nolte), a famous bank robber who was notorious throughout the land. Turns out that is his real daddy. But he needs help. Members of his former gang are going to kill him, unless he pays back money that was stolen from there. The gang is now lead by Cicero (Danny Trejo), and they are ruthless. Frank lies to them about the location, so that White Knife aka Tommy can get the money and put it in the spot before the bad guys get there. Then, after saving his dad's life, he can enjoy some of that sweet ass quality time he has been hoping for. So he will run off and do that, before he gets married to Smoking Fox (Julia Jones).
Along the way, Tommy finds out that his dad really did get around, by meeting several half brothers. There is Ramon (Rob Schneider), half Mexican with a burro. There is Lil' Pete (Taylor Lautner), who is half retarded and well. Yeah. Herm (Jorge Garcia) is half…Mongolian or something. He speaks gibberish. There is also Chico (Terry Crews), half Black and a piano player! And finally, Danny (Luke Wilson) who is half an alcoholic and half an American traitor.
Remember when I said Sandler had friends? Yeah, a ton of them are in this movie.
Chris Parnell. Blake Shelton. Harvey Keitel. John Turturro. Jon Lovitz. Nick Swardson. Saginaw Grant. Steve Buscemi. Steve Zahn. Vanilla Ice. And Will Forte!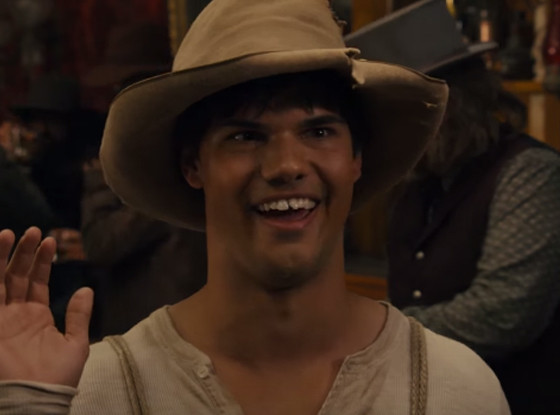 Lautner's tooth gap is played by Steve Carell!
I almost forgot to mention the controversy! You know, where Native American extras walked off the set because they found the humor to be racist and demeaning. One would say that isn't good publicity, but of course we know there is no such thing as bad PR.
In fact, Netflix can only gain from a raunchy Sandler film. No one will cancel their account because it exists, but they will get more international audiences who love the shit out of him still. Win for them, no matter how terrible a film is.
But in all honesty, this film isn't even super terrible. No, it is really fucking…slightly below average. Sandler's character is a bit boring, which is true for a lot of his things lately. He is just playing an every guy, who happens to be good at knives I guess. The only reason to watch the film is for the rest of the 5 brothers.
Taylor Lautner playing what amounts of Simple Jack? Fantastic. He was the best part of Grown Ups 2 and one of the best parts of this one as well. I have been know to enjoy Schneider, and I think his performance is one of his better ones lately (again, not saying a lot). Garcia and Crews felt a bit underused, especially Garcia. His character didn't even make sense.
But really, the movie has bottom of the barrel. I only laughed occasionally, the twists were obvious, and it was just far too long. It looks like they really did try to make a good western parody, but you know. Poop jokes. Under using actors. Some racism. You know what you are getting going into the film, I suspect.
1 out of 4.