Red Sparrow is one of those films that seemingly comes out of nowhere and feels like it is part of something bigger. Like, is this an extended universe? It is certainly based off of a book, although I would have guessed a graphic novel.
In fact, from the trailers, one might just assume this is the Black Widow standalone film we have been waiting for. Russian school to train girls to be assassins and to use their bodies as weapons. Secrets. Yeah, this is just Black Widow.
But instead of Scarlett Johansson, we got Jennifer Lawrence, so that Disney doesn't try and sue anyone's ass off.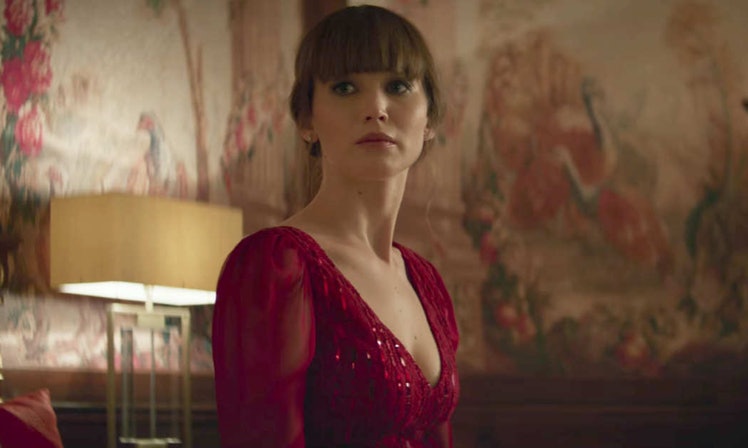 And if they sue anyone's ass, they would potentially think twice before taking hers.
Dominika Egorova (Jennifer Lawrence) is one of the best ballerina's in Moscow. She has risen up by her boot straps to train hard and become the best. Her mom is sick and relies on her job for doctors and a place to live. Oh, Dominika is also the niece of Vanya Egorov (Matthias Schoenaerts), someone high up in the Russian politics/military ladder, so maybe not entirely by her own bootstraps.
Then one day, an accident occurs, her leg gets broken on the stage, and her dancing career is done. That means her mom's life is in jeopardy. Thankfully, her uncle knows a program that she can join. If she can find herself helping the Russian government, then the Russian government can find themselves helping her.
This is unfortunately a Sparrow program, to train young men and women officers to seduce anyone to get information needed, along with the ability to kill them should it come up. Oh good, selling his niece's body to the government, what a swell family.
All of this ties into a separate plot, about American Nate Nash (Joel Edgerton), a member of the CIA who was also in Russia, dealing with a mole in their government, who accidentally put a target on his and the mole's back.
Also starring Charlotte Rampling, Mary-Louise Parker, Bill Camp, Jeremy Irons, Sakina Jaffrey, and Ciarán Hinds.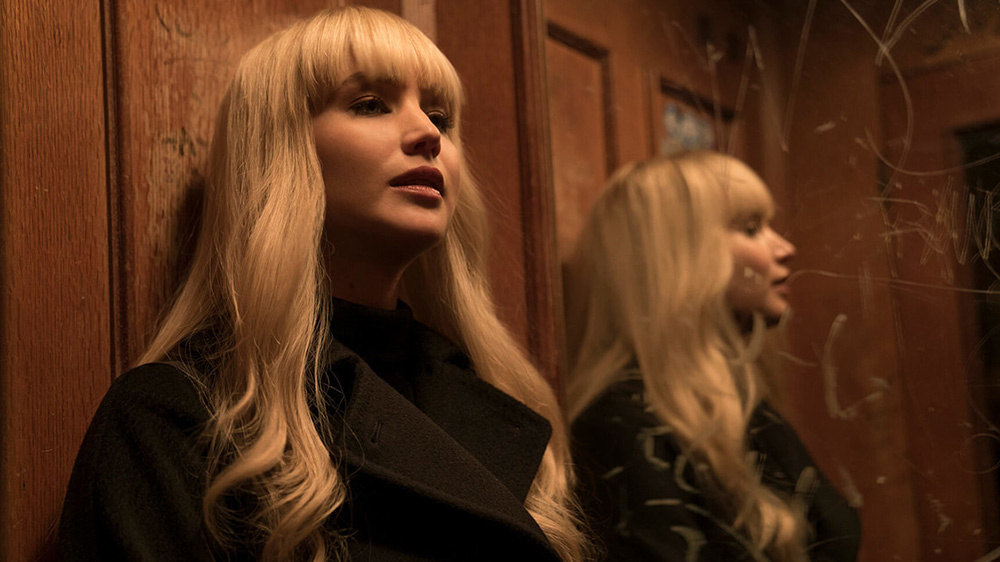 See, I could probably withstand one Jennifer Lawrence. But two? One in mirror land?
Red Sparrow is one of those films that is going to appear to be much smarter than a normal movie, and it is unashamed about that. Because after all, the viewer has to be tricked and sold lies as well so the bigger reveals are more exciting.
However, before things could be revealed, I was left annoyed and bored with the movie already. It has layers and layers and layers of plot. Characters coming and going with some importance to the story. And you have to suffer through it all in order to get to the "cool ending."
But it tries way too hard to be layered. It is so easy to get lost in it, that interest is unfortunately lost. I just didn't care by the end about any of the characters. I didn't care who would get quadruple crossed, who the mole was, or how people would get out of their tough situations.
It is over two hours long and full of itself.
It still had some decent moments early on, when I cared about where it was going. Some very different acting from Lawrence, and Schoenaerts does an amazing visual Putin. But this film is now forgettable for me, and not the Black Window solo film we deserved.
2 out of 4.