November 20, 2015
The Hunger Games: Mockingjay – Part 2
Hooray another franchise is over! After Harry Potter, I am grateful book series are still afraid to break from the trilogy format. Or else we'd get these yearly movies that drive up the box office and everyone freaks out about and so on.
You know, like Marvel movies. Or the upcoming Star Wars films. One a year. Fuck.
Of course, this time it is The Hunger Games: Mockingjay – Part 2. The studios will say over and over again it is because the last story needs all that time to tell the story, but it is just for money grabbing purposes. It is putting a pause in the plot, usually meaning neither half are a complete film and overdrawn.
Part 1 was the worst film of the franchise. It had about 30 minutes of plot spread out over two hours. And because of that, Part 2 is almost definitely going to suffer for similar reasons. Even if Part 2 is great, the fact that Part 1 exists and is bad, instead of one coherent picture, means both are weaker than they should be. Happened with the final two Twilights, happened with the final two Harry Potters, and will probably happen again here.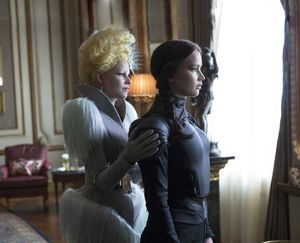 You know, Katniss, this is the last time I might get to dress you." – Creepy Effie
Katniss Katniss Katniss (Jennifer Lawrence). Katniss found herself choked up over the fact that they saved Peeta (Josh Hutcherson) from the Capital, her emotions all over the place. She knows one thing now. She will help Alma Coin (Julianne Moore), Plutarch Heavensbee (Philip Seymour Hoffman), and the rebels in any way she knows how. The Capital and President Snow (Donald Sutherland) must fall! And die!
Got it? Good. I'm done with that point of view. Lets change it up.
My man, Finnick Odair (Sam Claflin) is still a bad ass mother fucker, cool spear trident weapon thing. No one can take him one on one. Except one girl. That's right, Finnick is getting married. They will have ginger babies. Apparently they are all Irish, and Irish is a thing in this world, because their wedding has Irish violin music and jigs and shit. But that won't stop him from putting his life on the line to take down the bad guys, YEAH!
Okay okay one more. Caesar Flickerman (StanleY Tucci) is the best host in all of the districts. He has flair, hair, and style. Unfortunately in this movie, he only has one scene as a shitty news anchor person. We don't delve more into his life. Sad news.
Alright, everyone else in this movie are played by the same people you have seen before. Liam Hemsworth, Woody Harrelson, Willow Shields, Elizabeth Banks, Mahershala Ali, Jena Malone, Jeffrey Wright, Patina Miller, and of course, Elden Henson as the best video camera man in the world. Formally best at shooting the puck really hard.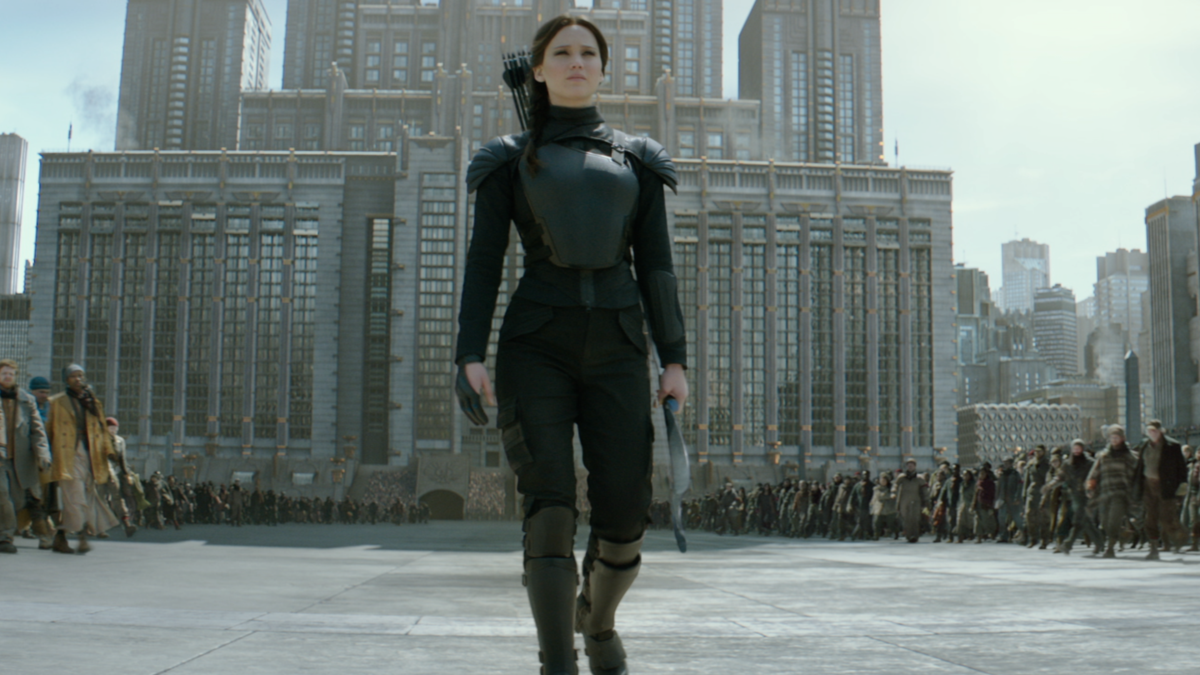 "What are you going to do, just walk up to the door stop and kill him?"
I felt a bit silly typing up the plot outline for this film, as you may have guessed. They are finally doing that fight thing. No longer is this about the hunger games, it is about a revolution, damn it. They should really assume the viewers are smarter and just call it Mockingjay without THG.
Part 2 ended up being a lot better than Part 1, but not as good as the first movie or Catching Fire. The ending wasn't full of epic moments, but just a slow fuse that slowly ran out of steam. And then a couple more scenes, and an epilogue. Hell, the ending was very confusing just in terms of time. I can't be more specific without bigger spoilers, but the events being shown and that were talked shouldn't have overlapped as such.
There were some decent action scenes in the middle though. The best was the sewer scene, although it was also confusing. Dark places means they don't have to make coherent action, which might just be an allusion to the first film where they just changed the camera angles a lot and shook the camera. They threw in zombies out of no where, which is I guess the cool thing to do in a teen book franchises (see Maze Runner: The Scorch Trials). I am sure technically they are not zombies, but they came out of no where and never were really explained, so that is all I can really call them.
When I think back on the Hunger Games franchise in the future, I will just think about the first two movies. As long as you accept that Catching Fire ends with a crappy cliff hanger and doesn't resolve anything, it will save you from the extremely mediocre two film filler after the fact. With only a handful amount of Finnick scenes to get you by.
2 out of 4.