Here's the thing. Zombieland is ten years old, and ten year old sequels rarely succeed in terms of the original. My review for the first film is pretty dang old, and honestly, I don't agree with it anymore. I think the first Zombieland is just okay. It has some humor, but for a movie named Zombieland, it doesn't have a lot of zombies in it. The ending goes too long, wasn't exciting, and relies too much on Bill Murray.
That means I was not looking forward to seeing Zombieland: Double Tap. It had everything working against it, except for a return of the main cast, who have all went on to do great films after Zombieland. In movies nominated for Oscars, and some winning them! Well, except for Abigail. She peaked a bit before Zombieland technically.
But despite the lack of interest, I still was somehow more interested in this than checking out the Jay and Silent Bob Reboot. I figured that one could wait for DVD.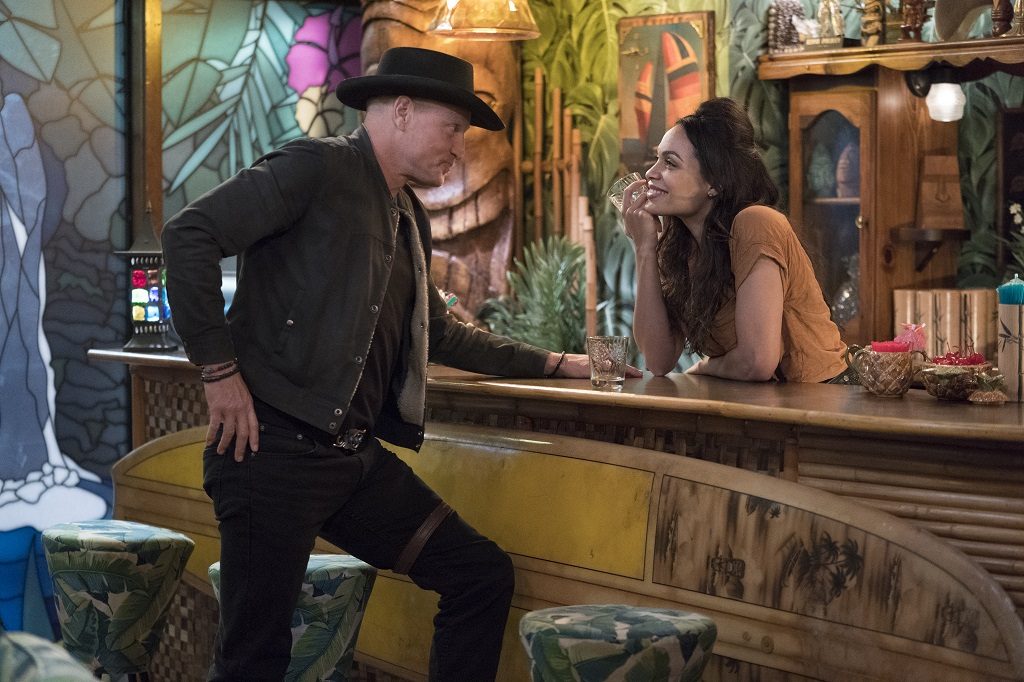 Also, let's be clear, Kevin Smith wants to see this movie too.
Ten years later, ten years older, and the gang is still together!
Tallahassee (Woody Harrelson), Columbus (Jesse Eisenberg), Wichita (Emma Stone), and Little Rock (Abigail Breslin), hanging out, growing older. Tallahassee considers himself now a father figure to Little Rock, who just wants to be in a relationship. She is now finished with puberty, older and alone.
And Columbus and Wichita are officially a couple, but they are going complacent. They are all just getting old together, by coincidence, and failing to grow anymore. So time for a shake up.
Speaking of shake ups, Zombies have evolved a bit too, and the regular is going out the window. A newer, stronger zombie is about to be a threat, and they are kind of not on their A-game anymore.
Also featuring newcomers Rosario Dawson, Thomas Middleditch, Avan Jogia, Zoey Deutch, and Luke Wilson.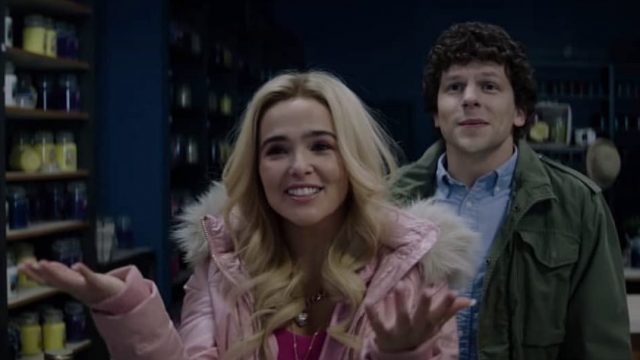 Pink.
I hope these words don't seem terrible again in ten years, but Zombieland: Double Tap really entertained me. It had jokes that hit me in the right spots, fun new characters (versus the lack of characters in the first film), great visuals (which the first film did excel at as well, I will admit), but more importantly, more zombies and zombie related violence.
Now I will admit, the ending to the last film is very similar. Suddenly, large mass of zombies, overly long action that doesn't make too much sense, and miraculous saves. Nothing on the level of the dumpster from The Walking Dead, but still high up there. At least it is more creatively done than the first film.
I was most entertained by the scenes with Middleditch and Wilson interacting with our crew. There is one zombie fight scene as part of that that uses the camera extremely well, long action shots, using the building, and was led up to with plenty of good jokes to keep me giddy. Hell, they were playing Magic the Gathering as well, go nerd it up.
There is a lot of improvement in this film, and, dare I say, reason for us to have another film in the future with a little bit less down time in between films. Now that we are exploring the world better, and seeing other survivors, it opens up a lot more humor potential and produce easy (if not obvious) plot lines in the future.
3 out of 4.