November 21, 2017
Three Billboards Outside Ebbing, Missouri
I try my best to avoid most trailers for films, but I give myself some exceptions. I will watch a real teaser trailer occasionally, as they are the ones who don't spoil the whole thing. Teaser trailers especially for superhero films or Pixar/Disney stuff, even though some of the teasers are downright terrible.
But sometimes a film comes along with such a unique name, that I just need to know what it is about, right away. I will watch it right away, intrigued, which is what a movie title should do. Unlike every other film I review this week after this movie, because all of their titles are shit, regardless of film quality.
Only some offense meant for the films this week that I won't name. Back to this title. Three Billboards Outside Ebbing, Missouri just grabs the viewer by the balls and tells them to get ready for a very fucking specific story.
Even better, despite being an original story, it might have been inspired by a true event. In Minnesota last year, a citizen took out a billboard calling out the sheriff with vulgar language. If you read a news article, it seems like a completely bull shit story, so who cares about that guy. But when I saw it in person I had my wife look it up on her phone (I was driving) because the gossip just had to be too good.
Again, a shit story, but it felt juicy, so I am glad to see this film do something much better with the concept.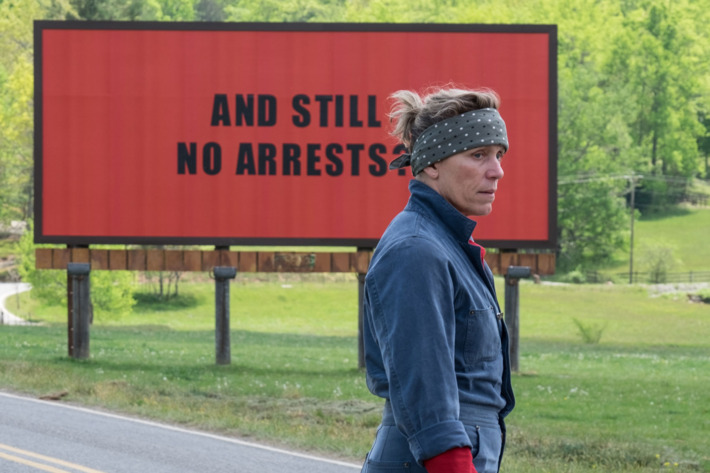 And I will only show you one of the billboards in this review, neener neener.
Mildred (Frances McDormand) has a problem. A problem letting go and moving on with her life, after her dad was found dead, burned alive, after being raped. A heinous, terrible crime, and honestly, it makes sense for her to not get over it. Her daughter was still a teenager and they are in such a small town, it is inexcusable and unprecedented for this to have happened.
But what is even worse, in her mind, is that the local police force seems to have given up on finding the killer. She hasn't heard from them in 8 months and she is rightfully pissed off. So she spends most of her savings on renting out three billboards near her home, ones that have been seemingly forgotten about, to call out the local Sheriff (Woody Harrelson).
This causes quite a stir, more so than the rape/murder. The town likes the sheriff, he is a good guy, and he has goddamn cancer. Mildred doesn't care, she just wants answers to her questions, even though she knows it will not bring her daughter back. Mildred is going to be burning several bridges to get what she needs, metaphorically and slightly literally (buildings are like bridges, right?). Hell hath no fury like a woman scorned.
Also starring Caleb Landry Jones, Sam Rockwell, Abbie Cornish, Lucas Hedges, Zeljko Ivanek, Amanda Warren, Malaya Rivera Drew, Peter Dinklage, Sandy Martin, John Hawkes, Samara Weaving, and Clarke Peters.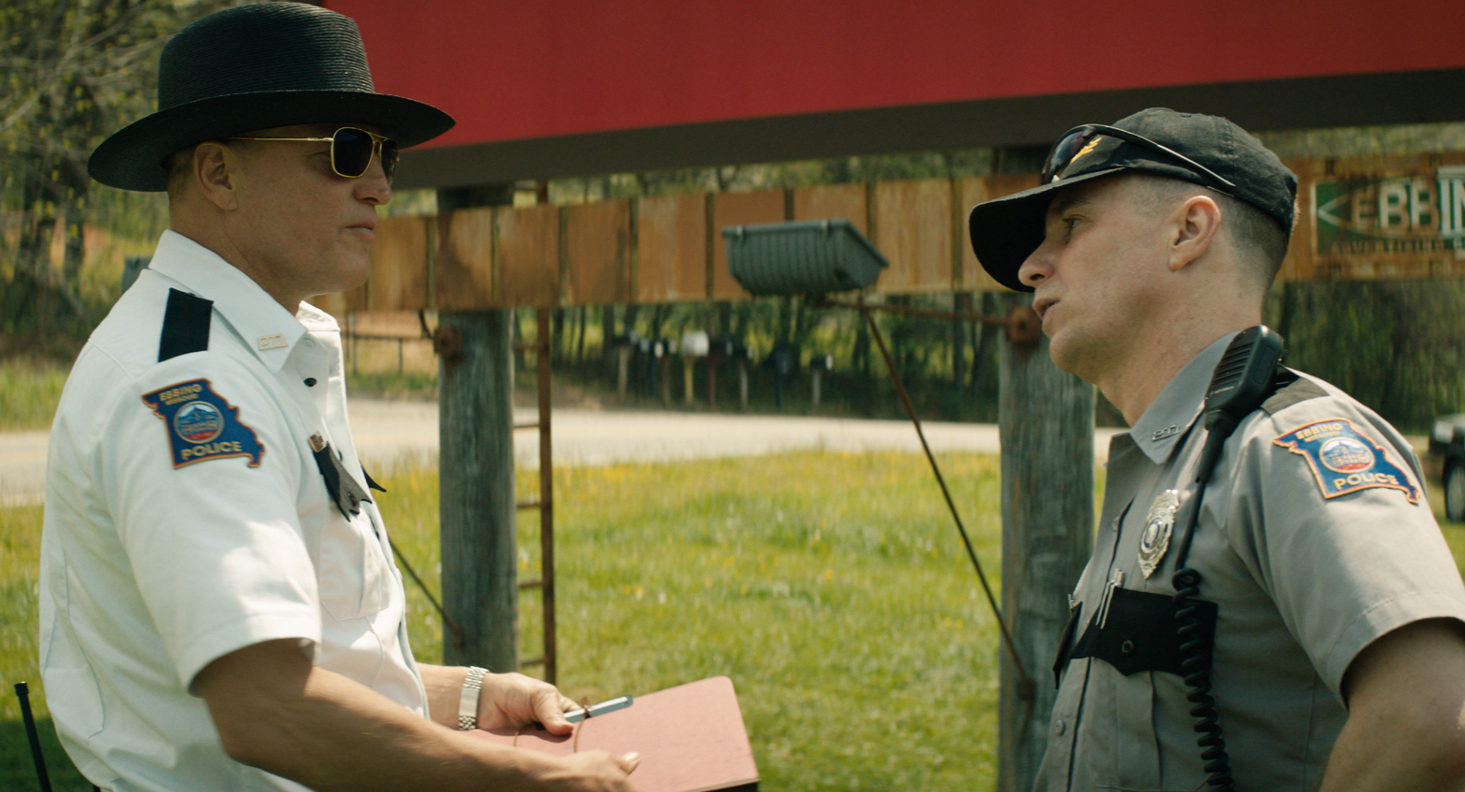 Two Cops near a billboard outside Ebbing, Missouri.
Three Billboards is a hard movie, with a hard topic, with, you guessed it, hard characters. It earned a hard R rating, when it comes to language, violence, and the occasional gore. No, not on any hardcore graphical porn level, sorry folks, just everything else.
McDormand carries the film on her poor fragile shoulders where the whole thing just feels incredibly realistic. Her grief and anger can only be described as real grief and anger. Harrelson as a supporting character still feels a bit like Harrelson, but from a different angle that I haven't seen much before. Rockwell does one of the biggest changes, as he puts all of his charismatic roles in the past to play this disgusting, morally terrible individual. He is racist, xenophobic, crass, yet caring in strange ways. Oh, and he doesn't even dance. Can Sam Rockwell be in a film where he doesn't dance?
The story is an emotional and moving piece. After all, everyone deals with loss in their own ways, and McDormand's character comes from the place of a woman who feels like she has nothing left to lose (except her son, which she admittedly forgets somewhat about). But again, it is more than just her story in this small town of individuals. At least four or five other characters get shining moments, even if just a little bit, as parts of their stories fortunately (or unfortunately) intersect with her own.
I would describe only one scene that I did not like at all, and it involved a flashback. The words used were too specific and forced, they instantly drew me out of the movie. Thankfully the strong story and characters were quick to draw me back in.
Living in a small town, like a real small town, will get quite annoying when everyone knows everyone's business, including the law enforcers. I didn't grow up in an environment like this personally, but based on what I have seen in other films and stories from others, it definitely seems to grasp that feeling.
Three Billboards is not a film for everyone, which is shame, given how likely it will end up on my end of the year list.
4 out of 4.