November 19, 2014
The Hunger Games: Mockingjay – Part 1
Ugh. So here we go.
Brief recap of the series from my POV. Hunger Games – Too much training, not enough games. Too much shaky cam, not enough actual action. It is okay. 2 out of 4. Catching Fire – Figured the plot would be contrived and forced to be similar, but it wasn't. A much better movie, less shaky cam, better acting. 3 out of 4.
So that is some of my biases coming in to this movie. Or should I call it half a movie? After all, The Hunger Games Mockingjay, the final book, was split in half for movie sake. Oh joy. Just like Twilight. Just like Harry Potter. I am sure Divergent will split the final book into three parts. Hell, this is becoming so annoying, The Maze Runner got praise for saying it wouldn't split up any of the books! Yay!
It should be noted, I really really really fucking hate this. It is just a franchise milking more money before it becomes irrelevant. If they can fit the other X books into one movie, they can do it for the final one too. And the first of the two always ends up being weaker. It was the worst Twilight film, and a more boring Harry Potter. That is because it is all set up for the final more exciting part, and usually bullshit.
But at least Harry Potter had the decency to release the films within a year of each other, about 7 months apart. Part 2 of Mockingjay won't come out until next November, a whole year later, making it seem like another complete movie and not a continuation.
I guess I am mostly mad because for a movie, I want a complete story and not just crappy tv show cliffhangers. Catching Fire ended on a crappy TV show cliff hanger, and this one will give me only part of a story and make me wait a whole year to see the second half. That is abusing the part 1 and part 2 system and is malarkey. The only reason to wait that amount of time is to make more money, and unfortunately it will make it too.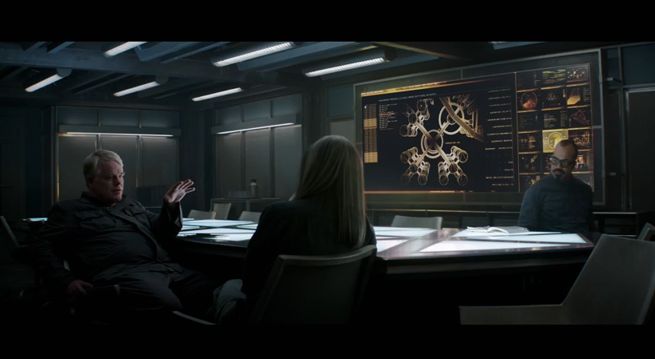 Rough plans for their new conference center to discuss ways to make money once this franchise is done.
For those that aren't in the know, Catching Fire ended with The 75th Hunger Games ending prematurely. Shit broke, lot of chaos and anarchy, people got left behind, and Katniss (Jennifer Lawrence) finds herself in the once thought destroyed District 13. Looks like they have had a rebel group in here for some time. And so many people are a part of it!
Like, Plutarch Heavensbee (Philip Seymour Hoffman)! And Gale (Liam Hemsworth)! And Haymitch Abernathy (Woody Harrelson) and Effie Trinket (Elizabeth Banks)! Although their involvement may have been less than voluntary.
Katniss has been brought here for one main reason. To help lead a revolution to take down the capital, to unite the districts as one, and to be the face of PR and propaganda. However, when they rescued her, they notably left a few people behind, including Peeta (Josh Hutcherson) and a couple other tributes. She doesn't want to get involved in this war, she just wants to save Peeta. But she gets sucked into it anyway once she finds out that all of District 12 was basically destroyed.
And that's that! Let the PR campaign begin! Yay warring governments,even if the District 13 President (Julianne Moore) is kind of boring.
Also featuring a whole lot of other people of course. Most returning. Like Donald Sutherland, Stanley Tucci, Sam Claflin, Jeffrey Wright and Willow Shields. But there is also Mahershala Ali and Natalie Dormer guys. Don't. Forget. About. Them.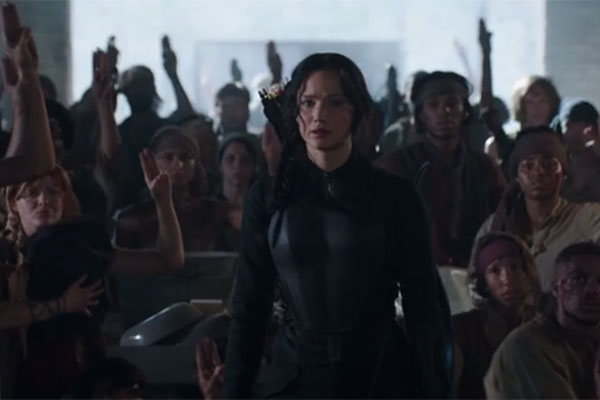 They asked the extras who wants to be Jennifer's BFF.
I don't want to sound like a self fulfilling prophesier, but…
I think Mockingjay Part 1 is easily the worst film in the series. And the good news is I gave the recap on top of the other two, so I don't have to explain their advantages, just talk about this film! The good news is that this film is only 2 hours long, not 140 minutes like the last two. It makes sense, as it is only half of a book anyways. And another good aspect of this movie is that it actually tells a complete story, more or less. We have goals at the beginning of the movie, and by the end, those goals are accomplished in a few ways. They just create a couple more issues and lead up to a bigger and more intense thing.
My issues with the film still relate to the parts though, I guess. Despite its shorter run time, this felt like 30-45 minutes of plot spread out over 2 hours. Everything felt slow, much slower than normal. I can only watch so much angst.
In additional, I cringed quite a few times at lines and actions of characters. They felt so unbelievable or unrealistic given the circumstances that I had to roll my eyes. I found it had at times to really get lost in the movie and allow time to go by easily.
It is still not a terrible film or anything, I just think it didn't get anywhere close to its full potential. Oh well, we will see how I feel a year from now when I can finally get the end to the story.
2 out of 4.