September 30, 2011
Limitless
The premise of the movie is that someone becomes a much better human thanks to experimental drugs? That just sounds like Senseless. Afterall, both end in less, and have 5 letter words. But in senseless just his senses were enhanced and it was a comedy. In Limitless, his mind is enhance. And its action/drama. Oh well.
The story starts out as expected, Bradley Cooper is a loser. Probably a hipster. A writer who doesn't write. Just living in the NYC.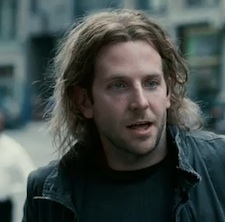 Above: Hipster Loser, Bradley Cooper.
Thanks to certain events, he gets these pills temporarily. And he becomes…productive! He cleans his apartment! He writes his book. Aww, finally growing up Bradley Cooper. A drug to make someone be less of a loser! What I really like about this movie is it is weird. The beginning, loser hipster days is kind of boring. But that is on purpose. The drug focuses not on being enhanced strength wise, but mentally. BC gets smarter and smarter, unlocking more and more human potential. Soon he is wracking in the dough. But it doesn't stop there. His body just gets better and better. The film speed and style almost seem to keep speeding up, and the viewer has to step up his game to keep up.
Reminds me of Flowers For Algernon, without the sadder end. It is cool watching the evolution, and it is awesome focusing on a smarter person. It also teaches us that drugs are not always bad, mmkay.
3 out of 4.