Sing is the last animated film I need to review that is a major US release!
I will be honest that I wasn't really looking forward to Sing at all. It is the fourth anthropomorphic animals major release this YEAR (After Kung Fu Panda 3, Zootopia, and The Angry Birds Movie), in a year where we also had regular talking animal movies as well (Finding Dory, Storks, Ice Age: Collision Course, Norm of the North, The Secret Life of Pets). Fuck.
Basically everything is about talking animals this year. Moana and Kubo and the Two Strings aren't fully about that, and that might be why they are my favorite two of the year. The only really big animated films I can think of are Trolls (talking magic things) and Sausage Party (talking food). 2016 wasn't the most creative film year, and it is sort of a huge let down for animated films.
Oh but wait! This isn't a talking animal movie! This is a singing animal movie. With a lot of popular songs being sung by animals, reminding me of recent very bad animated jukebox musicals. Please be better to me 2017.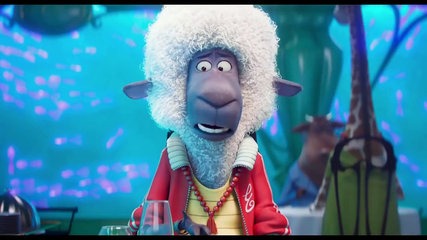 The face you make when your realize Cars 3 is coming out in 2017.
Buster Moon (Matthew McConaughey) is a koala bear who fell in love with the theater as a kid. With the help of his father, he earned enough money to buy the theater and produce shows for hundreds more to fall in love with! But now, years later, he is far in the red, unable to pay his crew, or the bills, or his loans. He is friends with Eddie (John C. Reilly), a lamb son of a rich family, but even they won't bail him out now.
But he has an idea! Singing competitions are all the rage, so he wants to host a local one, only featuring regular people that they all know and want to show off their talents. He will give the winner a $1,000 prize and hopefully get enough money to get back in the black. But his assistant (Garth Jennings) accidentally puts a $100,000 prize, putting the whole town into a frenzy and driving up expectations through the roof.
And our contestants are of course all over the map. There is Rosita (Reese Witherspoon), a stay at home pig mom of 25 kids with a husband who is overworked. Johnny (Taron Egerton), a gorilla from a crime family who doesn't really want to steal. Meena (Tori Kelly), a young elephant who has extreme stage fright. Mike (Seth MacFarlane), a old timey street musician mouse who just wants money and fame. Ash (Scarlett Johansson) and Lance (Beck Bennett), a hedgehog teenage rock duo, but Lance doesn't want to share the singing spotlight. And of course Gunter (Nick Kroll), a German pig who has no fears when it comes to his body.
Who will win? Who will get screwed over? Who will die?!
Also featuring the voices of Nick Offerman, Peter Serafinowicz, and Rhea Perlman.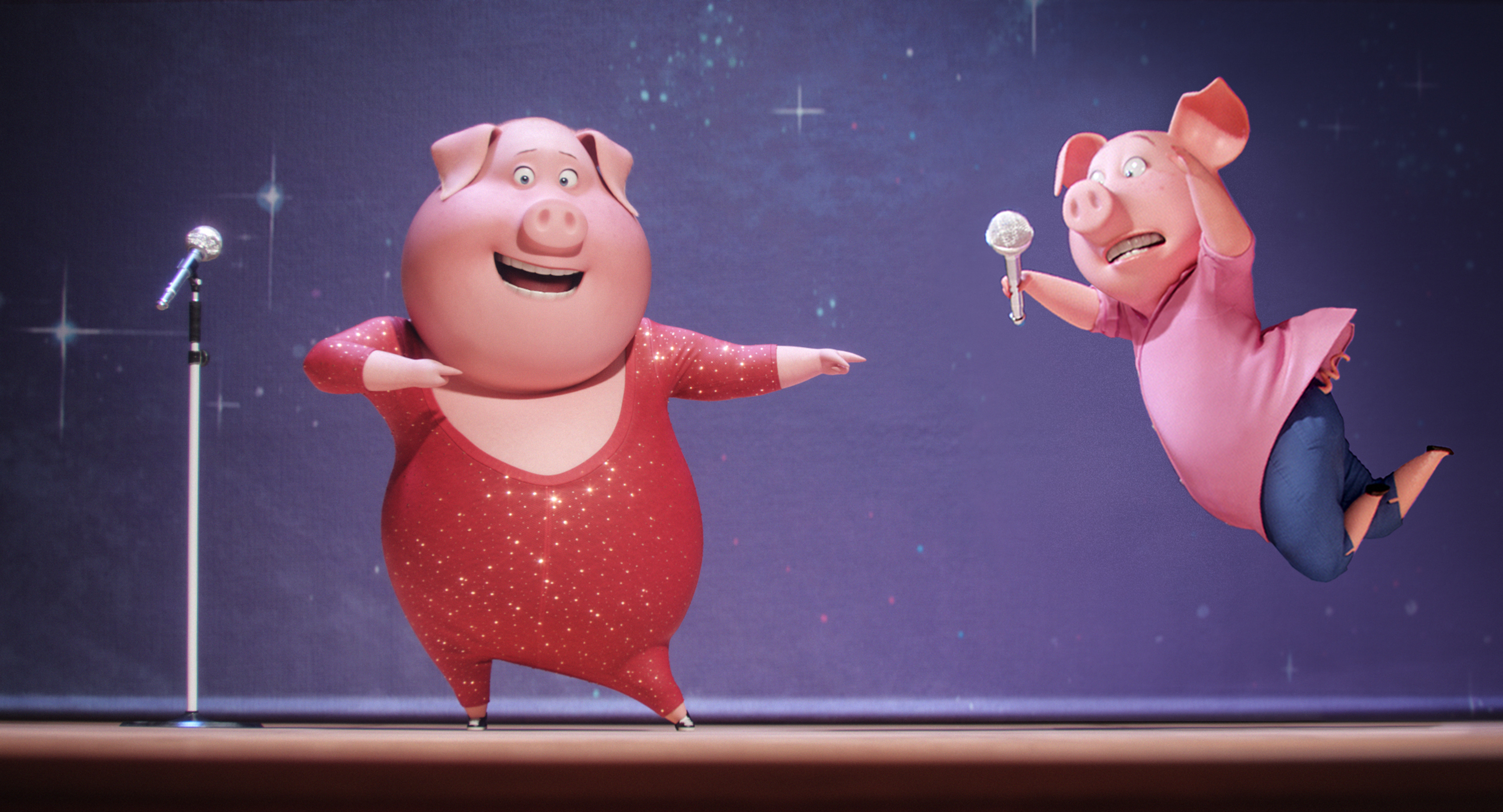 Pigs are people too, and are tired of being dance shamed.
Sing is the type of film that will give you exactly what you expect. Animals, being human like, and singing pop songs. And if that is all you need to go on to enjoy a film, then you will be in for a treat. If you want something with a bit of more substance to its plot, you will be saddened and only a little bit toe-tappy.
The lessons of the film tell us to follow our dreams, no matter how many bills you wrack up, loved ones you hurt, and lives you ruin. It will all hopefully work out in the end.
McConaughey's character seems to be a sort of more family friendly and desperate version of his character in Magic Mike. MacFarlane plays a rat who is so annoying right off the bat that I have no remorse for his character at any point in the movie. On top of that, they never resolve that characters plot line at the end. I assumed it would be an after credits scene but we were left with nothing.
Johansson as a hedgehog, Witherspoon as a pig, and Egerton as a gorilla all worked (but it took me awhile to accept the last one, because the gorilla look and clothing just felt off). I was most surprised by Egerton's singing voice, but it isn't the first time he impressed me this year.
Music wise, it didn't seem to click or work until the end. And it damn well better by that point, when they put on their show and resolve all of their issues through the power of singing in public. Everyone feels like a winner. At the same time, I wonder what the entire purpose of the film was. A small story, no real steaks or issues to worry about, Sing becomes an easy movie to make on account of how easy it can merchandise.
A few of the trailers really gave away most of the bigger moments. I am most annoyed by the teaser trailer though, that decided to showcase a ton of different animals singing different songs. That is basically directly out of the film, with little editing and no more substance. We only get to see a lot of diversity for a little amount of time. And the worst part about that scene, the try outs, is they didn't even try to make it seem realistic by having different people sing the songs. Instead it was jut playing the actual songs over their quick and quirky cast. What a let down.
If you give me an animal singing song, I want a unique voice singing that song, damn it. If I wanted to actually hear the song, I could always just use the internet myself. No amount of scantly dressed rabbit will make up for it.
2 out of 4.