December 12, 2017
Darkest Hour
With a title like Darkest Hour, you would assume the movie would take place sometime in the 1-4am range of whatever time zone that film is in. But what do we know.
Well we do know is that The Darkest Hour is a film that came out six years and features at least one more article in the title. I never reviewed The Darkest Hour, but I remember when it came out and in retrospect, I really wish I reviewed it just for this review comparison. Unfortunately, it was right before I started my website, and I was too cool for that shitty looking movie then. Russians, aliens, power, seems perfect. Damn it.
Back to this film, Darkest Hour. This one is a film that people have actually talked about, buzzed about, raved about, but never done a full on analysis between it and the previous film. I feel like this is the easiest thing they could have done. Maybe no one watched The Darkest Hour?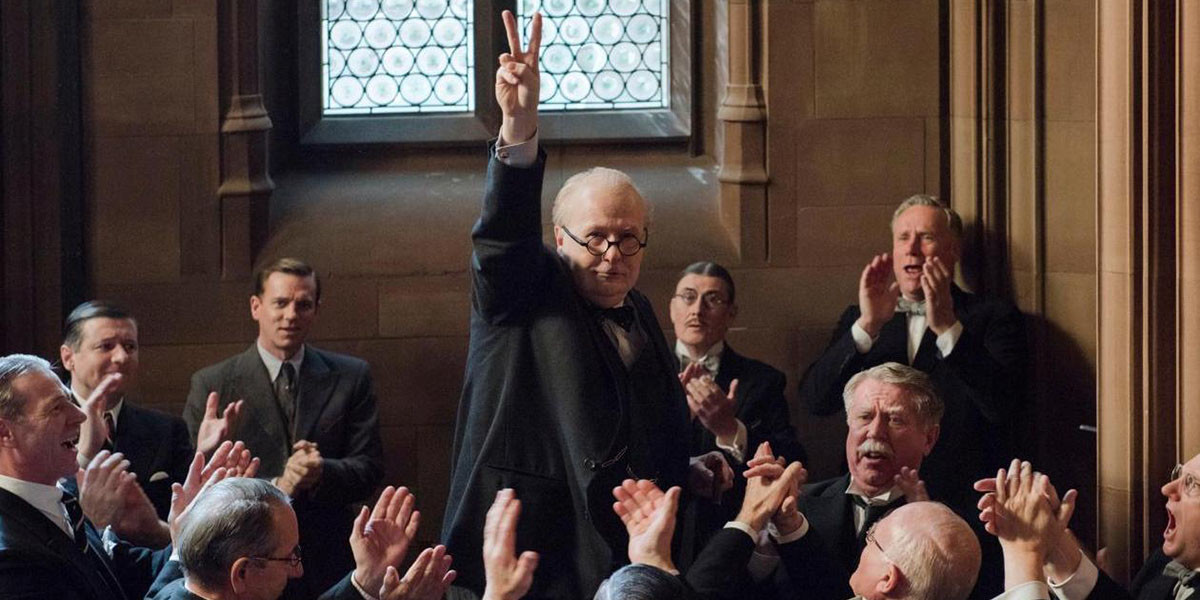 According to him just two people watched The Darkest Hour.
In early May, 1940, the British Parliament was getting sick of World War II. Their troops were dying. Hitler was taking over Europe, and everything looked grim. So they wanted Neville Chamberlain (Ronald Pickup rel="noopener" target="_blank") to resign as the Prime Minister so they could get someone with a bigger drive to save them from utter turmoil. And despite his background, despite his history, they knew the only man for the job would be the controversial Winston Churchill (Gary Oldman rel="noopener" target="_blank").
And of course Churchill knew this, he has waited his whole life for this, he just wishes it was under better times. His wife (Kristin Scott Thomas rel="noopener" target="_blank") supports him, and he just has to, you know, save all of the British troops from annihilation in France, develop a competent war council, and determine if his country will end up signing a peace treaty with one of these warlords.
The king (Ben Mendelsohn rel="noopener" target="_blank") is not a fan of his, his ¨allies¨ (Stephen Dillane) want him to just make peace and end things, and well, nothing is going right. This is the same month that will end with his troops retreating to the coast in Dunkirk, France, with no real ability to get help and return home. Thankfully throughout all of this, we have our person new to the crew (Lily James) as his typist so that we can catch up on any important backstory.
Oh, and yes, the film takes place entirely in the month of may, no D-Day like I originally imagined.
Also featuring Samuel West and Richard Lumsden.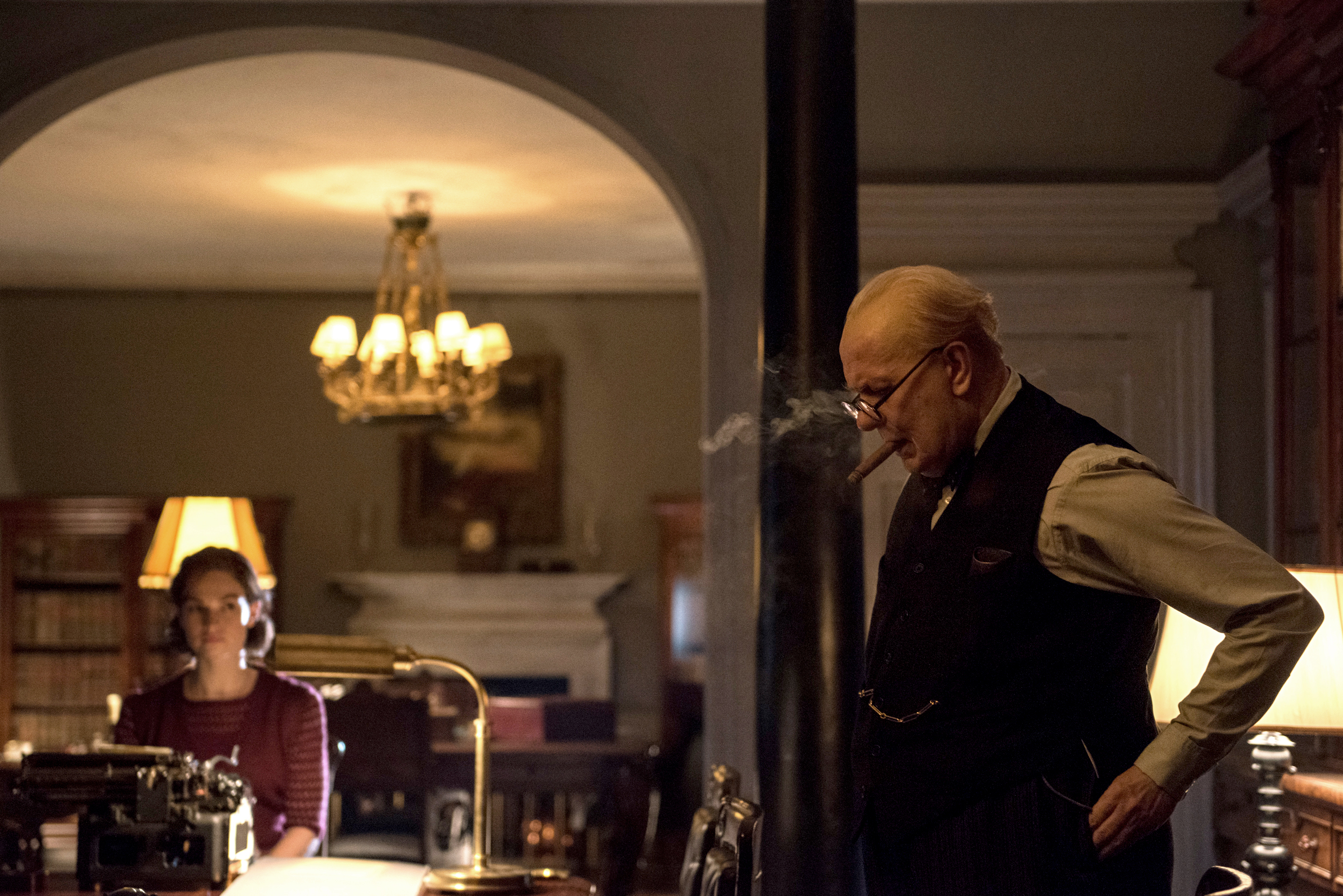 That smoke is coming out of his eyes like a bizarre dragon, not his cigar.
Watching the trailer for The Darkest Hour, I realize I totally did watch that movie. Again, it was just incredibly forgettable, and before I had this site, so no review of it exists. I can´t believe I watched it.
On the other side of the line, I am so glad I watched Darkest Hour. A thrilling biographical film, filled with wonderful performances, gripping true story, and wonderful history.
Gary Morphman Oldman is insane in this film. I don´t mean he acts insane, as he has plenty of characters who do that, but in his transformation into Churchill. At no point in the film did I think that it was just Oldman playing a character and doing it well, it just felt like Churchill the entire time. The words, the walk, the look, the makeup people are probably getting nominations for this one. Sure, yes, you can see him in his Oldman eyes, but it is one of the finest full on character transformations in recent years. Similar to the transformation of Daniel Day-Lewis into Lincoln.
The rest of the cast could not get up to Oldman´s level, unfortunately. Our main antagonist felt a lot less realistic and not fleshed out, so he became a one note pony and it got a bit old. The King was okay, Chamberlain was okay, Lily James was okay enough, but didn´t have a strong purpose either.
This is certainly a better movie in my mind than Dunkirk, because it has a lot more of a human and story component behind it, while Dunkirk is visually pleasing and thrilling, the story just lacks so much.
In case you didn´t read that, Oldman great, rest of cast okay, story better than Dunkirk.
3 out of 4.