November 23, 2021
Encanto
Welcome to Encanto, or what I also call it, the second Disney Animated film this year. Disney has been doing an every other thing in regards to their films. One a musical and one that is not. We are at the musical one which meant I went in pretty excited despite being a bit weary about the overall plot.
But…Lin-Manuel Miranda helped make the plot of the film, and the music behind it. And I can't not get behind a project he is involved in. Hell, watching Vivo was a surprise for me because I didn't know he was involved with that.
If you look back at my review of Raya, you would have seen that Disney has been kicking Pixar's ass the last few years overall. And not surprisingly that was still true. Luca was okay, Encanto was amazing. Pixar can just disband now. Before we get Cars 4.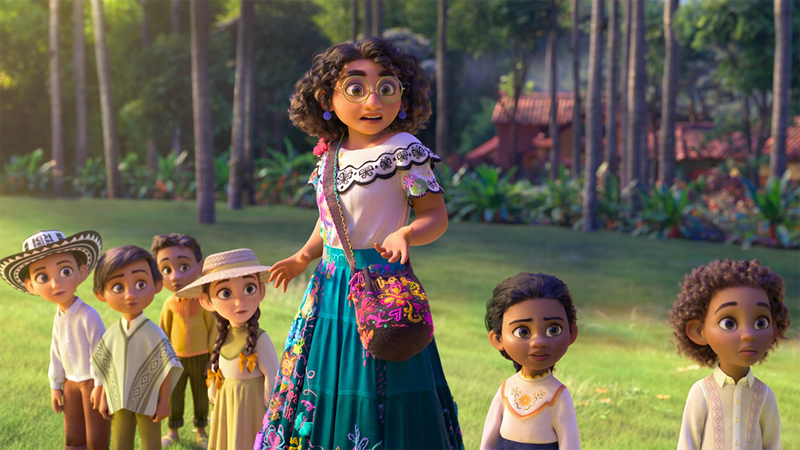 Don't tell any kids I said there could be a Cars 4. They might start acting up.
Years ago, Alma Madrigal (María Cecilia Botero) was on the run with her husband and three kids, with members of her community, in the Columbia mountains. They were being chased out by invaders. And in that time, she lost her husband in order for the rest of her family to be saved. She prayed and wished for help, and her magical home was born, protected in the mountains, to grow a wonderful community that looked out for each other. And her three kids were given magical powers once they hit a certain age, to help protect the community. And their kids as well.
That is, until we got to Mirabel (Stephanie Beatriz). The door didn't work. No powers were granted. Something was wrong. But she is upbeat nonetheless. Who needs /powers/ in a family of superpowered individuals in a magical house to have a good time?
But her younger brother is now up for his. The first since she was denied. If his power doesn't manifest, was it her fault? And if there starts to be visions of her breaking their magical house and tearing their family apart, will it be her fault? And should she just, like, leave, you know?
Also starring the voices of Jessica Darrow, Angie Cepeda, Carolina Gaitan, Diane Guerrero, Wilmer Valderrama, Rhenzy Feliz, Adassa, Ravi Cabot-Conyers, Maluma, Mauro Castillo, Alan Tudyk, the singing voice of Olga Merediz, and of course, John Leguizamo.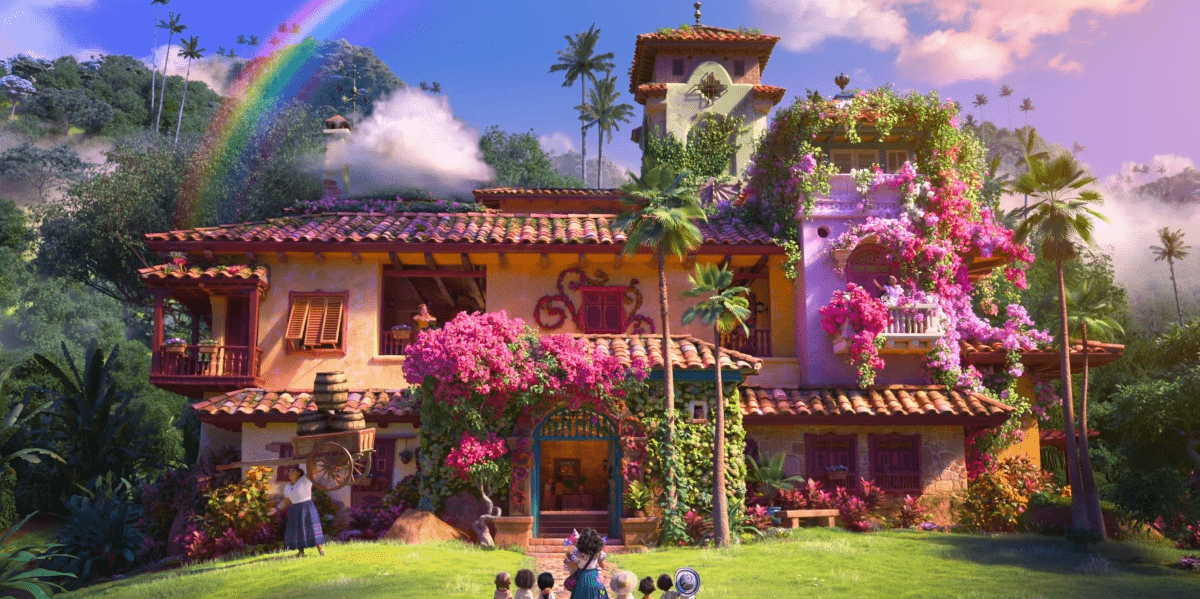 You see, the house is a metaphor…for family.
A lot of these recent animated Pixar/Disney movies have had a mostly predictable plot. Frozen would end with her in control of her powers. Moana would return the heart of Te Fiti. And in Luca they would be gay, do crimes. But I found myself constantly guessing at where it would go in this movie and being wrong, and I really enjoyed that. I mean, I knew it would involve the house breaking, or not. Powers being gained, or not. But the how? The why? That was exciting and unique in the movie.
I loved the music in Encanto so much, I wished I could listen to it on my way home from the theater. But alas, at that time it wasn't available yet. I even waited to write this review until I had a chance to re-listen to the songs. So many of them feel great, with layers and multiple voices, and different harmonies. I was surprised to find that Beatriz also sang all her own parts. She was very limited in In The Heights, so I just assumed she couldn't sing, but she did great.
Encanto is just a beautiful movie. I think it is interesting that the main character is clearly interested in embroidery, given her clothes and what's in her drawers, but it was never actually talked about at any point in a significant way. It is just a fact about her character. I especially liked the animation when they did the Bruno, Luisa, and Isabela songs. It was just constant visual explosion on the screen, and it left me in down right awe.
I am happy that Disney made a somewhat simple and small movie about people with gifts. I am glad they didn't go against what they were preaching the entire film like they did in so many other classic Disney tales. And I am glad that Miranda's genius keeps growing, and I hate him, and I love him, for it.
4 out of 4.