[Editor's Note: Days after seeing this movie, the writer forgot about it completely. He didn't even remember he didn't finish writing the review and never posted it. Take that as another aspect of the review.]
What's this? A serious movie, with some serious actors (and one non serious actor) coming out in January? But that is supposed to be a dumping ground for films! So what is going on with The Upside?
Well, first of all, they are sort of hiding the fact that this is a remake of another movie. They aren't hiding that it is based on a true story, just the remake aspect. If you haven't seen the French film The Intouchables, you are doing yourself a disservice, as it is pretty darn good, and one of the most successful French movies ever.
Another thing hindering this movie is the nice Hart sized controversy over anti-gay jokes and Oscars. Before the movie came out, Ellen redeemed him for all the gay people and said he should host, because he seems sorry. The issue with all of that of course is before then, there was no apology until he basically dropped out of hosting. And basically every time he "apologized" he came as a victim and people just trying to get him, never actually seeming sorry. So yeah. January. Dumping ground. Still true.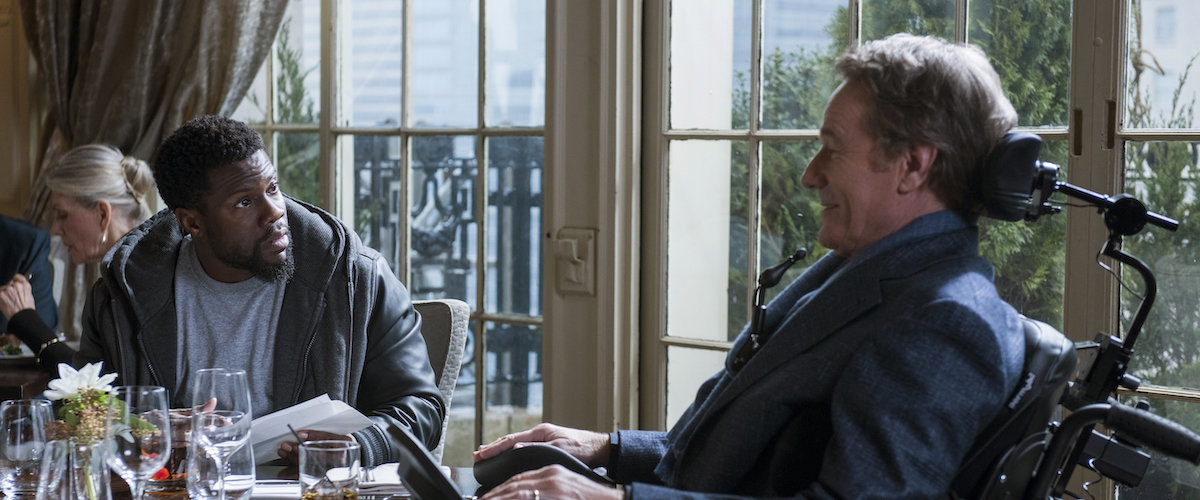 An American remake? You don't say?!
Dell (Kevin Hart) is looking for work! Why? Because he is out of prison, and its an aspect of parole. If he doesn't get a job, he at least needs signatures saying he went there to get one and wasn't offered it, so that it shows he is trying. I mean, he wants a job. Because he wants money, doesn't want to get into selling drugs, and has an ex-wife and son to support.
Due to a mix up, he goes into a luxury building thinking he is applying for a janitor gig, following the crowd of people applying for jobs. Really, it is actually to be a life auxiliary support for a billionaire named Philip (Bryan Cranston). He is quadriplegic, needs a live in to clean him, move him, make sure he isn't dying.
Well, mostly that last part can be ignored. Philip is tired of this life, he has a DNR, let that death happen.
How does Dell get the job? Mostly because Philip is tired of this life, I just said so. He wants a change, and maybe Dell will be unqualified enough to get him killed, who knows. But of course, this mismatched pair are going to be doing a lot more together than they expected.
Also starring Tate Donovan as an annoying neighbor that we all hate. Boo hiss! And of course Nicole Kidman as the runner of the business for Philip.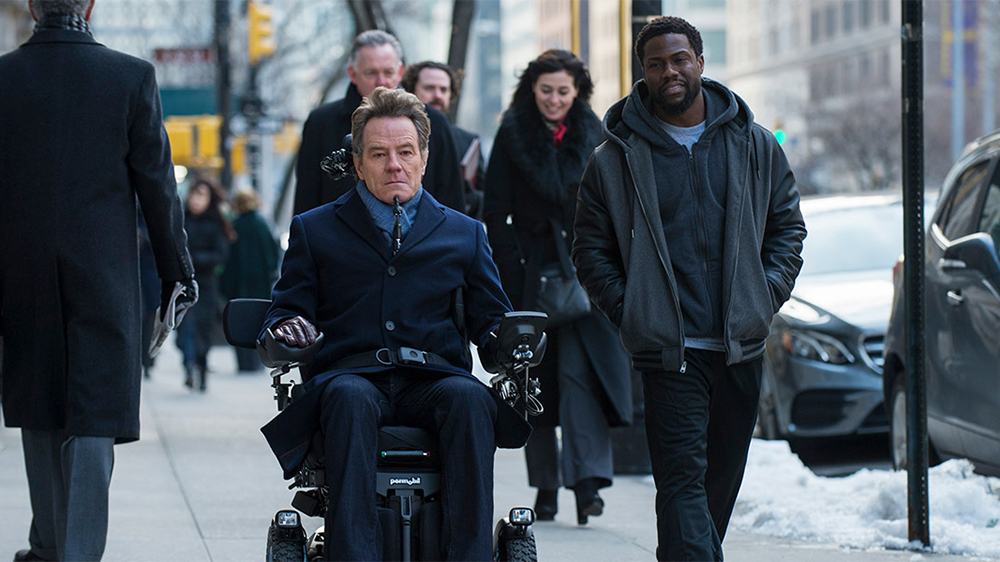 Finally, someone who can walk down the street with Hart and not look overpowering.
Speaking of overpowering, there are a few scenes where Hart is next to Kidman, who at that point seems like an Amazonian warrior with that level of height difference (as she is probably wearing heels). It is a nice extreme look and added comedy they were not intending.
The Upside is entirely just okay. It is told out of order, like the French film, and has a far different conclusion merely to catch those familiar with the French version off. But overall, it is just slightly more modern and more American. The friendship doesn't feel as real, and Cranston just looks like he is there because he is supposed to be there. No one goes out of there way to make the acting seem genuine, nor a situation that totally happened.
This is a remake that tried to do its own thing, while still doing a lot similar with the original. It needs to pick a direction. Do we want to focus on the wife/kid direction? If so, good, go for it, but commit. About turning his life around? fine. But we got all of that in a montage and I guess his skill is fixing broken wheel chairs? Kind of odd, and came from nowhere.
The Upside is clearly forgettable, and in Spring, I won't remember it at all, as it middles its way through theaters.
2 out of 4.