March 30, 2018
Isle of Dogs
Fantastic Mr. Fox came out in 2009. It was not my first Wes Anderson movie, but it was the first Wes Anderson movie I really, really loved. Not saying I hated everything before it, no. In fact, at that time, I only had seen one of his movies which was The Royal Tenebaums. I maybe saw it too young and was not ready for its quirks, and still haven't seen it for redemption, but I didn't love it. The fox though? Yes. Every one of his movies since then? Yes.
But this is something different and special. This is 9 years later, and another goddamn animated stop motion movie. Can he recreate the magic of Fantastic Mr. Fox but with Isle of Dogs? More talking animals?!
At least with his last one, it was based on a previous book. But this is a new idea, based on dogs, a culture that isn't his, and a sort of throwback to a cinema that he loves. I was certainly excited again, especially given how much shit 2017 gave us for the animated category.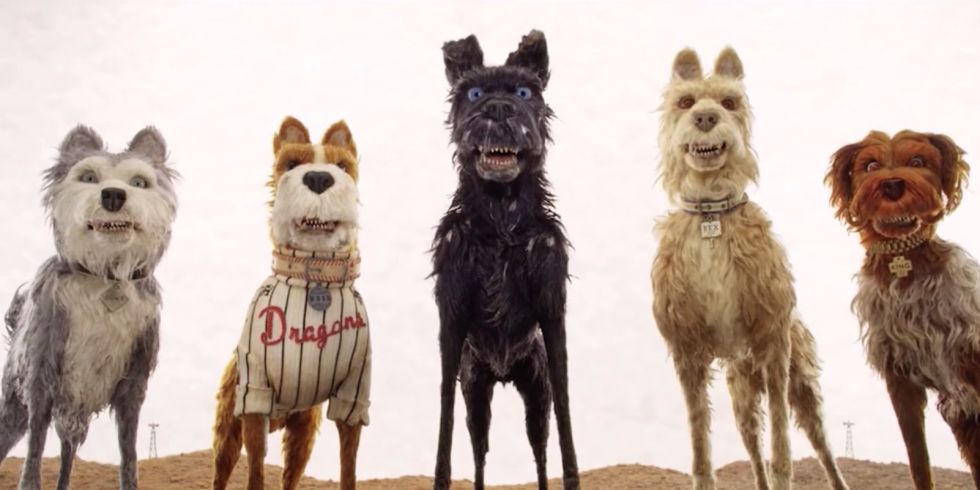 Can I have all of these doggos? Please tell me no doggos actually die.
Set in the fictional future of some world that is similar to our own, we have to go to Megasaki City to find our story. In this city, the new mayor, Kobayashi (Kunichi Nomura), is from a family with a long hatred of dogs. They are cat people and want to get rid of dogs forever! Well, that is great, because these dogs are gaining some sort of dog virus and snout flu, which has the ability to transfer over to humans! He declares that all dogs in the city must be sent over to Trash Island, in order to quarantine them until a cure can be found. Speaking of cures, Professor Watanabe (Akira Ito) thinks he is really close to getting a cure and hopes everyone will wait. But mobs be mobbin', yo. And the dogs start getting sent that very night.
And now, a few months later, the island gets a non furry visitor. Atari Kobayashi (Koyu Rankin), a young boy who is ward of the mayor, has crashed a tiny plane in the island, in hopes of finding his old dog Spots (Liev Schreiber) location. Although dogs cannot speak any form of human language, we the viewer are happy to note that the film translates their language into English! Yay!
He finds a group of alpha dogs to help him on his quest. These dogs include Chief (Bryan Cranston), Rex (Edward Norton), King (Bob Balaban), Boss (Bill Murray), and Duke (Jeff Goldbloom).
Can these dogs find the missing dog for this little human boy? Can they also cure the dog flu, and put an end to this corrupt mayor? Well, maybe. I don't know. Or if I did, I wouldn't tell you.
Also starring the voices of Courtney B. Vance, Tilda Swinton, Yoko Ono, Ken Watanabe, Akira Takayama, Greta Gerwig, Frances McDormand, Scarlett Johansson, Harvey Keitel, and F. Murray Abraham.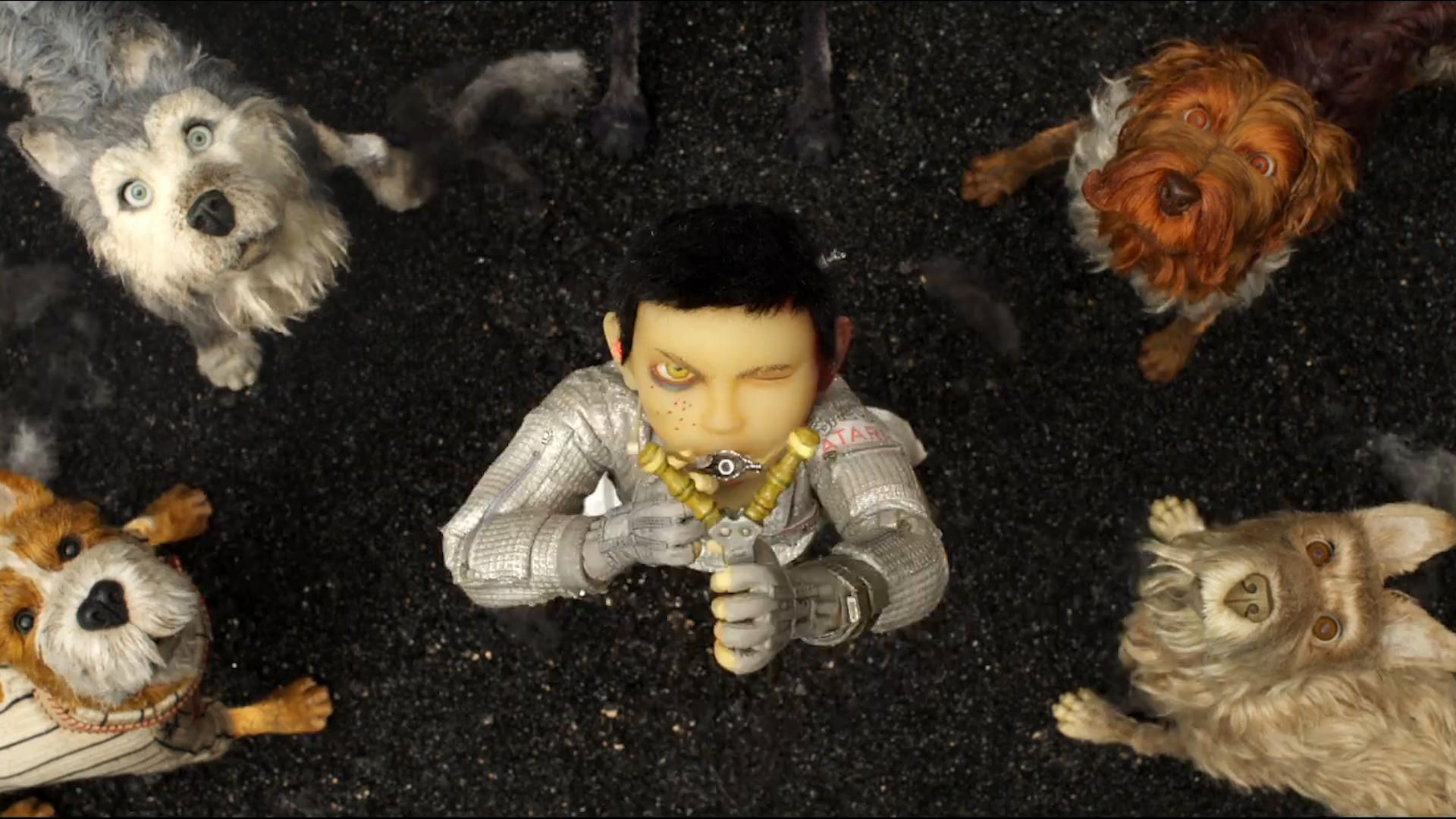 The human has thumbs so he can do some interesting things with them.
I loved, loved, loved Isle of Dogs. A lot, very much so. Before I get into those details, lets talk about the controversy.
You see, there is a lot of talk of white savior complex, cultural appropriation, and more going on with this movie. It is set in a fictional future dystopian-esque Japan, or at least one city in Japan. And coming from a place of white privilege and all of that, I can honestly say I really don't see it at all. The white savior thing just seems like it would be assumed by people who read a plot outline, not watched the film, because it is no where close to the normal problematic levels. The other issues I just also really can't see well. I can't say that they aren't true, because I certainly don't speak for Japanese people or their culture, but I can say that I didn't really get that vibe at any point, and didn't affect me negatively either for this movie.
Back to the film! Holy shit dogs!
What a totally immersive story. There were little quirks here and there that could remind you of it being a film, especially when it came to the various translation methods, but I just wanted to live there and run around and frolic despite all of the bad things that were going down. The dogs in particular all have their own personality and jokes that surround them, for good quick laughs.
I really enjoyed that I couldn't understand the entire film. The Japanese characters spoke Japanese, and didn't always have a reason to be translated or subtitled, and during those times, well, if you knew Japanese you could follow 100%. The audience was required to watch the facial expressions and to hear obvious key words to make sure we could follow. It was great to not get everything super dumbed down.
Isle of Dogs is an interesting adventure, a unique tale, and a story that just seems to have so many tiny perfect details that it would be fun to watch over and over again. Until though, I will just settle for a rewatch of Fantastic Mr. Fox.
4 out of 4.