And now, presenting, the 25th film in the MCU series, Shang-Chi and the Legend of the Ten Rings. Of course, definitely the hero you imagined would be in this chain of movies eventually.
For fans of Marvel movies, they should be stoked. We get more representation, a richer group of deep cut heroes, and of course, potentially a fix for the "The Mandarin" plot of Iron Man 3. Fix is a weird word, and I still find it hard to talk about Iron Man 3. The Mandarin twist was terrible for people who like the comics, but it was a great twist from a regular movie going point of view. But still, despite the problematic nature of that villain, it was disappointing that he wouldn't ever make it into the MCU.
You know, until now, but fixed in the best way they could.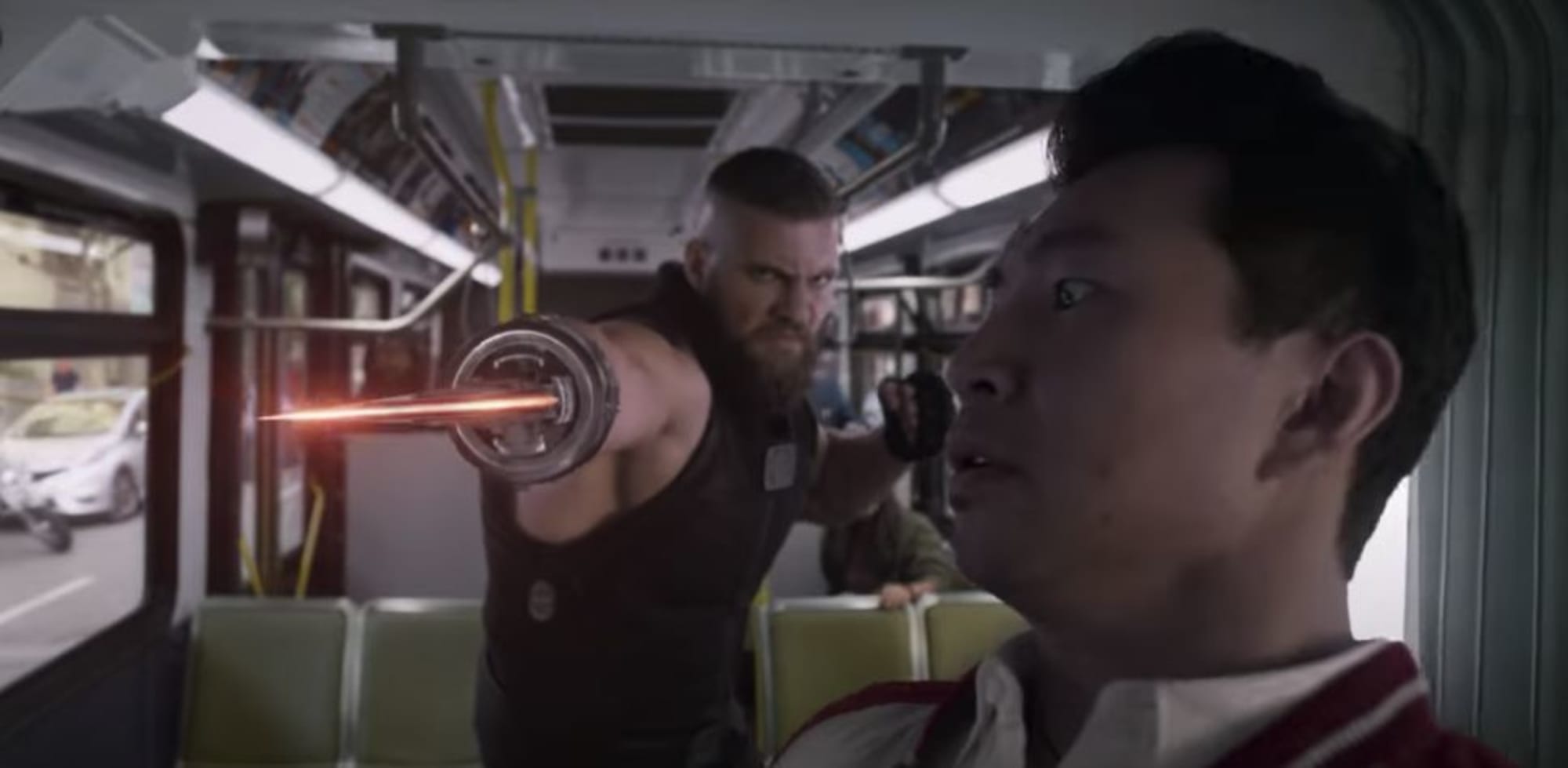 Do movies come out in 3D anymore? Did the Pandemic kill that?
For over a thousand year, the ten-rings have been around at least, giving one man (Tony Leung) immortality and great power in China. He used it for the quest for more power, and building up an organization, and a life without worry. But he wanted more. He wanted to discover the location of a mystical lost city, supposedly blessed by the gods, named Ta Lo. There he met Li (Fala Chen), whom defeated him for the first time, and they fell in love.
The village abandoned, they had two kids, and now, decades later, Shaun (Simu Liu) is living his best life alone in San Francisco, being a parking attendant with his best friend, Katy (Awkwafina). Their high school friends are confused by their relationship, or lack there of, and why they are seemingly wasting their life away. But hey, they are having fun, and that is important.
But what is that? Assassins? After his jade necklace his mom gave him a long time ago? Turns out, much to Katy's surprise, that Shaun can really fight like an ultimate badass, and he has been hiding it from her. Looks like Shaun is getting dragged back into a past he wanted to escape from and forget.
Also starring Meng'er Zhang, Michelle Yeoh, Wah Yuen, Florian Munteanu, Andy Le, Ben Kingsley, Tim Roth (maybe?), and Benedict Wong.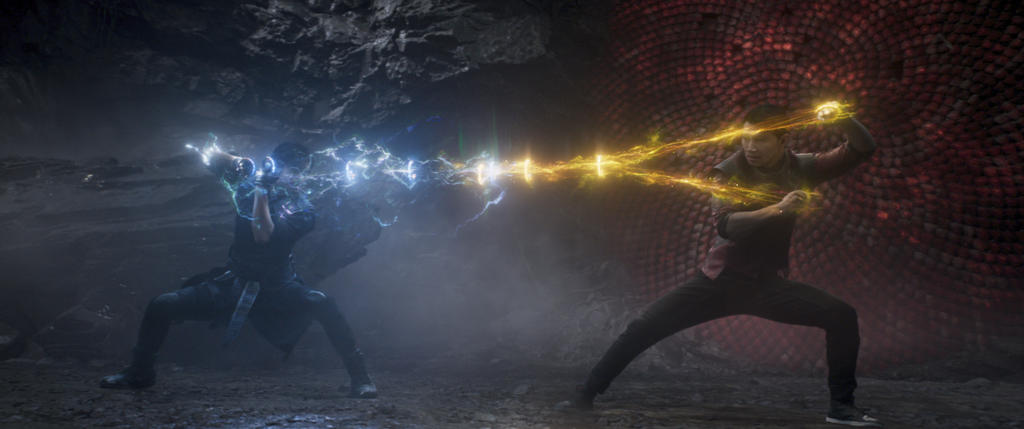 Orange and blue colors for an action film shot? How original!
Can Marvel still make me care about more and more superheroes? The answer is a resounding yes!
To answer my inquiry above, this is an interesting movie to arguably be a direct sequel to Iron Man 3, but it closes off some of the open stories from that film in an exciting and worthwhile way. By having an artifact for over a thousand years helping shape parts of human history, it had the potential to feel ret-conn-y but it made its limited use seem overall plausible. If the villain gets to be the dad of this story, it feels like it is earned and respected their relationship, and the waves that it has gone through over the decades. That's right. Another strong Marvel villain.
Liu is a wonderful lead, both in terms of his acting and his physicality that he brings to the role. Awkwafina works extremely well here as well, although just about her character, whereas the sister, played by Zhang, brings a different interesting angle for a powerful woman fighter into this universe.
One minor bug I had, and this is true about every movie that does it, is when they have very specific flashbacks (in this case, 1996), and then come back to present and literally tell us it is the present day. Normally, that is already annoying, because in a few years that makes less and less sense. If it is supposed to be 20 years ago, say it, don't let it mesh over time. However, this film has to take place in like, 2023 I imagine? Based on everything, it is after Thanos' snap had been reversed, so it isn't even present day now.
A bigger complaint is a trope that this film did, that I don't know the right name for. But if 90% of the film is spent towards trying to prevent this one irreversible bad thing from being happened (door open, something summoned, spell cast, etc), and then it actually happens at the end? Well, it gets resolved very quickly and then we wonder if it actually was worth all this effort this whole time. At least with Infinity War, the bad thing happened, and then it wasn't fixed for a long time.
This doesn't take away from the incredible choreography, effects, fighting, and new characters for us to swoon and simp for. I am excited for what he can actually bring to the future of these franchises, and I want more. Give me that diversity. (Also me, I don't know if Eternals will be my type of film, but that is a later story).
3 out of 4.