The sheer existence of Iron Man 3 puts us in a difficult situation. For super hero trilogies, we often see the first film have high reviews, the second film overlap the first, and the third one disappoint. However, in this case, Iron Man 2 was clearly the inferior film to Iron Man!
Basically, I don't know what to expect. I know I always try to keep the source material out of my reviews, but with superhero movies it is much harder, because I tend to be familiar with the comics. I am overly pumped that we are getting The Mandarin as the enemy, his own personal Dr. Doom. Marvel was afraid to add him earlier, because he is a magic guy, and they have tried to keep their movies (pre-Avengers) separate thematically. That is why Iron Man always had to face tech based threats, the Hulk faced other genetically altered villains, etc. Well, I for one and ready for the theme shift!
This is a completely new way to interpret "I want to be in you".
Iron Man 3 takes place after The Avengers (you saw that film right? And the first two Iron Man movies? They would help). There is no giant threat to Earth currently, so its mightiest heroes are back working by themselves, personally dealing with those events. Well, Tony (
Robert Downey Jr.
) almost died in another dimension, so he is freaking out emotionally. He is having problems sleeping, so he fills his nights building more and more iron suits; always improving, always testing new theories.
This has put quite a toll on his loved ones, including his girlfriend Pepper Potts (Gwyneth Paltrow), friend James Rhodes (Don Cheadle), and even body guard (Jon Favreau).
Not to mention the FUCKING MANDARIN (Ben Kingsley) is out and about, terrorizing America. There are bombings and threatening videos over television networks! Egads!
But what does The Mandarin have to do with the AIM corporation, led by a now charismatic Aldrich Killian (Guy Pearce), with 'botanist' Maya Hensen (Rebecca Hall), and his super weird body guard (James Badge Dale). Regenerating plant tissue sounds cool, but not something I'd invest in.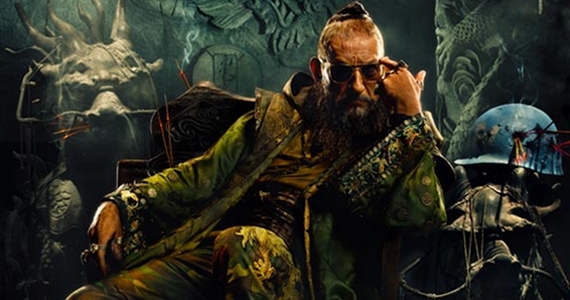 Ah, he is so fucking chill. Taking over the world, fucking up the Iron Men. You know.
It is hard to write this review. It really is. I have conflicting ideas with how I felt about the movie. I realize that twists and turns are expected in a movie, and that saying there is a twist is a spoiler on its own, but I have to talk about the big one in vague terms.
It is shocking. It is unexpected. It is completely out of left field.
And I don't know why it is in the movie.On one side, it pisses off fans of the comics, and on the other side, it won't have a lasting effect on those who aren't comic fans. There really is only two categories, and it seems weird to alienate the fans without having anything to gain. From the movie point of view, it is kind of awesome. It just shits pretty heavily on the source material.
I think the one real complaint I have with the movie is the director seems to really hate Iron Man. The armor breaks a lot, almost constantly, leaving us with a Tony Stark movie more so than Iron Man. So much for the "invincible" title that is generally associated with his name. It is almost sad how little time he is spent in the suit kicking bad guy butt.  Yet somehow, it is still action packed and crazy. There is plot reasons why the suits may have been weak, but I am not sure if I buy them.
The ending itself is also a bit unexpected. Many questions will arise from it and the future of the franchise. After The Avengers 2, Iron Man might not get a fourth film, and instead become part of other characters movies. Pepper Potts also ends up in a strange place at the end of the film, which should be fully explored later, but I fear it wont.
But you know? Despite all of that, I really think I loved the movie. It was funny, the action was great, and it was entertaining as fuck. Sure, there are some plot hols, but you will survive. It is clear, however, that Disney had extended their reach deep into the film. They introduced a kid character and his role definitely overstays its welcome. Go away kid.
I think Tony agrees with me there.
3 out of 4.