February 17, 2022
Uncharted
Wait, Uncharted is finally out!? The first Uncharted video game came out in 2007, and almost immediately was there talk of turning it into a movie. Like, people writing a script and all of that. Heck, in 2009, the second Uncharted game came out. One of my favorite video game commercials of all time was during a series of Sony commercials where people would give questions and concerns to Sony executives. It is more hilarious now with how the graphics stand out in today's terms, but hey, they were pushing that movie angle hard.
So, fifteen years later, the movie is now released. So many script re-writes, producers, and directors were put onto the picture. Various people asked to star in it or with an interest to star in it, the most famous example being Nathan Fillion, who ended up being in a fan made short film for Uncharted. Even Mark Wahlberg was attached to be the main character. Personally, I wish it got made in time for the Bruce Campbell as Sully rumors were out, but that is because I generally want Bruce Campbell in most of my movies.
In the latest iterations of the film, that was supposed to come out in 2020 (but director dropping again and pandemic), Tom Holland was supposed to play "Young Nathan Drake" and it be a prequel to the game series. Based on the movie we got, that is sort of how this movie does play out. But honestly, it just feels like mostly regular aged Nathan Drake, not even young Drake anymore.
My own experience with the game franchise is I did finally play the first one after the third game was finally out. I maybe played it for two hours. I thought I was getting a Tomb Raider like game with a lot of puzzles and sure, some bad guys. I didn't realize that honestly, it was about 95% a shooting game, with ammo scarcity issues, and people hiding behind crates and barrels, sprinkled throughout dungeon crawling with treasure and explosions. Damn shooting games, not at all my idea of entertainment.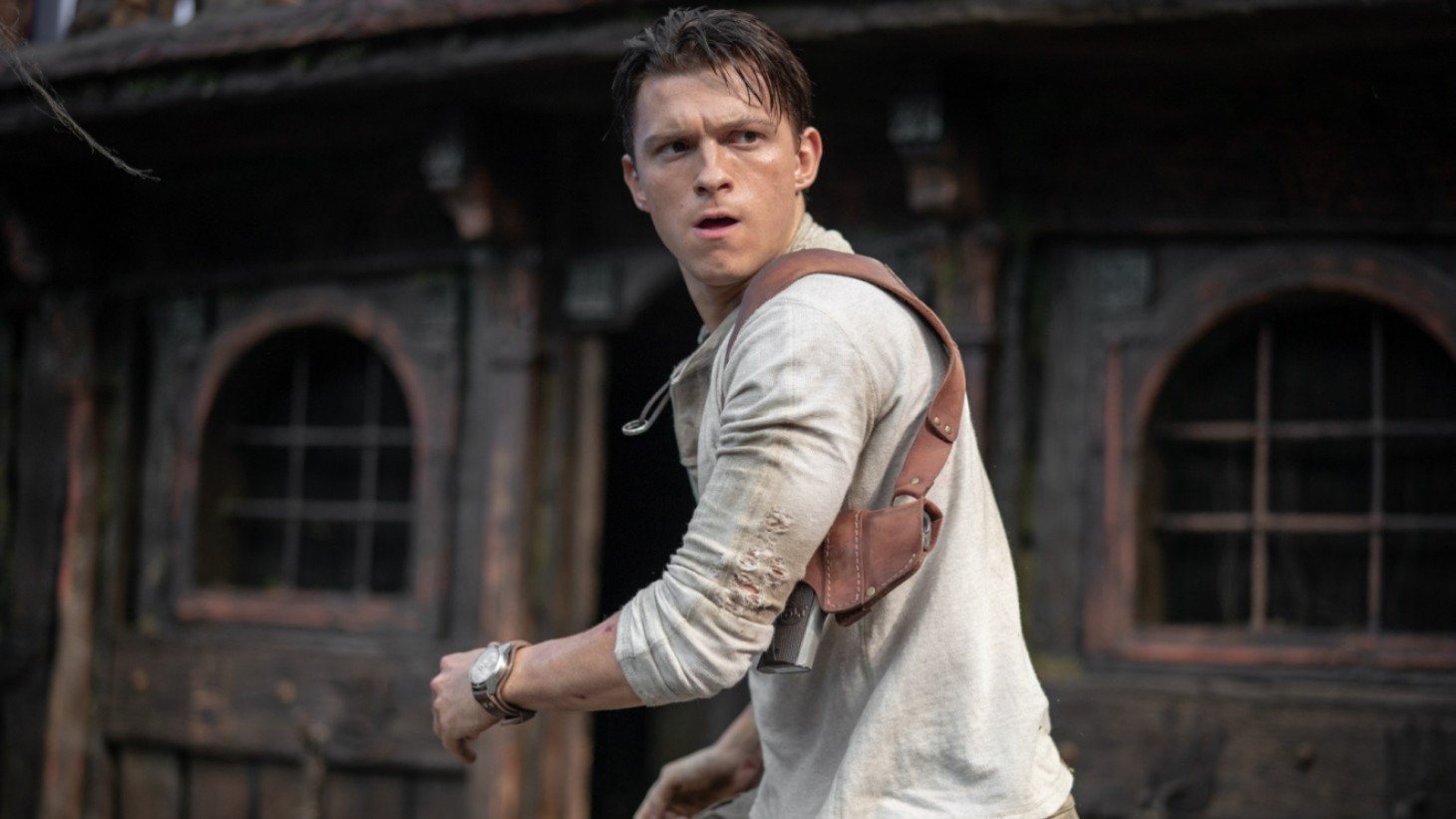 Aw yeah, gun holsters, I bet he will shoot everyone, just like the games.
[Editor's Note: This statement unfortunately isn't accurate.]
The actual film opens up in the middle of action, then we get a flashback of the actual start, until we get back to the action. Oh okay.
But Nate (Tom Holland) used to be an orphan (I guess he still is?), with his older brother Sam (Rudy Pankow), but Sam got into more trouble than Nate, so he had to go on the run from the LAW. And since then they have been apart, but Sam still sends Nate post cards. They did thievery, they loved history, and apparently that is all that we really need. They wanted to be treasure hunters, and discover things from the past that were long forgotten or long hidden.
But now, we got some asshole coming up into his place of work, acting like he knows him. Victor Sullivan aka Sully (Mark Wahlberg), who wants to hire Nate for an upcoming job of his. Specifically to locate the gold that Magellan allegedly found when his team was the first to sail around the world in the 1500's. It is rumored they found it and never gave it to the family who financed their voyage. Oh, and what is this? Sully apparently knows Sam, with picture proof, and that Sam is missing. That is the real way to get Nate involved.
Along the way they are going to have to break some crimes though. And discover ancient tombs and catacombs to find hopefully ancient treasure. The Moncada family, led by Santiago (Antonio Banderas) is also involved on this chase for treasure, as they hope to finally get what was long promised to them.
Also starring Sophia Ali, Tati Gabrielle, Steven Waddington, Pingi Moli, and Tiernan Jones. Also with a small yet obvious cameo from Nolan North, the original voice of Nathan Drake.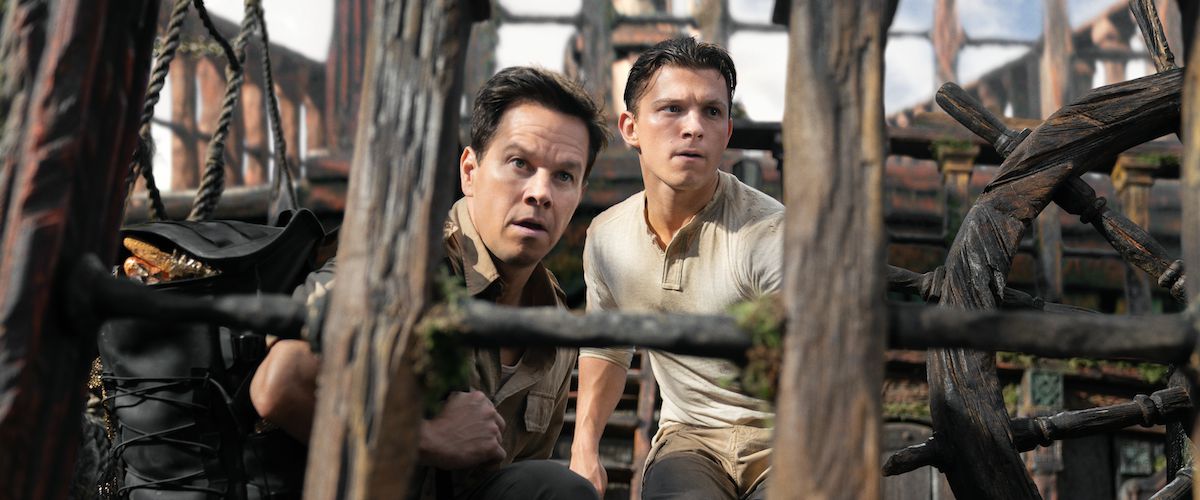 Almost all of the nice promo shots are of them on a damn boat.
Uncharted as a film seems to pretty dang charted, so to speak.
It feels like Tomb Raider, and Dora, but with more dead people than normal I guess. Dead by stabbings, and crushings, and fallings. Did you know that Nathan Drake only fires a gun in one scene, and he misses every bullet? I guess they were trying to capture my personal experience as I was a bad shot in that game. But I didn't have alternate ways to deal with the enemies, unfortunately. It is beyond strange to me to make a game that anyone would classify as a shooting game, and then not have a lot of shooting. That is one of the top three main components. The other two being Sully jokes, and treasure hunting.
I will point out that Holland is definitely doing some acting in this movie. I was afraid he would just feel like Spiderman. But his voice is a little different, less high pitched. His character still fights a bit more agile than one would expect. Unfortunately, the very first scene, which features physics only used before in video games and that one Hobbit scene. It felt like I was intentionally being trolled into watching a Spiderman without the costume film.
Overall, I think the ACTION scenes were the worst part of the movie. I am sure the crates and the ships on planes were probably parts of the video game. But both of those scenes felt so CGI heavy. The crates became additionally boring to watch for the same reason. Having it start the film didn't help either, as it became broken up and unbelievable. The ship scenes were…fine, but they made those same ships endure a lot of damage without miraculously falling apart despite the 500 years of decay.
Another negative takeaway would be the puzzles themselves. There are clues, and hints to do all these things. And when the characters figure them out, I don't feel a big sense of pride in them because they don't feel like well crafted riddles or hints. "Oh that is the answer? Oh okay…" that is my constant feeling.
And honestly, I don't like that they made Banderas' character out to be a bad guy. He did do a bad thing in the movie, within his family, but his family wanting the treasure that they were promised? I mean, not the worst motivation. If the treasure can be traced back to a specific country the top option is return it to them, obviously, but if not, then why not their family?
None of this is coming from bitterness of not getting to see Bruce Campbell either. It is just another generic action film that is based on a video game that disappoints. This seems like a bit of a shocker since how much the games "felt like movies" at the time.
I barely played the games, so I can't tell how accurate it is, minus the lack of guns. I can tell that it was a good bit boring, it tried to have too much set up for future films, and I did fall asleep leading up to the auction scene.
1 out of 4.