Ready for that new movie, Spider-Man: All the Hype in the World?
Oh, it is called No Way Home. Fine, that is fine. It could have also just been called "Print Money for us Please" because a lot of people are going to see this movie and they are going to see it fast. This is arguably the most excited people have been for a movie since Avengers: Endgame. After all, in our last Spider-Man movie, we were given a very strong credits scene. [Note: I hated that this was a credit scene. That scene was really important for the film. It made the ending really work. The fact that it was "credits" scene and arguably less important really bugs me]. It helped build up the hype.
I personally am hoping that this movie does…something to help establish what the actual fuck Marvel (even if Sony is helming this film like always) is doing with their time. If I see one more "Present Day" tag line in the MCU this year I will lose it. No one has any clue when any of these movies are taking place, because they all are in the future based on the Thanos Snap.
Is this one in 2024? 2025? Who knows. Will the movie know? Doubtfully.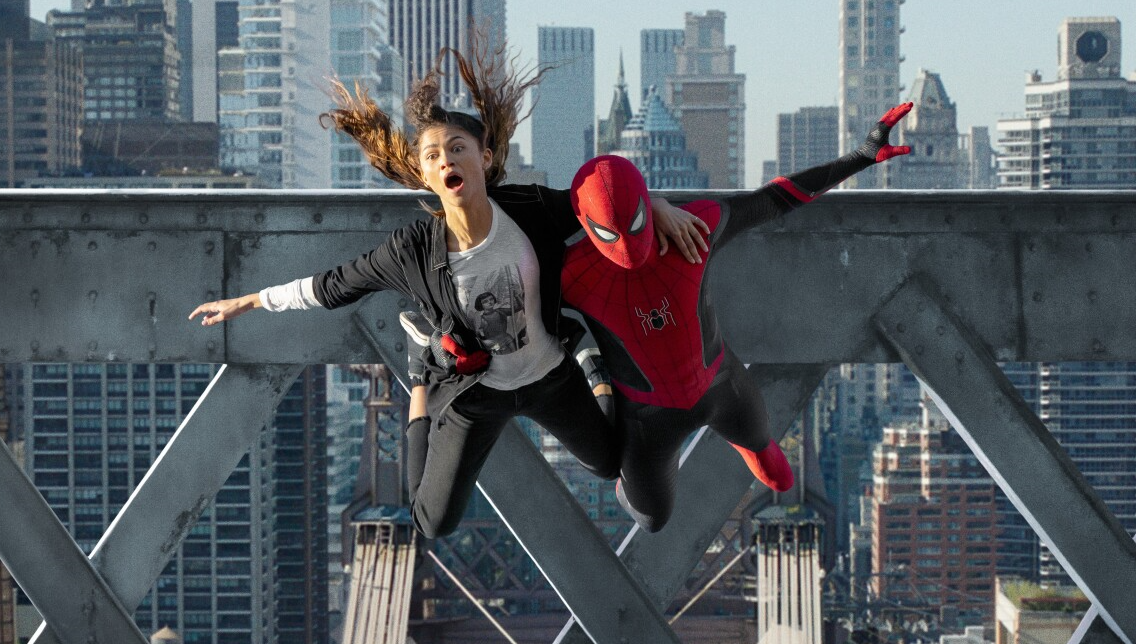 Is she enjoying this ride?
Spider-Man: No Way Home takes place basically right after the end of Long Way Home. Mysterio's last trick. Telling everyone Peter Parker's (
Tom Holland
) identity and blaming the bad stuff on Parker.
Now everyone knows! Now everyone knows about his friends and his girlfriend (Zendaya) and that causes issues. Some still love him, some now hate him. Some just want to make his life miserable. Hell, it is even affecting his ability to get into college. Because they know his name, and they aren't sure if they want that publicity or trouble. Is he a MURDERER?
Needless to say, Peter feels like shit about this. And he hates it more that it is affecting those who love him and he loves in returns. So he wants things to change. Maybe time travel? Maybe people can just forget the whole thing happened? Maybe magic can be involved?
Well, once magic gets involved, and potentially unstable magic at that, it seems like the reality Peter knows is not going to be the same forever. Time to face old villains for the first time.
Also starring some other people you know from these movies. Tony Revolori, Jacob Batalon, Angourie Rice, Jon Favreau, Marisa Tomei, Martin Starr, J.B. Smoove, J.K. Simmons, Benedict Wong, and Hannibal Buress. Also (checks trailers to see what is and isn't a spoiler) Alfred Molina, Willem Dafoe, Thomas Haden Church, Rhys Ifans, and Jamie Foxx!
Anyone else? Maybe! Maybe we also get other villains played by Paul Giamatti, Dane DeHaan/James Franco, or Topher Grace? Maybe we get villains in the last two movies showing up, like Michael Keaton and Jake Gyllenhaal. Will we have past Spider-Men like Andrew Garfield and Tobey Maguire? Will DONALD GLOVER appear as old Miles Morales?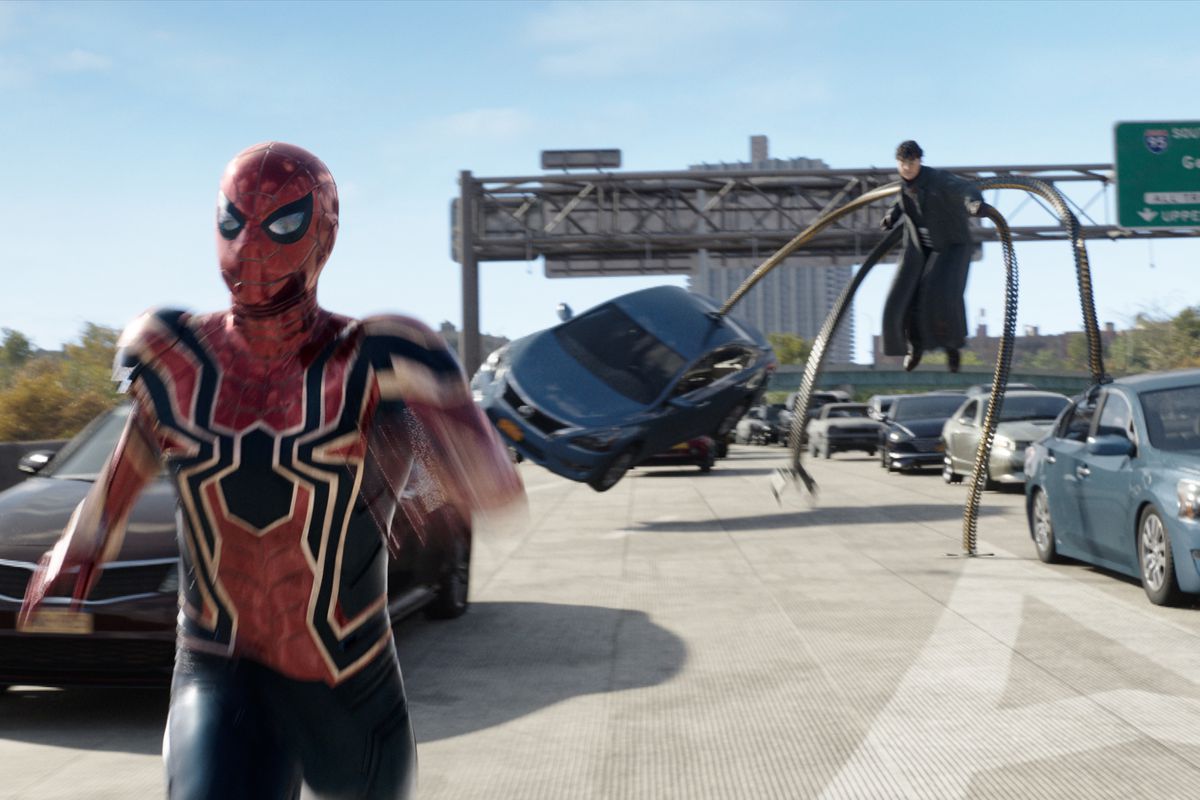 This isn't a spoiler, this is the main advertisement!
Spider-Man: Oops! All Villains! edition. Frankly, I wondered if this would feel crowded. Crowded is what they were going for after all. And arguably, crowded villains helped kill the last two Spider-Man franchises. "But no! This time we will do it better!" And how is that? By giving us previously established villains so we don't need an eight hour movie. Sure, it requires a five film commitment, but they figure if you are watching these new ones, you probably already committed to the over 20 that is the MCU at this point. So why not five more, assuming you didn't already have them?
It works though. For those without the previous films, I wouldn't be able to tell you. I can't get myself in that headspace. It is a risky move, and a ridiculous move, but damn it, trying new stuff is one of the reasons I watch movies. To see those that make risks, and this film is so risky. I don't care what the past has told us, MCU printing their name on it doesn't always guarantee success. Having a likable cast can help a lot.
This is the most emotional we have seen Holland as our web crawler before, and that includes the time when he didn't feel so good in outer space. From the villains, Molina brings the same despair and anger he had before. Foxx felt better and more confident than the shit they gave him in his original. Ifans/Church were very underutilized, in more ways than one. I just assume the actors couldn't really be involved that much with the film.
But Dafoe? Holy shit Dafoe. He has had like, twenty years to forget how to be the Green Goblin, and I was honestly worried about him the most. I know he is a fantastic actor, but even early on into his scenes in this one, I was skeptical, but that dude NAILED IT so hard. That is some real good review writing right there. What an absolute madlad he is. Why did they kill him off in that first film? So sad.
Honestly, people will get mad at me if I say much more. So in order to keep things vague and mysterious, I will. Let's just say, I cried once, and it is not likely a moment you would fully expect. There is obviously an early credits scene, and an end credits scene. Feel free to leave early after the first one, in my opinion. The post credits scene is trash.
4 out of 4.