April 15, 2016
The Jungle Book
This is Disney doing a live action remake of one of their old animated films. Nothing new about that of course. The Jungle Book has already had a live action remake once (it's bad), and it is based on an older story, so they wanted to get theirs out there quickly.
But did you know about the other Jungle Book movie, Jungle Book: Origins? The one directed by Andy Serkis to showcase new motion cap technology? I had thought that one was supposed to come out this year, to get all doppleganger film-y and all. But nope, its release date was October of 2017. And just because this one is getting such good ratings, they pushed it back to October of 2018.
Sucks for that Jungle Book. Especially since I am pretty sure it was announced first and it is already in post production now, we just have to wait 2.5 years.
Unless it gets pushed back again. Because this film, the Disney Jungle Book, already has announced a sequel. It is like Disney is just trying to screw over poor Andy.
[Editor's note: Since writing this but before publishing, Serkis' movie has now been renamed to just Jungle Book, probably increasing future confusion. But at least it won't sound like a prequel anymore.]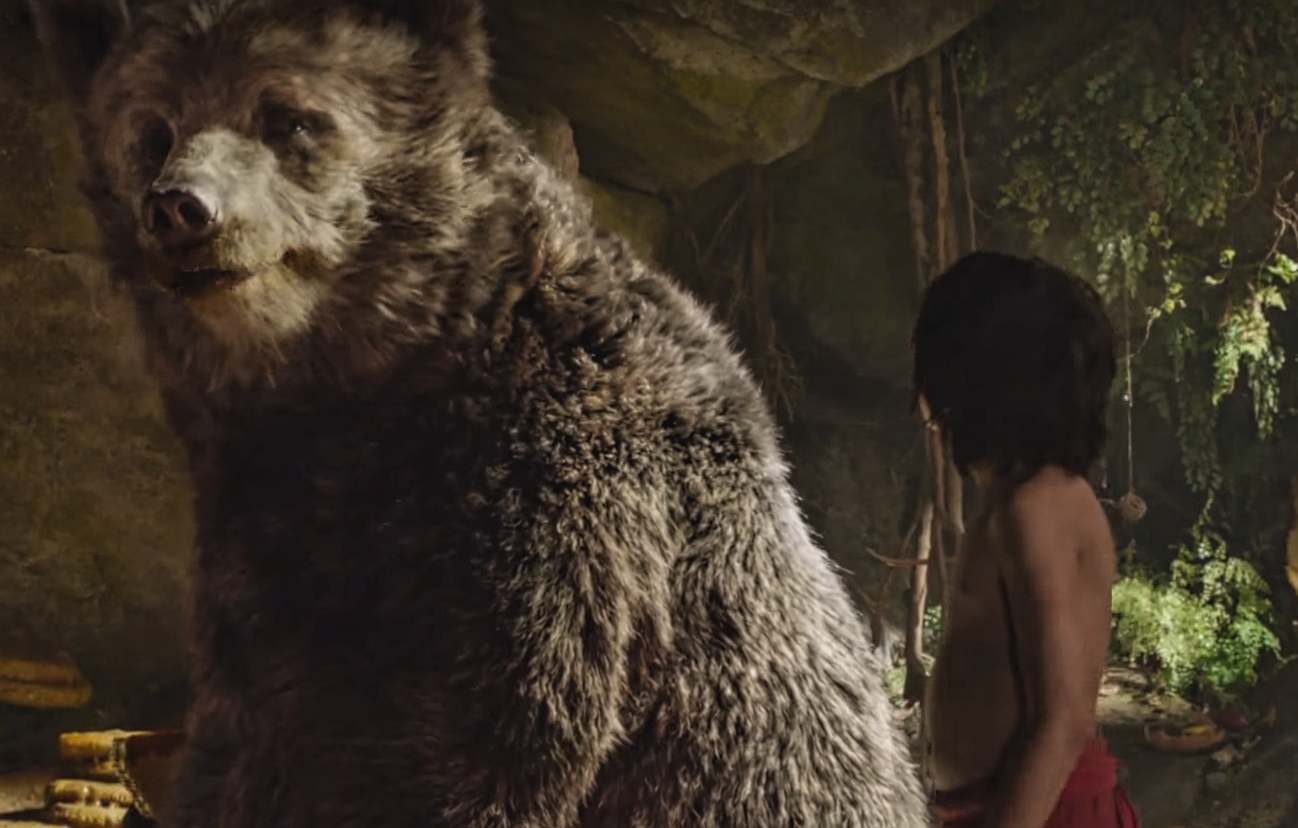 Oh well Andy. Hakuna Matata or whatever it is that bears say.
Mowgli (Neel Sethi), the poor little man-cub, was abandoned in the Jungle when he was but a toddler. The noble Bagheera (Ben Kingsley), a black panther, discovered him and felt pity. Even though Man is a danger to the jungle, he was but just a cub and would die on his own and he needed a family of his own. So he brought Mowgli to the wolf pack. There he could learn to be a wolf and there would be a shit ton of wolves to help protect them.
The wolf pack leader, Akela (Giancarlo Esposito) agreed to take him in, but really he was raised by Raksha (Lupita Nyong'o) as one of her cubs.
But eventually the ferocious tiger Shere Khan (Idris Elba) finds out about Mowgli's existence. He hates Man and knows what they can do, so he needs to be killed before he destroys them all. He threatens the wolf pack and eventually it is decided that Mowgli needs to be taken to the closest man village to protect him. So Bagheera agrees to take him there.
Of course that doesn't work. A nice tiger attack separates the two of them, and Mowgli has to live on his own in the Jungle. Mowgli now has to survive on his own, when big ass boa constrictors (Scarlett Johansson) are trying to eat him, even more big ass Orangutans (Christopher Walken) are capturing him, and bears (Bill Murray) are trying to befriend him for food help. Oh that last one isn't too bad.
Also Sam Raimi and Jon Favreau voice a couple animals, how neat.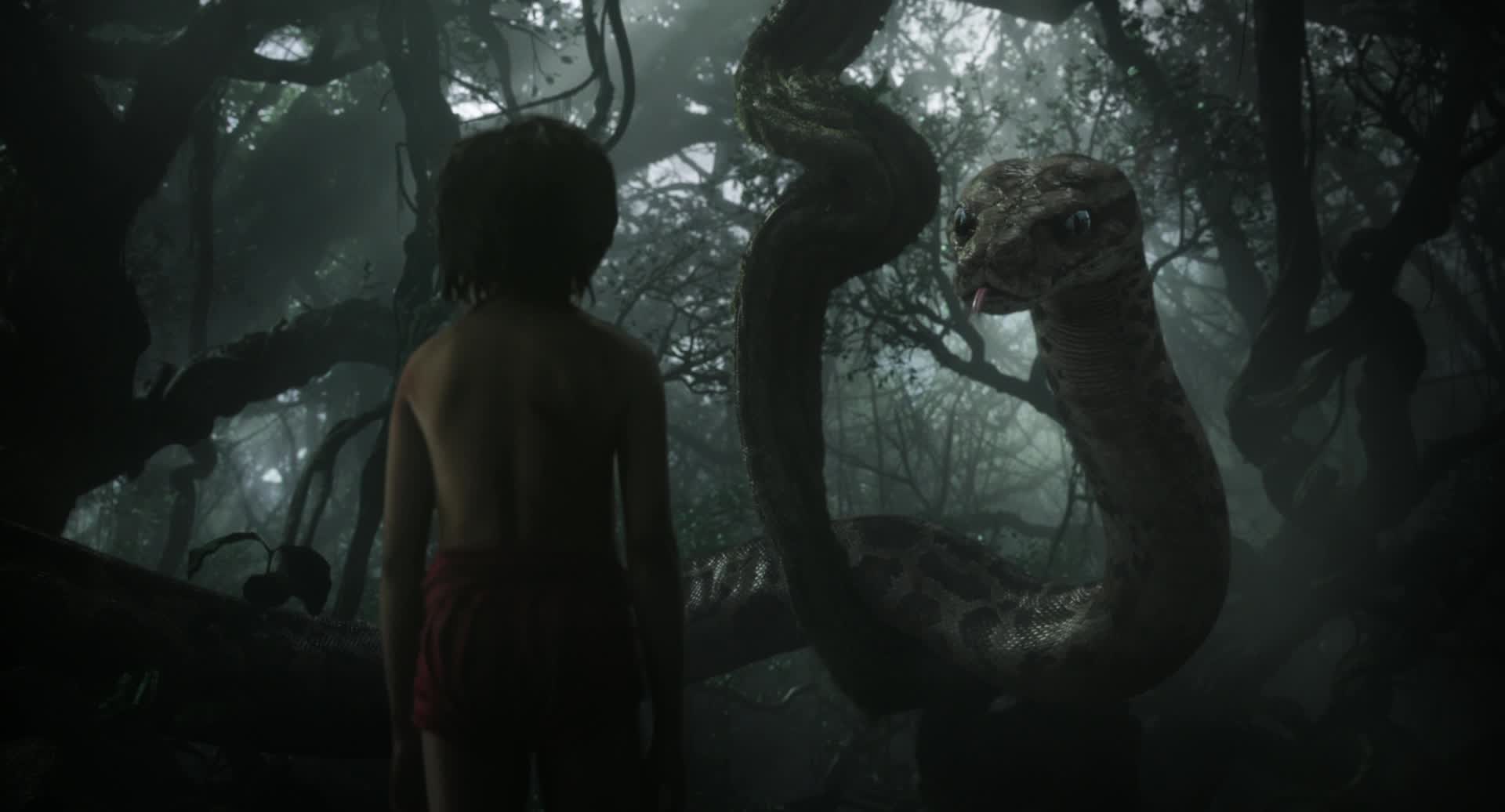 Trusssssssssst meeeeeeee, it is very neeeeeeeeat.
The Jungle Book is another modern movie where literally every main character is voiced by a very famous person not known for their voice work. There are some cubs and minor animals with who the hell knows voice people, but for the most part we are squandered in celebrities. And not every celebrity with a unique voice makes them great at voice work. Robin Williams has an obvious voice, but each character was unique and special. Not every character felt unique and special.
Let's start with the good voice actors. I really liked Elba, Nyong'o, Johansson and Kingsley. At least Johansson is known for one voice work (Her), but everyone else seemed to bring some passion and heart into their voice. I hated Kingsley's Bagheera at first, but I grew into it and it felt natural. Elba was the real powerhouse here as Shere Khan and was a voice to be reckoned with.
On the other hand, Baloo the bear just sounded like a lazy Murray in a bear suit. And of course King Louie as Walken was just all over the place. It turned what should have been a scarier scene into a joke, because it is Walken's voice and he didn't change anything about it.
Speaking of voices, I was worried from the trailers that everyone would sound like they were just in a recording studio as they did their lines, but the post-production guys did a good job of making everything natural.
As for one final complaint about voices, this film suffers from animal talking inconsistencies. They are in a Jungle and everyone can talk and understand each other? Cool. It isn't just Mammals either, because we have the snake joining in the fun. But you know who cannot talk? Elephants for some reason. They only make Elephant noises. Bees only buzz, and about 800 monkeys just squeak and shrill, despite the orangutan singing and yelling. This might seem like a minor complaint, but that is the sort of lack of forethought that just creates a technically confusing universe. Give me all, or give me none, but don't give me arbitrary rules that make certain animals just into animals.
The visuals and animation for the animals were extremely top notch. Everything for the most part felt realistic, outside of one stampede scene, and I have no complaints from that. The jungle itself was also a diverse and beautiful setting and it made viewing the film a great experience.
And sure, I liked that they included a few of the original songs. They did feel out of place and didn't sound as great as the cartoon, but still keeping them was a nice touch.
The Jungle Book is a great adaptation, but it could have been the BEST adaptation if they went for top tier talent and consistency.
3 out of 4.