Cinderella, Cinderella, there are so many movies about Cinderella. And books. And plays, I bet. Sometimes I wish things never made it to the public domain so we wouldn't have to get new versions of the same thing a thousand times.
At the start of Disney's "let's make all of our old stuff into live action" phase, Cinderella was one of the first ones. It was pretty, but it was pointless.
So why now? Why another one? Well, this one isn't Disney, so that is probably a plus. Maybe it will be more edgy. (Checks rating, it is PG). Nope, not that.
Oh, this one is a musical. And not just a musical, but a jukebox musical. It is really easy to make a jukebox musical on the most basic level, but it is pretty hard to make a GOOD jukebox musical. For every Moulin Rouge! there are ten Strange Magics.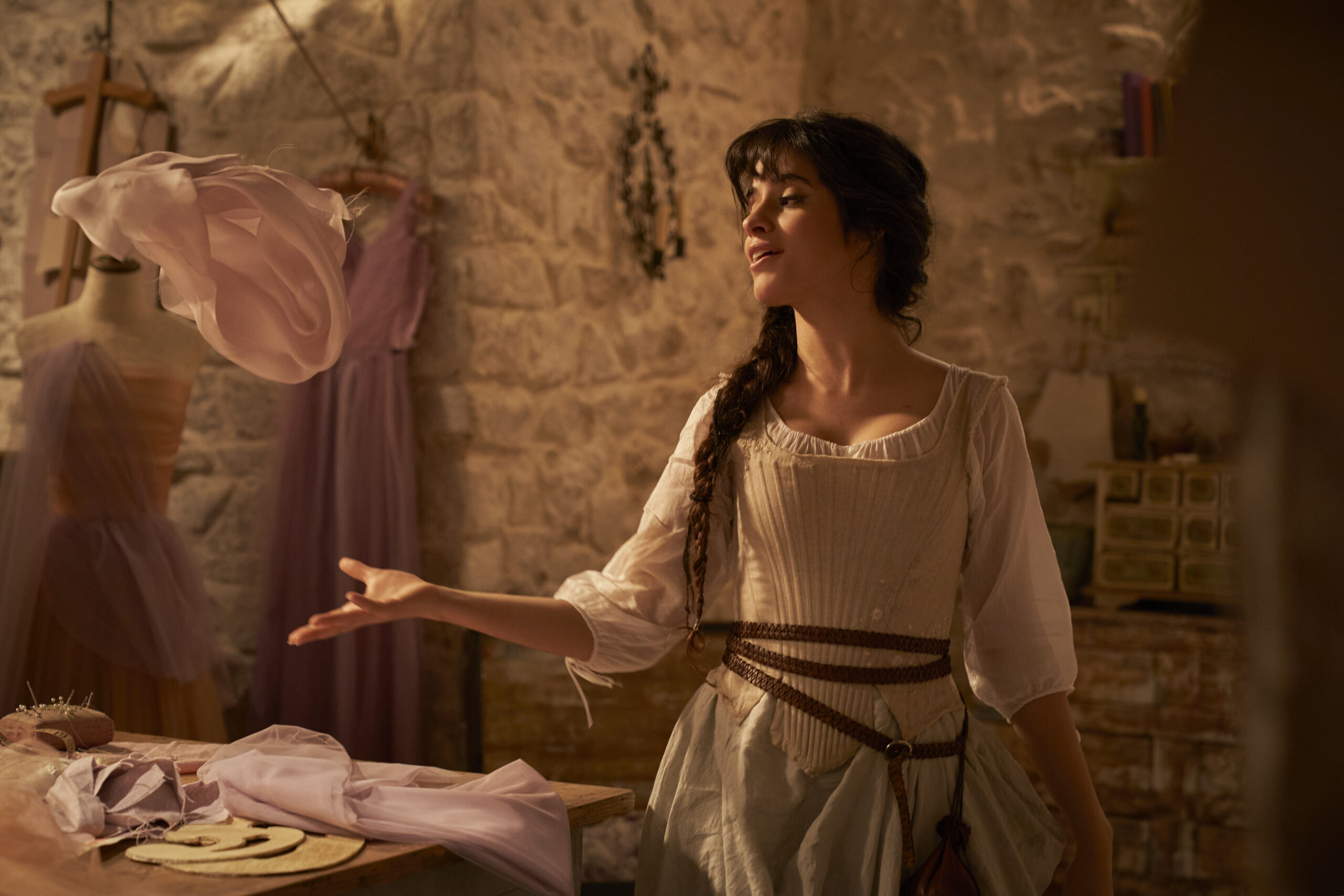 And frankly, at this point, this is a toss up.
Plot wise, you know the basics. Ella (Camila Cabello) is living with her step-mother (Idina Menzel) and two step-sisters (Maddie Baillio, Charlotte Spencer), and isn't having a good time. They aren't related, they are just in a house of convenience, so she has to do a lot more chores and takes a lot more scorn. She does make dresses though. She wants to have her own dress shop one day, but women can't own businesses due to the laws of the land. That is horsefuckery.
Prince Robert (Nicholas Galitzine) is a prince who doesn't really want to be a prince. Fuck the responsibilities and expectations. He wants to just hang with his bros. Have fun. Live his life. He doesn't want to be forced to be marry, and doesn't look forward to taking over from his folks (Pierce Brosnan, Minnie Driver) in the future. His younger sister, Gwen (Tallulah Greive) definitely does want to lead, but she is, you know, a ~~woman~~ so she has no seat at the table. That's a theme, damn it.
Anyways, step mother is going to be mean, there is going to be a ball, there is going to be a fabulous godmother (Billy Porter) and a clock is going to strike midnight. But does Ella or the Prince actually care about love and the old version of a happily ever after?
Also starring Romesh Ranganathan, James Acaster, James Corden, Fra Fee, Doc Brown, Rob Beckett, and Jenet Le Lacheur.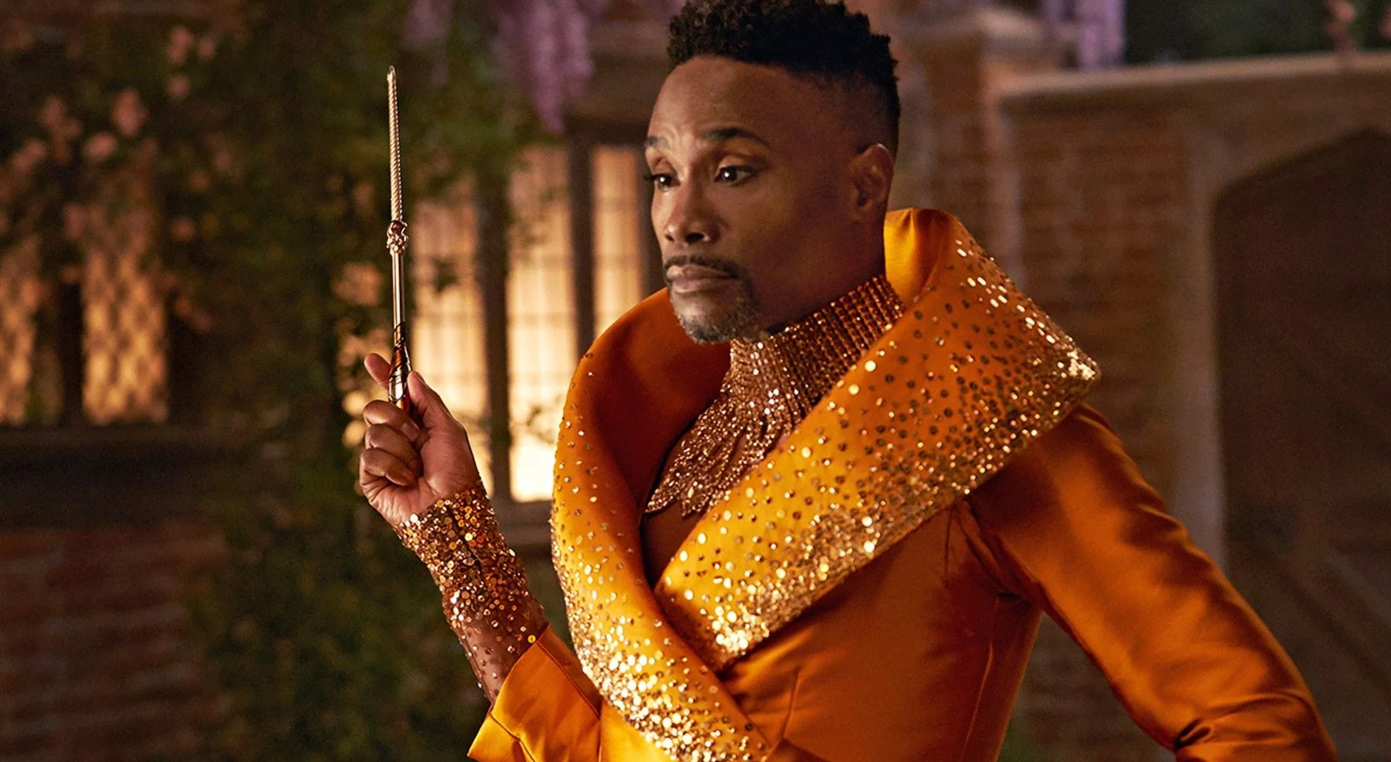 Yes they say godmother damn it, and I am all here for that.
And here we are, shocked as all I can imagine, that I didn't hate this version of Cinderella. Honestly, random themed jukebox musicals can bug the piss out of me. Even themed ones are usually disappointing. I feel like I hear a lot of the same songs in these musicals over and over again. How many times has Material Girl probably been used in other jukebox musicals? You can tell what songs have cheaper rights than others a lot of the time through this.
Another issue with these things is that the songs usually sound…the same as the originals. You can't hear the artists actual voice, there is nothing new to it, no tempo, just here is a cover that sounds like the original. Boring. Yawn.
And yet, for Cinderella, for the most part, it seems like they definitely tried to avoid that. I would say at least half of the songs felt relatively unique, whether it be in the sound or the way it was presented. Opening up the musical with a Rhythm Nation / You Gotta Be mash up I would have never expected (but you can tell the makers loved that era of music). I was expecting to roll my eyes at Somebody to Love (I mean, we already had a medieval fantasy film use that, come on!) and then really enjoyed it in the film context for the story. Damn.
Honestly, my biggest issue with the music is unfortunately Cabello at the lead. I don't know anything about her as a pop artist, I don't know if I have heard of a song by her before. But a lot of her songs come across as a generic pop sound that was overly produced and autotuned. And that is unfortunate, because other moments seem to let her actual voice come out more (slower numbers with less music behind it) and it detracts from it. Similar to the problems that came across in Beauty and the Beast.
In terms of actual story, Cinderella does attempt to fix some of the problems with the Cinderella story. We don't have a love at first sight situation between the two anymore. Ella doesn't just work and be submissive until magic saves her. The step-sisters aren't bad they just are more afraid of their own mother. The step-mother isn't the worst (until she does dress stuff) and at least give us a reason for why she is that way (doesn't redeem her, but hey, a reason). It gives us a happily ever after that came from work, and from years of effort, and not because of getting married.
Brosnan is in this film as the king, and seemingly was picked to be in this musical just because of the backlash to Mamma Mia! singing, just to have a joke about his singing. But as old angry king he is good. Porter as the godmother worked well and gave a decent enough statement to the idea of magic and its existence in this movie. And according Jenet le Lacheur, who plays a court friend of the prince, is likely the first openly trans actor to have been cast in a Hollywood musical film, which is worth noting and celebrating. A lot of these are things Disney wouldn't have the gall to do.
Overall, I was excited with Cinderella by the time I was done with it. I went in expecting the worst, but a lot of the soundtrack worked, and the cast of characters made it a more enjoyable and worthwhile experience. I am just annoyed more that I can't listen to the soundtrack until the films actually release date. 2021 is the year of movie musicals.
3 out of 4.