Here we go, here we go, here we go.
First of all, I apologize for never writing out my review of The Kissing Booth 2. I had a lot to rant about and did it live in person a few times, but never got it all down on a review, and that made it worse since it made my worst film of the year last year.
So I knew with the final (better be) film I would make sure to jot it all down. The Kissing Booth 3, a movie that seemingly exists just to make it a trilogy, because they damn well could have finished the storylines established at the end of the 2nd film, but left it with a cliffhanger because they think resolving any aspect of a movie is pointless, I guess.
I am mostly fine with cliffhanger endings in general, in a planned series, but I also would demand that the film tells a complete story. Avengers: Infinity War ends with a sour note, kind of a cliffhanger (because the bad guy wins?) but it also tells a complete story and no one should leave unfulfilled. The second movie ended with a single decision to make and just suddenly decides to not do it.
Fuck that.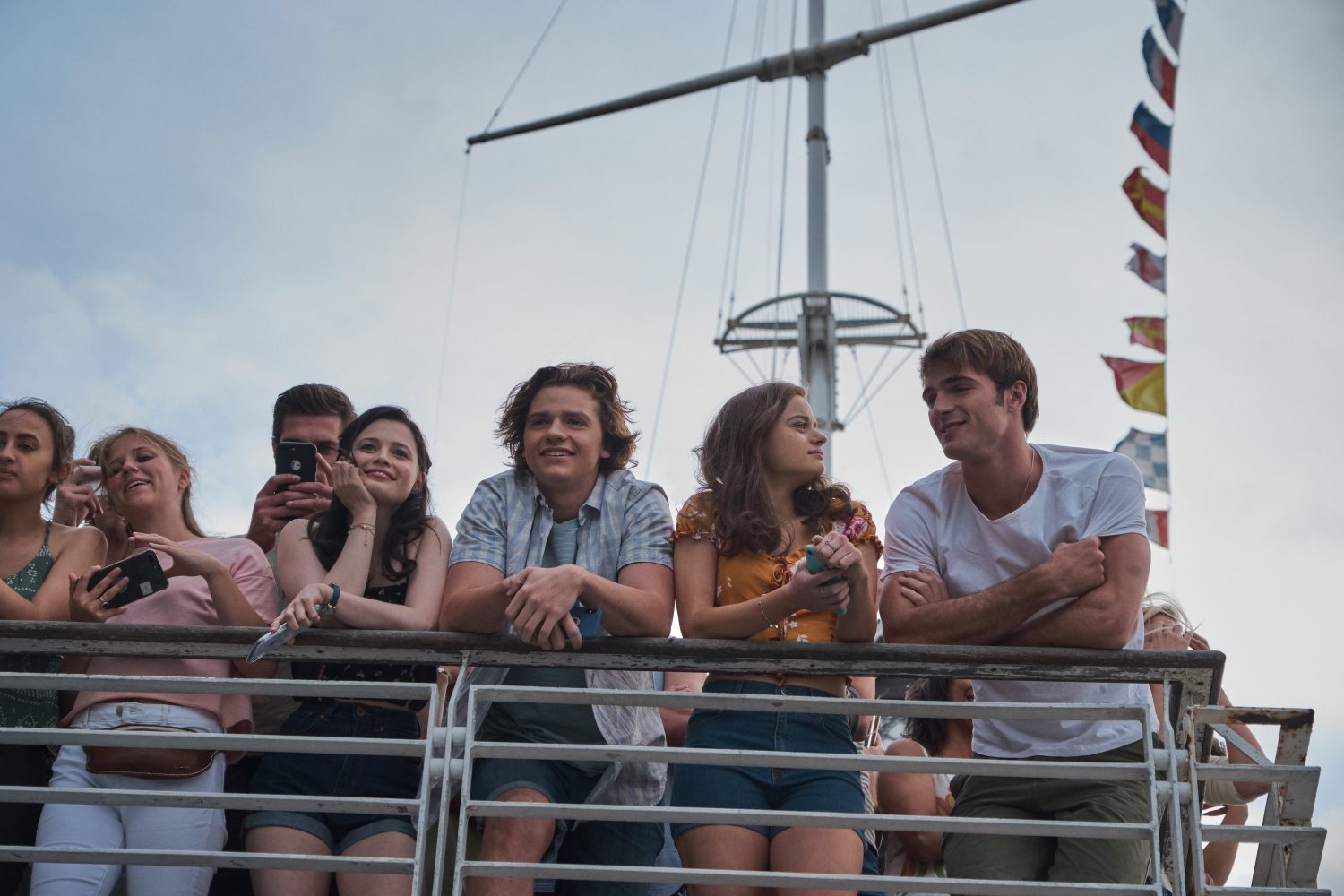 Fuck this.
As you know, of course, the last time we left off, Elle (
Joey King
) not knowing where to go college. Harvard, or Berkeley. Because of course if she goes to Berkeley, which she has talked to going for years with her best friend Lee (
Joel Courtney
) and was their dream. But her boyfriend, Lee's older brother, Noah (
Jacob Elordi
) is a year older and in Harvard. If she chooses to go there, she will pick her love life, her future, and you know, it is Harvard. Should she care about a promise to a best friend? Well, she is already lying to both of them saying she is wait listed on both, so she can take her time.
After a few weeks of travel with them and Lee's girlfriend (Meganne Young), they still have a lot of summer left, and decide to go to Lee and Noah's family beach house. But oh no! Their parents (Molly Ringwald, Morné Visser ) are going to sell the place after this summer! The kids somehow convince the parents to just let them live there the rest of the summer then, and they promise to clean it up and get it ready for the market. This is where Elle finds an old Beach Bucket list that she made with Lee. They decide to make it the best summer ever, especially since Elle has decided to go to Harvard.
But that isn't all the plot! For example, her dad (Stephen Jennings) is maybe finding love after all these years, someone to help raise the much younger son (Carson White). And Elle hates it.
But that isn't all the plot! Marco (Taylor Zakhar Perez) is still around, making Lee jealous. And Chloe (Maisie Richardson-Sellers) is still around, not making Elle jealous. Also Lee has to deal with the fact that he will be in a long term relationship with a girl he already has problems remembering, because he is a goddamn man-child. And Elle has to come to terms with the fact that she is in a relationship with Noah, who keeps having emotional bursts of jealousy (usually for good reasons), but also because he is a goddamn man-child. And Elle has to come to terms with her own shiftiness, because she is a goddamn womanchild.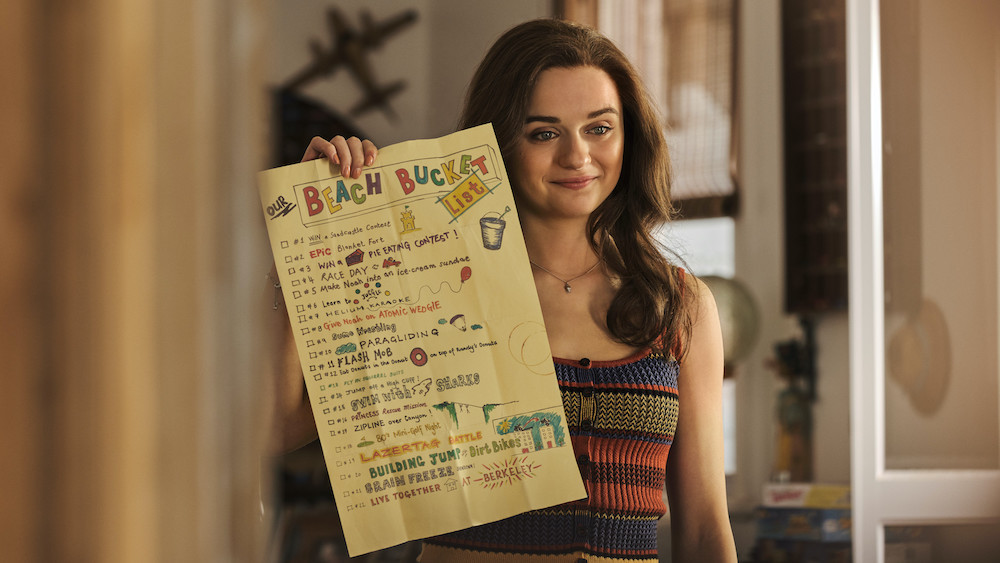 Wow, good pristine condition after 8-10 years. 
How does one start to talk about a movie, nay, a franchise, like The Kissing Booth. Something written by a teenager, and every aspect of that fact is obvious through every scene, decision, and dialogue choice.
The fact that it is called The Kissing Booth isn't even an issue. It is, for all intents and purposes, a minor part of the first film and still fine to be a dialogue. The dialogue choices from the narrator to overhype the minor part, and constantly try to bring it back through relevance, is really what hurts. Because in the second movie, it has even less of a point on the plot, and of course, in the last movie, is just once again unnecessarily brought back up in the epilogue, six years in the future, because apparently that is where several characters need to meet up at and pretend they never really stayed in communication the times before that.  This aspect of the movie makes more sense if the movie was set in the 1920's, where maybe there was never a kissing booth beside it, because then we could all understand the strange hype and obsession with it.
The main character Elle is a terrible person. And role model, in case anyone looks up to her for that. You can have movies about bad people, but usually those people have some sort of consequence for their action, or a really hard choice that they will live with for regret to get to their power. Important things to show that those who hurt are hurt in return. But Elle? The girl who actively cheated on her boyfriend while he was away at college, both physically and mentally, and kissed another boy publicly. The one who demanded all the free time of her best friend so much that he literally forgot about her girlfriend who for some reason stuck it with him.
So what does she do this movie? Well, she is more trusting of her boyfriend that he won't cheat on her, which is great, because he never did. And she decides that means she can hang out and plan things with someone she did cheat on him with, who made it obvious he wants to still win her over? She also decides to get upset with her best friend who wants to do so many things with her, when it was both her idea to make him feel better for it (after lying for over a month) and she did the same thing last year with no care for repercussions?
Let's be clear on the things that happen to Elle negatively this film. One, her dad is dating a woman and Elle gets mad at her, and lashes out cause of her other shit, over one of the worst board games ever made (Monopoly), and still doesn't care, until her dad calls her out on her bullshit and makes her feel bad. Second bad thing that happens to her is her boyfriend broke up with her over her bullshit.
Wow. Well let us make it obvious. She has a lot of bullshit and keeps making mistakes and never learning from them. He should have never been with her over the events of The Kissing Booth 2.  But even more importantly, SHE SHOULD HAVE NEVER BEEN WITH HIM DUE TO THE EVENTS OF THE MOVIE THE KISSING BOOTH. Where he was shown to be emotionally abusive, and threatened other guys to leave her alone for years while he was on his own path of getting experience before trying out her. He is shown to not handle any really conversation or argument well time and time again, which is why he runs off and does dumb shit all the time. And so does she. They are both really bad people, which doesn't make it a good fit for them. Nor does it warrant spending three movies to talk about this relationship.
The problem with this movie is the impressions it leaves on people. Since there is almost no real consequences for any of the characters being terrible, it just helps reinforce that being terrible is a great thing for people to be. After all, look at all the fun they are having. Did you see those costumes? [Editor's Important Note: Why the fuck does the go-kart track at a water park have stands for people to watch. Do people just sit there all day and look for exciting basic races? It was more than just a parent sitting area.]
I could talk so much about the other technical problems with the movie. Like how all over the place it is in time. When was it set? When did they make the beach bucket list? Why is going to Berkeley on a beach bucket list? Why would they hide it in a hidden time box if the goal was to actually complete it, and they went to the beach every summer? Why does the box have a Super Nintendo Mario Kart design, as if it was set in the 90's? That goes with my earlier question about time. Because things on the list don't make sense for various age groups they would have written it.
This is a trilogy that trivializes high school, relationships, proper communication, and the ability to fucking apologize.
0 out of 4.