In 2011, a short documentary came out of Great Britain. It was called Jaime: Drag Queen at 16. It was about a boy, who by 16, knew he wanted to be a drag queen and went for it, despite living in a conservative place, and not even being an adult yet. He had a mom who helped encouraged him to follow his dreams, and follow his dreams he did, damn it.
And so then they made a British stage musical about it. It has the same name, Everybody's Talking About Jaime. That one came out in 2017, and I guess it was loved enough, so that only three years later, here we are with a movie version of the stage musical.
A very quick turn around. Great if you love the musical, but also a little bit suspicious. Most musicals put it off as long as they can, because it usually signifies their show is almost over on its long stand, and it will help boost sales or give them an alternative revenue. For a turn around like this, I don't know what to expect, except I am happy it came out this year. 2021 is the year of musicals, so let's just pile them on all over me.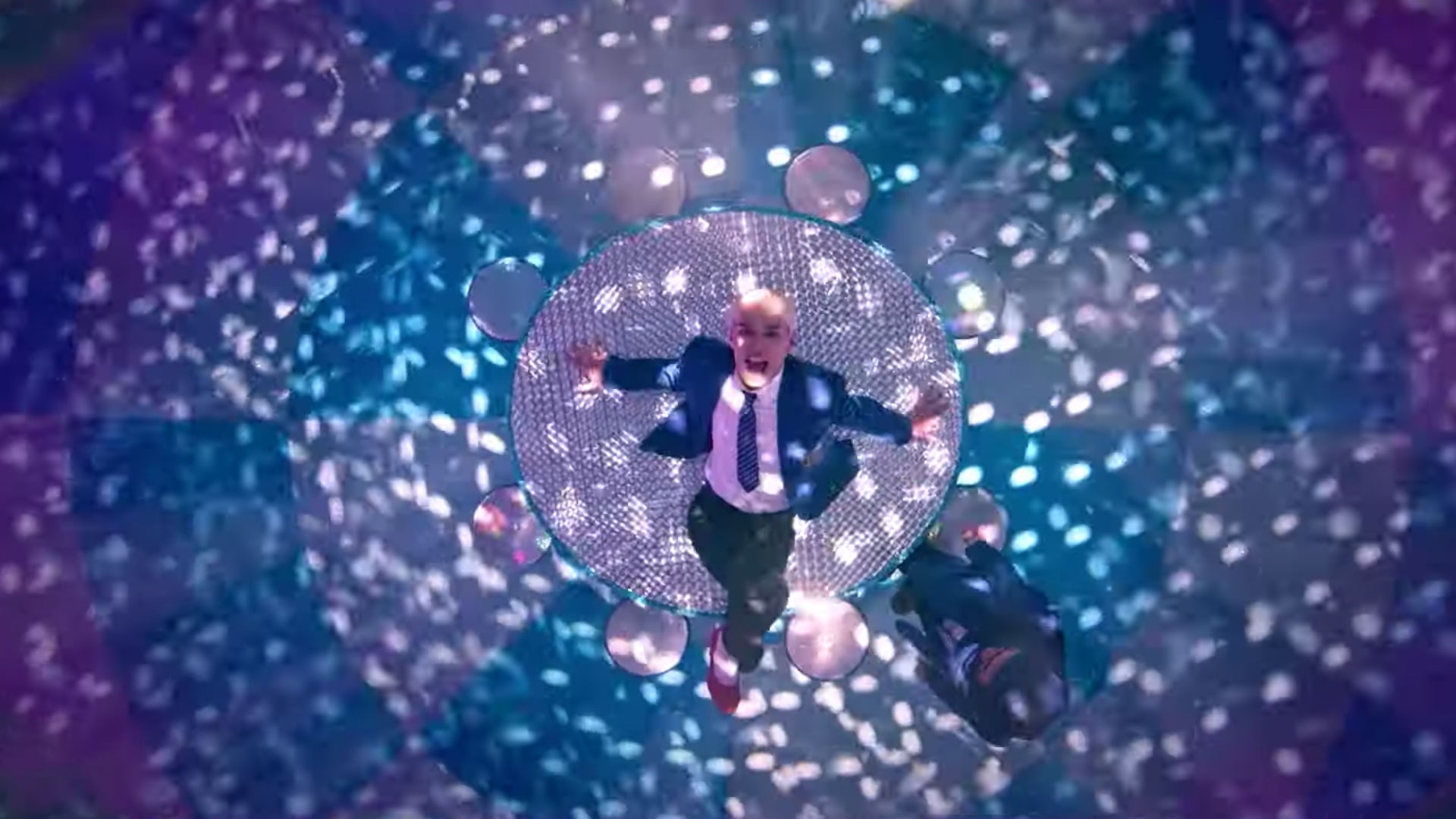 Pictured: Me smothered in musicals (each light is one musical this year).
Jaime (Max Harwood) is turning 16, and is gay, and everyone knows it. Jaime is proud of himself and isn't trying to hide it, despite the risk of bullies that exists. But what they don't know about Jaime is that he also dreams of being famous. Not too surprising a dream for a kid, but Jaime wants to be a famous drag queen. He love's typical women's fashion, wants to put on a dress, wear a wig, and lip sync to some diva hit on stage.
But he keeps that a secret. His mom (Sarah Lancashire) knows that about him, and encourages him to go for his interests. His dad (Ralph Ineson) knows he is gay, and honestly, doesn't like that. He is basically out the door and with another woman this whole time, doesn't care about his son. Jamie's best friend, Pritti (Lauren Patel), also knows his dreams, while she herself wants to be a doctor.
But screw it. The year is almost over, Jamie is turning 16, he wants to start being an actual drag queen, full outfit, and he wants to come out as a drag queen at the end of the year prom! While shopping, he finds a mentor (Richard E. Grant) to help guide him on his journey, while he battles bullies (Samuel Bottomley), teachers (Sharon Horgan), and more to live life the way he has always wanted.
Also featuring Shobna Gulati.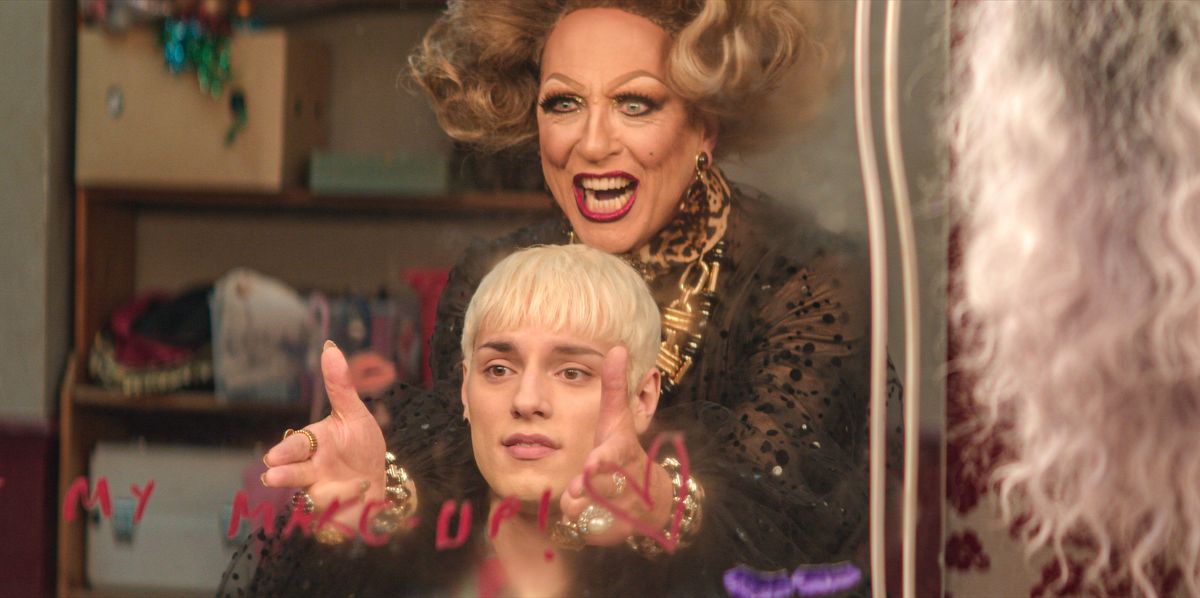 Face it kid, you're gonna be a drag star.
I will say the same thing I say in a lot of these movies. Representation matters. There aren't really many movies coming out, even in our modern world, about becoming a drag queen and why that is a perfectly valid lifestyle choice. Shit. In the 1990's in a two year span, we somehow got both The Adventures of Priscilla, Queen of the Desert and To Wong Foo, Thanks for Everything! Julie Newmar. I can't think of many other examples outside of them, but I am sure they exist, they just haven't reached any level of popularity. So it is fantastic that we have a movie on this topic coming out in a popular-ish way.
Now on this note, I am definitely saying, this movie isn't really that great. It should be a 1 out of 4 purely on its own, but I gave bonus points for being about a topic not talked about much.
After the musical, none of the songs were stuck in my head. They have a song called Everybody's Talking About Jaime, which might be there go to hit I guess, and the only reason it stuck with me more is because they played a different cover of it for the credits.
Acting is average, but it felt like it could have been a made for TV movie on Freeform at the same time. The "villains" of this film started out reasonable and just turned into strange cartoon characters by the end. The math teacher really made no sense (and I am not just saying this as a math teacher myself). Outside of an art teacher once, and the principal once, she is the only teacher ever shown, and it is over and over, and apparently whatever she says is the main authority of the building.
The final scenes in front of the prom were ridiculous. Why is literally their whole class standing outside of the building instead of going in it. How many times does the teacher have to say "Everybody go inside" before it means everybody? I was confused each time she said it and the students argued with her about Jaime getting to go too, because she literally just said everyone, which should include Jaime. but apparently it doesn't? And again, why is she this literal gatekeeper to the building and no one else?
The film can have a great message about accepting yourself and others, but it just feels so dumb at the same time.
For a year full of musicals, this one is not rising to the top, and it is important to point that out. It presumably couldn't hack it on Broadway either, and that is why we have the movie now. I assume songs were cut from the musical for the movie, but it feels like it had less than ten songs overall still. Give me more musical in my musicals, damn it.
2 out of 4.