Ah, is it happening now? Finally? The Dune movie?
Oh okay. Well, I got two Dune related stories to tell then!
The first is when I first heard about the book when I was in early High School. I was working that summer as a camp counselor, and one of my friends talked so fondly of the book Dune and wanted us all to read it. He never relented and eventually wanted to read it out loud to us one night to show how good it was. I was definitely asleep by the second page, woken up, and then again by page three. Nice.
Story two? Oh yeah, I actually saw the other Dune movie, in theaters, a few years ago, knowing nothing about the plot. It was a very strange experience, a weird film, but probably worth it on some level for pop culture history.
I have not been waiting on my knees for this version to come out, but I do like Denis Villeneuve films for the most part. The only one I didn't love was Blade Runner 2049, which was visually pleasing, but a story I didn't care about at all. Hmm, that was a sequel to a film from the 1980's. This one is a movie remake that was first done in the 1980's. I hope there is no more similarities.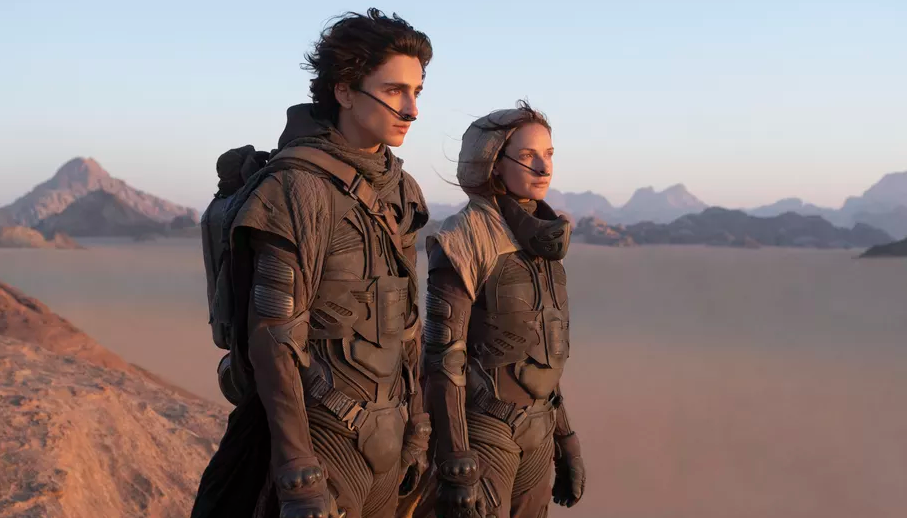 Definitely more sand in this movie than Blade Runner 2049. 
We are still dealing with humans in this movie, don't worry, it is just set like 8,000 years in the future.
House Atreides is our heroes? Well, at least our main family of character. They are some level of nobility and GREAT NEWS. They have been granted mining rights of the Spices from Arrakis. The Spices are the key to faster than light travel and longer life, and they can be rich from doing this.
The prince (?) Paul (Timothée Chalamet) has been having interesting dreams that seem to come from that planet, featuring a girl (Zendaya) that he can't get out of his thoughts. Paul can also do mental suggestive thought things to make people obey him, which is cool. His dad (Oscar Isaac) is leading the convoy to Arrakis and his mother (Rebecca Ferguson) is mostly just trying to make sure Paul is ready to take over some day.
Needless to say, once they get to the planet, there are more shenanigans than they imagined. Stuff happens, people fight, people die, and sand worms.
Starring a whole lot of other people too, and even with 2.5 hours of screen time, a lot of them still don't get a lot of screen time but might get more later? Well, if they didn't die. We have Babs Olusanmokun, Benjamin Clémentine, Charlotte Rampling, Chen Chang, Dave Bautista, David Dastmalchian, Jason Momoa, Javier Bardem, Josh Brolin, Sharon Duncan-Brewster, Stellan Skarsgård, and Stephen McKinley Henderson.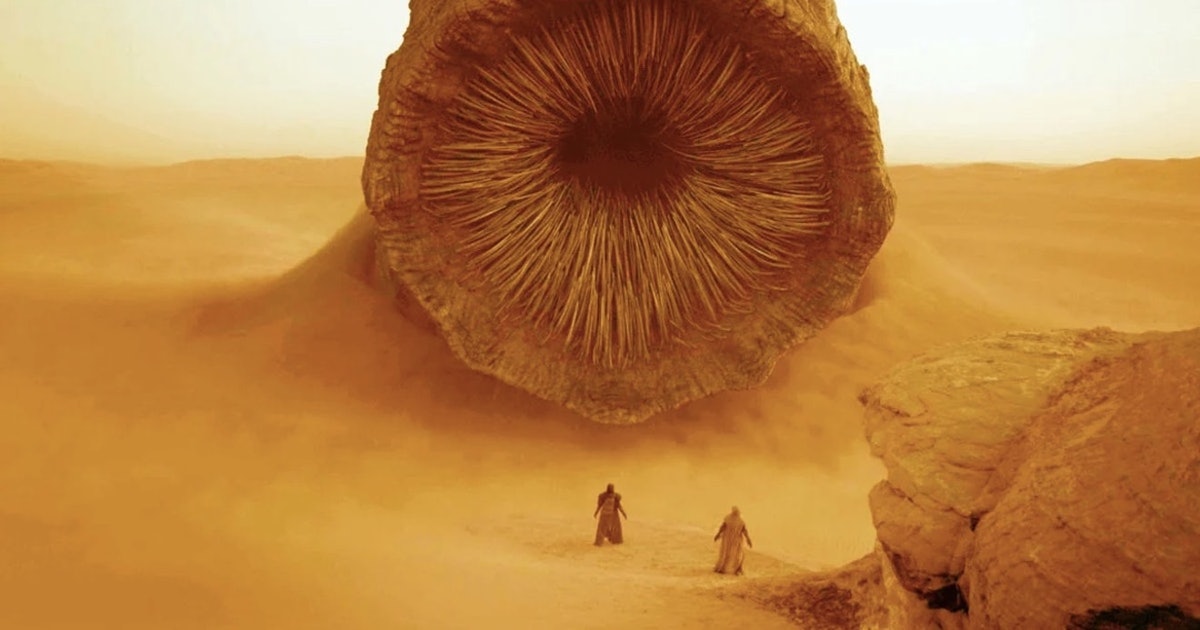 This book invented sand worms right? Not Beetlejuice?
Ah yes, Dune, clocking in at 2 hours and 35 minutes. Is that enough time to tell some epic story that was 412 pages long? [Editor's note: Wait, 412 pages long only? That is it? The audiobook is only around 21 hours?] Well, if you ask Villeneuve then that answer is heck no. Apparently he only agreed to do it if he could do two full movies and not cram it into one. Oh okay.
But…but…They didn't really make this into a two part film? If they did, they would have likely filmed them at the same time. They would have officially made this movie called Dune: Part 1. [Editor's Note: This movie is called Dune: Part 1 only on the film itself near the start, but not on any advertisements, or posters, or just…officially]. And you know what? A regular film going customer shouldn't have to look for interviews with the director and others to see that this movie is only just half of a story. I think I saw one where someone involved said it feels like a complete story still, but I have determined that to be a lie.
This movie definitely just ends in what feels like half of a story. And part of that is extremely frustrating given how long it feels like it takes to just get to the planet itself. It is not like I had a watch to look at the whole time, but it is a significantly large percentage before our characters go to the desert land to start learning and doing desert stuff. So to me, this film feels dragged out. You know, like The Hobbit films.
Just a quick note. I am okay with the concept of two part films. Sure. But the parts should still feature complete arcs and feel like storyline elements were resolved and natural enough and not just cliffhangers or, worse, plateaus that gradually decrease over time. Lord of the Rings film feel like three complete films despite one overarching story. Breaking Dawn Part 1 and Part 2 and Hunger Games Mockingbird Part 1 and Part 2 both feel like one film's worth of plot badly stretched over two.
I am now worried Dune will feel like that, IF the second part gets made. I certainly don't feel appreciative that the film producers are using such guilt riddled tactics to ensure they make enough money so that their story could be finished, when they could have also just trusted their product enough to make the films and release them when appropriate. If they don't ever release another one, then we won't get a full film. If they do release another one, then we likely get one full film over two movies with arguably a lot of filler.
But yeah, sure, it is pretty.
2 out of 4.