If you want a movie in production hell, then you want Ant-Man. Sure, Iron Man was technically in development since the 1990s, but those were with different studios before Marvel got it back in 2006. If you didn't notice, they then pushed out the movie just two years alter.
Ant-Man, however, was also in development since 2006 and took just nine years to finally get released. That is a long time of trying to make a movie work and never giving up. Well, they technically gave up a little bit. Edgar Wright who was signed on to be the director since the beginning was fired early 2014 from the project which scared a lot of movie fans. Wright is well liked and has an awesome style. And the movie was roughly a year away! How could they do this? And with script re-writes as well!
I will admit that I too overreacted, expecting that Ant-Man would unfortunately be Marvel's first real disaster of a movie in a long time, possibly meaning bad news for the other new franchises coming down the time lines. But as a not so secretive fanboy, I was also of course hoping for the best.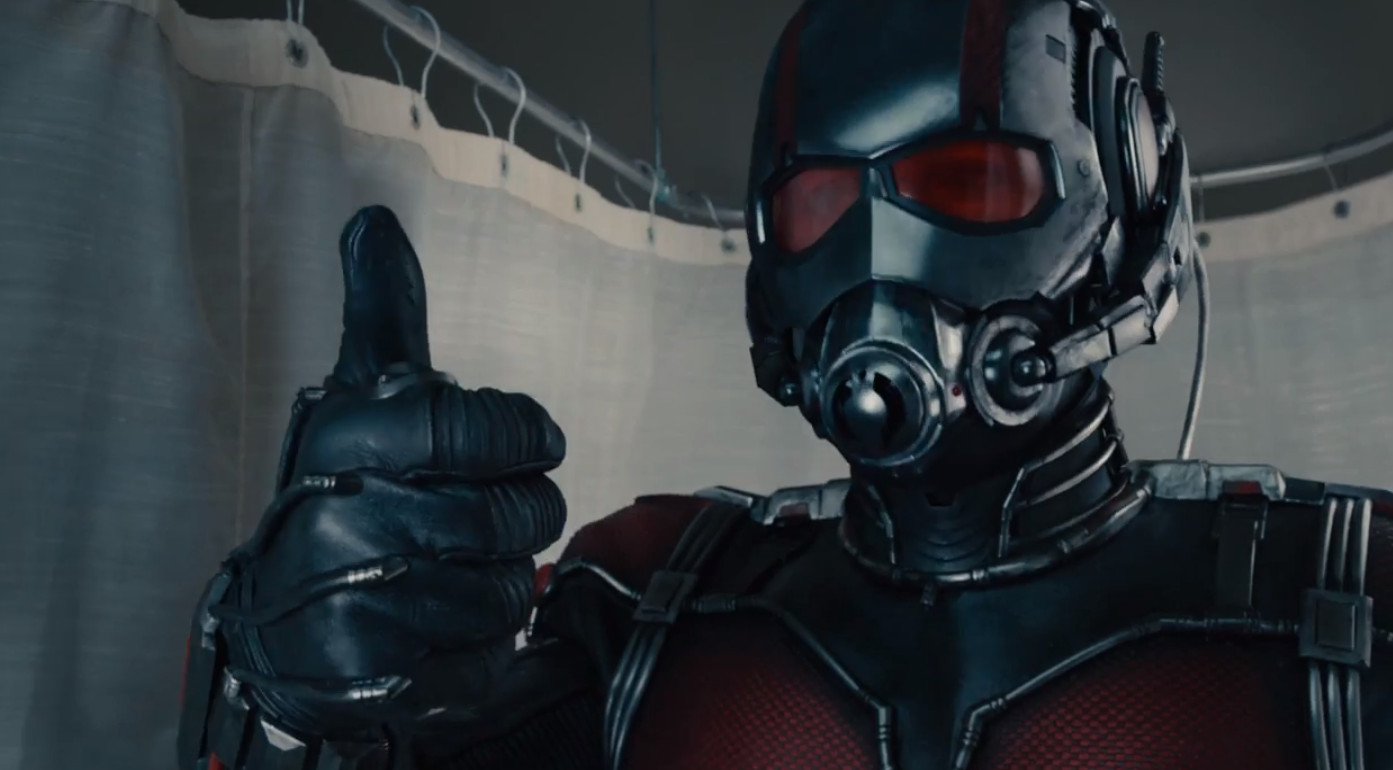 Thumbs up, seven new franchises up!
The movie starts in Taylor Swift's favorite year, 1989, where some dude named Hank Pym (Michael Douglas) is upset over S.H.I.E.L.D. turning his science into weapons! He made a Pym Particle, but he refuses to let them have it for warfare, so he quits and starts his own company. It should be noted we get to see Agent Carter (Hayley Atwell), an older Howard Stark (John Slattery), and a random tool, Mitchell Carson (Martin Donovan).
Now, in the present day, Scott Lang (Paul Rudd) is just getting out of prison. He stole from his corrupt company who took millions from customers and gave it all back. He has a masters in Electrical Engineering, but he is also a pretty great thief it turns out. He has tried getting a regular job, but his crime history makes it hard. No job means no money, which means he can't pay child support to his ex (Judy Greer), and thus he can't really see his daughter (Abby Ryder Fortson). To make things worse, the ex is now dating a cop (Bobby Cannavale) which is all sorts of awkward.
So Scott gets with his friend, Luis (Michael Peña), who has a heist for them. With a few friends (David Dastmalchian, T.I.), they are going to rob Pym's house who has the biggest safe ever. Unfortunately, the only thing in it is an awkward suit.
Turns out it was all a test. (I swear I am not spoiling the whole film). Pym's company is no longer in his hands, and his protege Darren Cross (Corey Stoll) is about to discover the shrinking secret. Once he gets the formula right, he is going to sell the Yellow Jacket suits to the highest bidder, making an unstoppable army at whomever's disposal. Their only person on the inside is Pym's daughter, Hope (Evangeline Lilly).
So it is simple. Break into an extremely secure facility, destroy the science and the suits, save the day. A nice heist. Perfect for someone who can shrink and control ants, right? Also Wood Harris! Fuck, I couldn't fit him in naturally!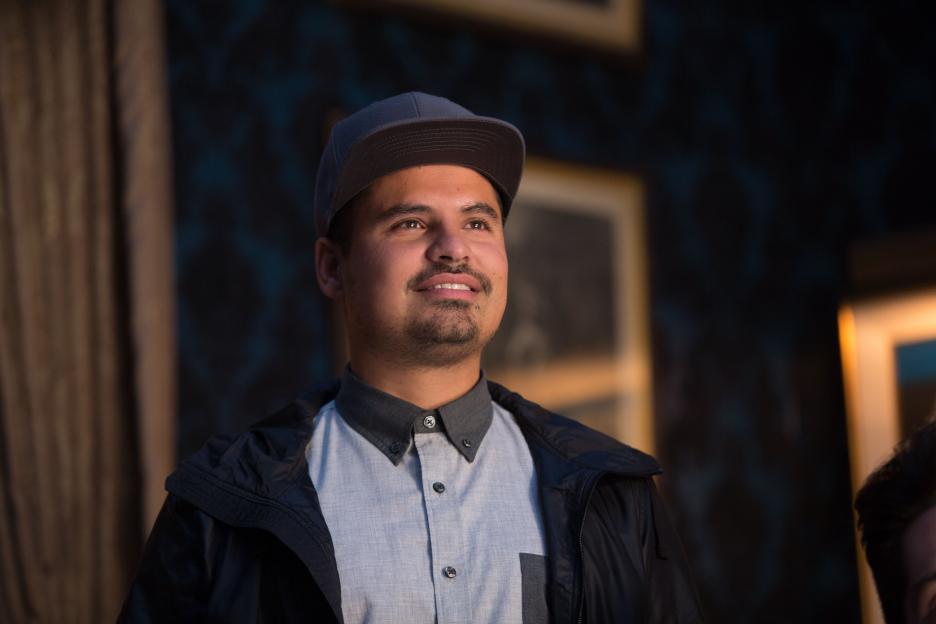 Super powers are overrated, you da real MVP!
Again, it looks like I told too much, but I think I told the basic motivations of our main characters and also threw in most of the side players as well. You got to see the two good guys, where they are coming from, and of course the bad guy.
And I fucking loved it.
Ant-Man had everything I wanted in a Marvel super hero film. It wasn't ever super drama serious, but it had its touching moments. It was funny, and then it was also hilarious. Many characters brought the charm in. And the action was exciting. The CGI ants I thought would be cheesy, but they worked really well in the context of the rest of the film. Going back and forth between small and large to fight everyone was very slick. There was a wonderful montage and we even got a pretty significant Avenger cameo.
I really need to acknowledge Michael Peña, who was the best part of this movie and for all I know, not based on any comic book character. He was hilarious and I hope he gets to be in future Marvel films.
There was a weak part though. The relationship between Pym and Hope was supposed to be strained, but the actors didn't act it well and it instead kind of just sucked. I am more incline to place the blame onto Lilly, but it could be that she was just given a weaker character with terrible lines and development.
Ant-Man has it all. It even has a villain who seems realistic and isn't just a dark brooding figure. He has his own real motivations and a backstory and his arc makes a little bit of sense. Their fight scenes were wonderful. And on paper he may seem like a minor bad guy, but I think he is the best villain since Bucky and Loki.
Bring me more Ant-Man.
4 out of 4.